Almost two weeks ago I crossed the US/Mexico border and began my quest to ride six continents on my bike. It's been a total joy so far, but what's taken me so long to update the blog? What's been happening? Here's the scoop.
A Much Needed Break
I crossed the border on March 14 and was planning to update the blog that day, honestly I was. But I was just beat. Yes, I was tired physically, but mainly I was just tired emotionally. Leaving the USA for a second time was just as hard as the first.
On my 3,000 mile test ride (a physically challenging feat in and of itself) I visited many of my good friends, and it was fantastic to see them all. But the visits all ended the same way, with a goodbye. I said goodbye to my dogs again. I was able to surprise my dad with a quick visit, but it ended with yet another tearful goodbye.
Earlier in my USA visit I'd said goodbye to my sisters and my brother. I'd flown to New York to visit friends and say goodbye. And the day before I'd crossed the border I'd said my final goodbyes to my Phoenix friends.
I'd just wrapped a new video for Savage Paper, a live webinar for TetherTools, a talk and live broadcast in New York for Adorama. I'd worked endlessly to get all of the necessary parts for the bike ordered and installed. I replaced much of my video and camera gear. I'd written, shot, and edited eight AdoramaTV videos.
Yes, the work and the trip preparation was tiring, but mostly it was saying goodbye to a close friend every three or four days for ten weeks straight. There were friends in the States that I'd wanted to visit, but my schedule hadn't allowed it. Many friends. I was feeling guilty, had I left too early? Would there ever be enough time to see everything, to finish every task?
I needed to update the blog, but I really needed a break. I needed to get my routine back. I needed to spend some time adjusting to traveling again. I needed time off.
Thank you for being patient and allowing me some time to be offline. Now I'm back in the game and ready to go. And with that out of the way let's get this show on the road…
Crossing The Border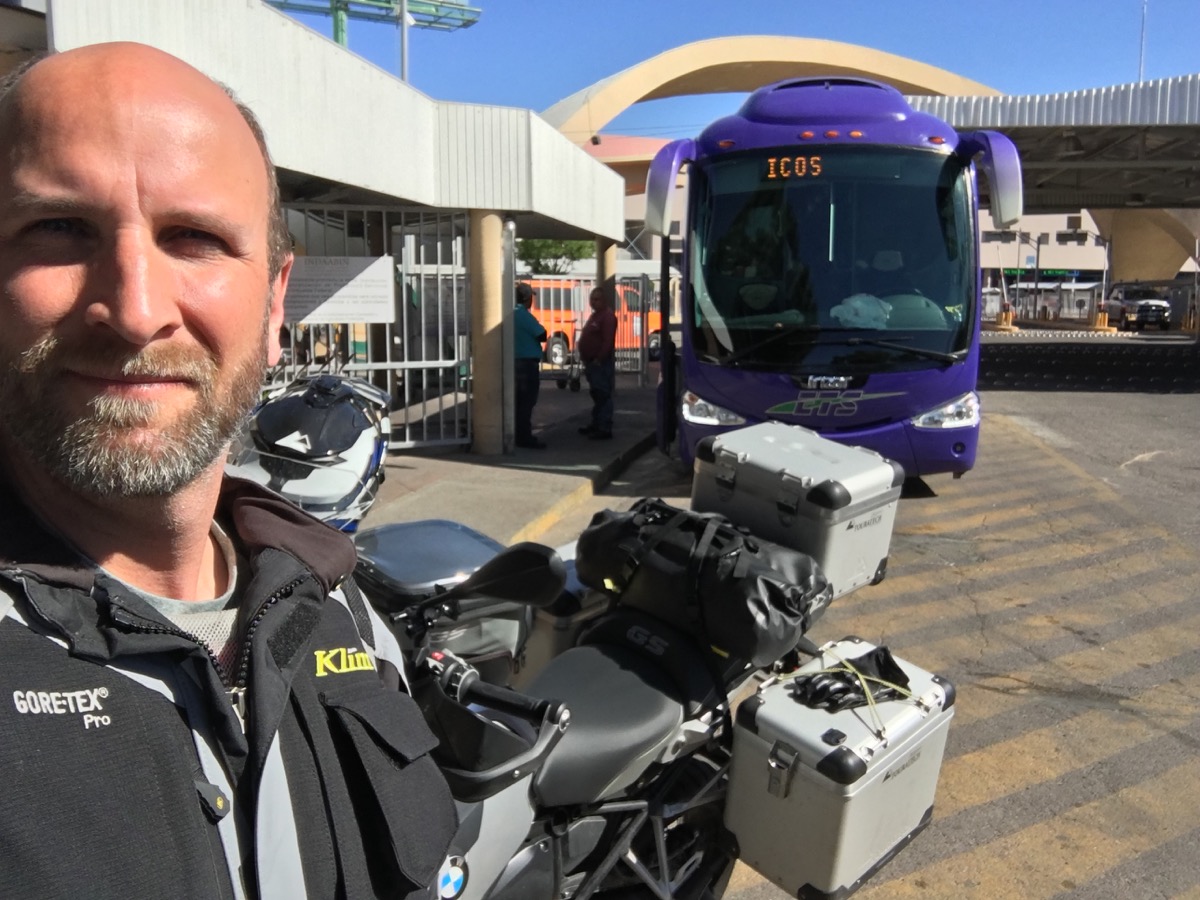 Getting into Mexico was easy. Too easy. I rode across the border in Nogales. I just rode across. No stopping, no inspection, no questions. Nothing. I was just given a friendly smile from the Mexican border guard and waved on through.
I'd done a lot of research and was told I'd need a few things to legally ride in Mexico:
Mexican insurance
Proof of ownership (original title and registration)
Driver's license
Temporary Vehicle Import Permit (TVIP)
Tourist Card and stamp in my passport
The cost to insure my bike for 6 months (less expensive than a daily contract) came to $462. Ouch. But my bike is expensive and after checking every possible option that's the best I could find. I printed out all of my documents in the USA and was ready for the inspection at the border.
I had my title, registration, US Insurance cards, and driver's license. I was set to go at the border. But there I was being waved through with a smile. No stopping – get going, go on through. Bienvenido a Mexico!
Certainly that wasn't right. I drove into Nogales looking for customs and immigration. I didn't see them anywhere. Before I knew it I was 5km into Mexico. I started getting nervous so I turned around and headed back to the border. After a few wrong turns and a few confusing conversations I finally found the Immigration Office.
I spoke to a very nice woman there who informed me that the entrance fee for my Tourist Card would be $360. I was NOT prepared for that. The woman could see the shock on my face and then chuckled. The symbol for the US dollar and the peso is the same. It was 360 pesos, not dollars. That's about 21 bucks. Whew, not so bad.
She then told me that the customs office was 21km down the road. "Just ride toward Hermosillo, you'll see it." And off I went.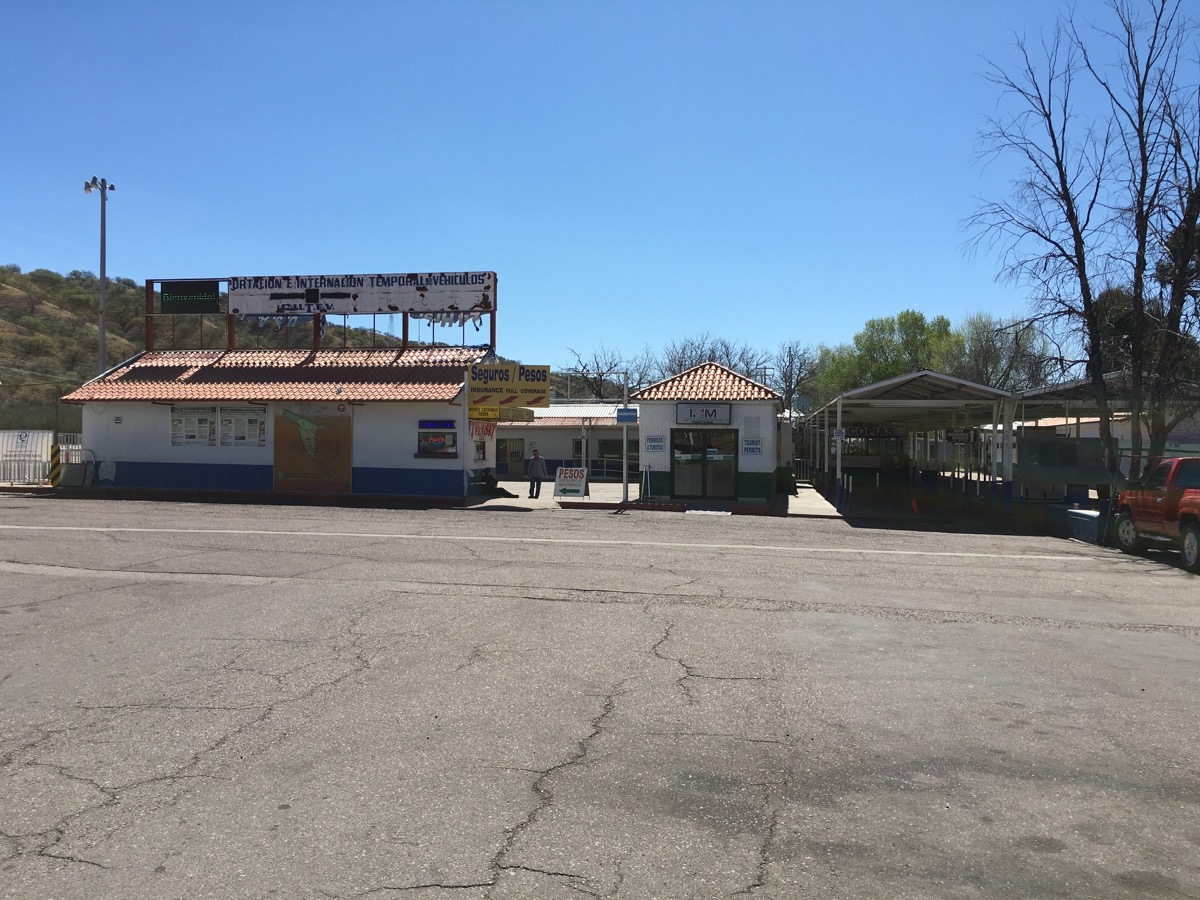 Sure enough the customs office appeared 21km later. It wasn't really an office but a collection of buildings and a parking lot. There were currency exchange booths, places to buy Mexican insurance, photocopy stores, refreshment stands, and trinkets for sale.
I'd been told that the cost for the TVIP would range from $200 to $400 USD. The nice thing about the TVIP is that you get the money back when you leave Mexico. It's just a small incentive not to sell a vehicle illegally. I had $500 USD in cash so I wouldn't have to hassle with credit card fees or issues.
I made it to the counter with my documents in hand. I was ready to hand over my insurance papers and show my original title. I was told over and over I'd need original documents. The woman at the counter asked me for my registration and driver's license. That's it.
"Don't you need to see my insurance?" No, thanks though. "What about my original title??" No, we don't need that.
She spent a few minutes getting everything ready and then told me my fee would be $461. What luck! That's just a tiny bit more than my Tourist Card had cost. I was pretty happy for about five seconds.
"That's $461 US Dollars, not pesos." Dang it! The TVIP was going to cost sixty one dollars more than high highest estimate. So much for having some safety cash on hand. I handed her the money and with that she gave me all of my documents and I was officially legal to ride in Mexico.
Hanging Out In El Chapo's Backyard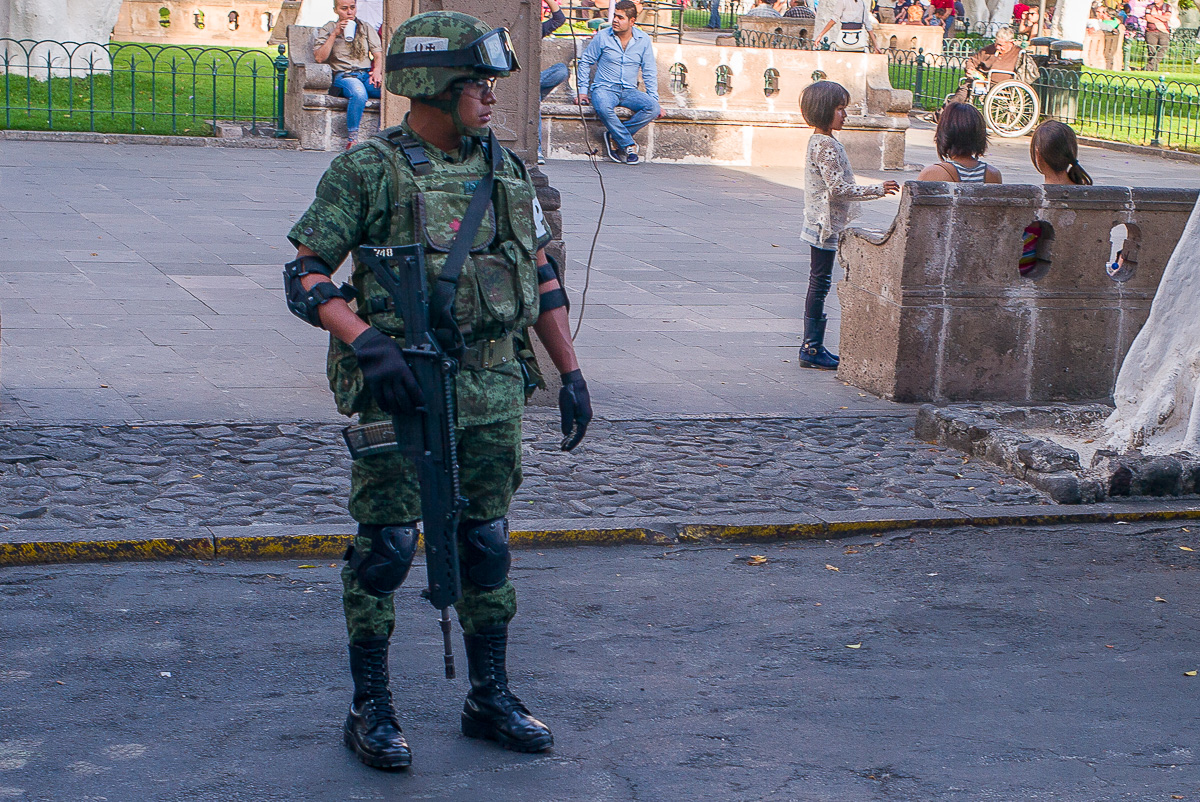 I spent the first two days in Hermosillo. I rested and spent a lot of time talking to the US State Department about my route through Mexico. I'd been warned – Mexico is a dangerous place. The cartels have taken over the western states. Kidnapping, extortion, murder. Watch your back, mister.
I've been to a lot of "dangerous" countries in my time and the reality has never reflected the sensationalized US news. I wasn't too concerned with Mexico but after getting so many warnings from Mexican citizens via my Facebook page I thought I should at least be smart about the trip.
The State Department put the fear of god in me.
U.S. citizens have been the victims of violent crimes, such as homicide, kidnapping, carjacking, and robbery by organized criminal groups in various Mexican states.
Specifically the very states I was about to ride my bike through. All alone. I was told that I shouldn't make the ride. And if I did ride to stick to daylight hours, I was given a list of places and things to avoid.
One of Mexico's most powerful criminal organizations is based in the state of Sinaloa, and violent crime rates remain high in many parts of the state.
I was currently in Sonora and Sinaloa was next on my list of states to visit. I was a bit apprehensive. The fact that I watched Cartel Land didn't help much. But what could I do? I needed to ride south and there seemed no way around it.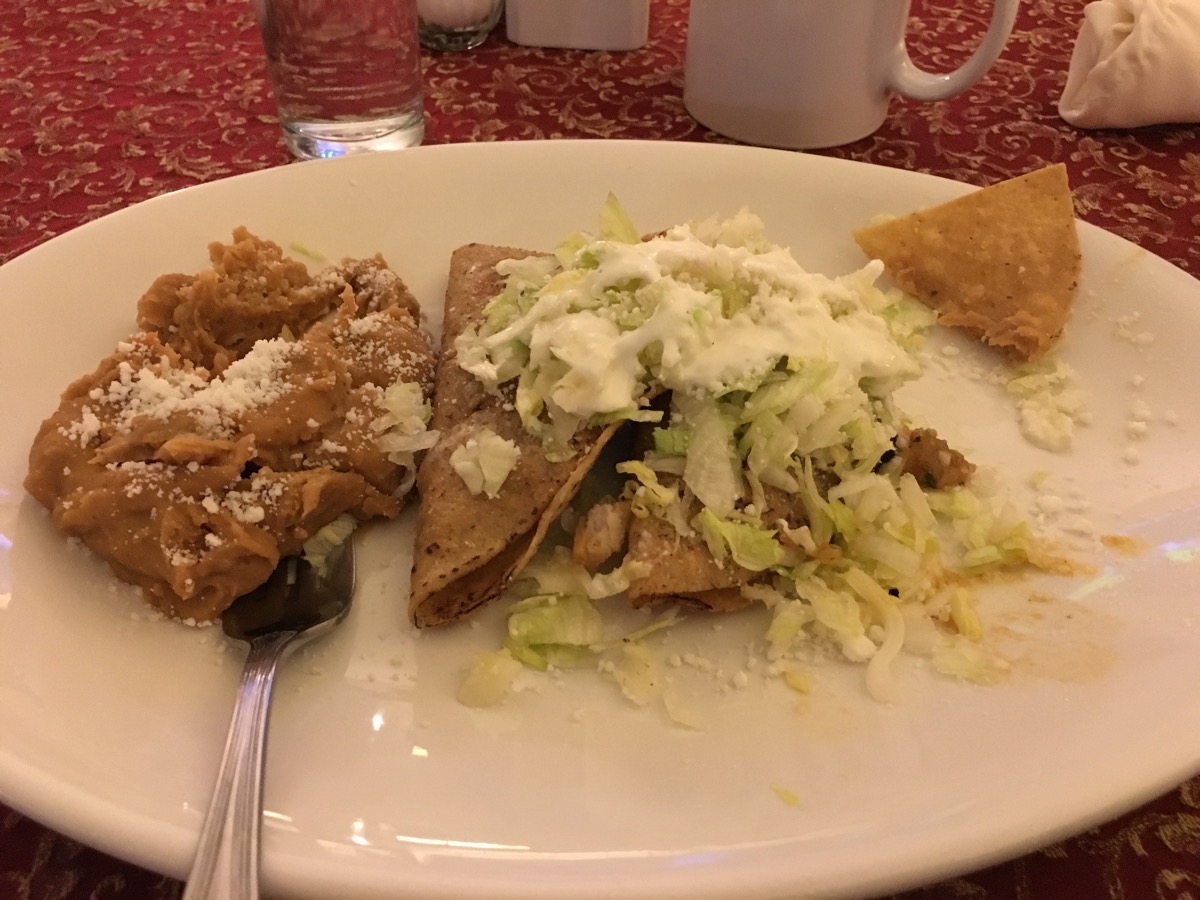 Hermosillo turned out to be a great little town. The tacos are amazing. The people were incredibly nice and I was sad to be leaving. But I had to get farther south so I rode to the beach town of Guaymas. Once again it was amazing. The beach was beautiful and the people were extremely nice.
I was getting the impression that my fears were unfounded. So I headed to Los Mochis, the town where El Chapo had been arrested just eight weeks earlier. And guess what? Los Mochis was just as pleasant as everywhere else I'd been.
After a few days I rode on. I spent a night in Mazatlan (what a great city!) and then Tepic. I rode to Guadalajara where I was finally able to spend a few days catching up on work. Yes, I did see a lot of military personnel and trucks with guns. But I never felt unsafe and I've had nothing but warm and pleasant experiences.
I've talked to a few locals about the cartels and the violence. In every city they've all said the same thing. The vast majority of the violence happens between gangs. Yes, there are innocent bystanders that are effected. But the overwhelming majority of victims are involved in criminal activity.
Meeting Memo Flores and Friends
I spent a few days in Guadalajara, a city full of culture and beauty. I really needed to shoot some videos and catch up on some AdoramaTV work. I'd posted on my Facebook page that I would be in town and got a message from Memo Flores, a top notch photographer in Guadalajara.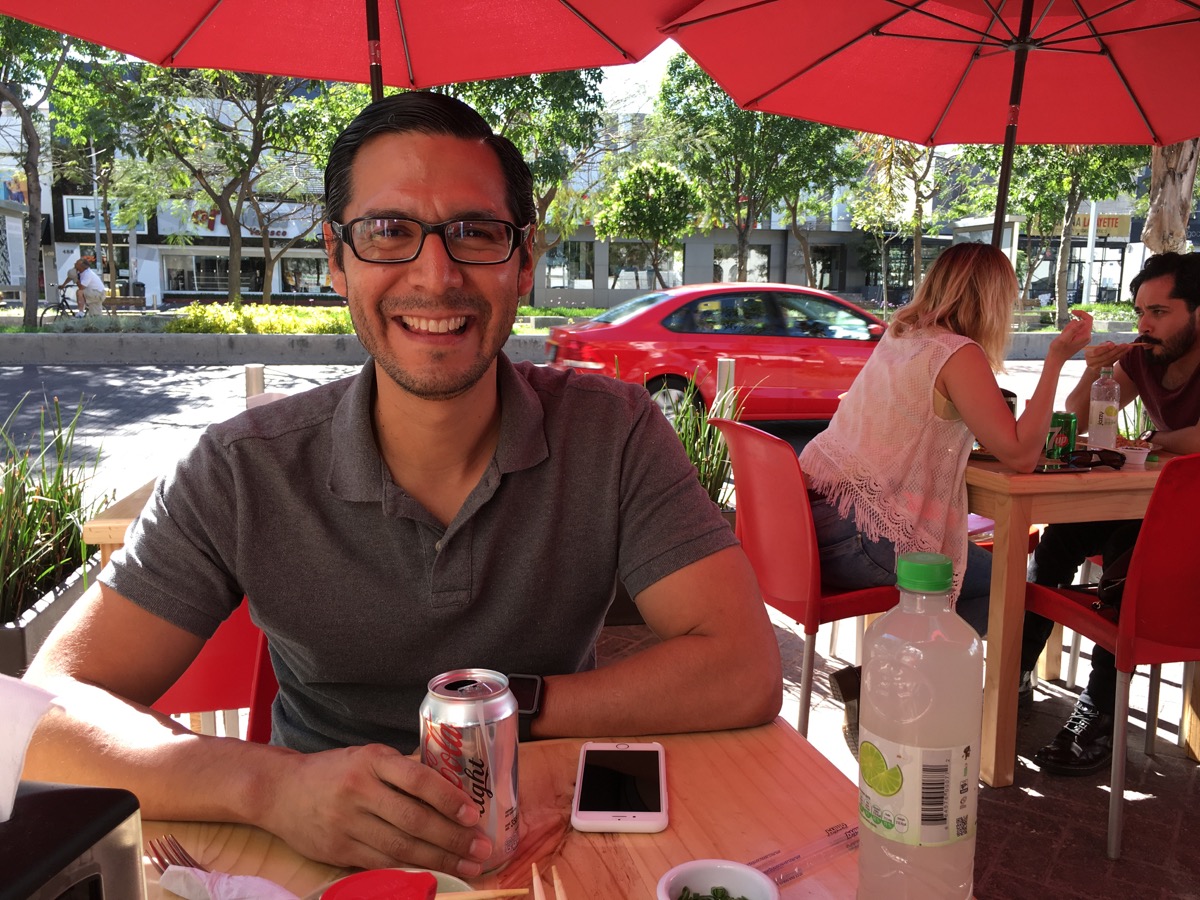 Memo showed me the city and then invited me to work in his studio the next day. I was able to shoot a couple of new videos for Adorama and we even managed to do a live Q&A while I was there.
Later that night I had a meetup with local photographers and had a wonderful time. It was just a great group of people. We laughed and talked and shared pictures. I was shown how to drink tequila properly: sip it, don't gulp it down in one shot, no salt or lime needed. It was so much fun!
After a few days in the city I packed the bike and headed to Morelia where I am now.
That Time I Ate Cow Brains
One of the fun things about travel is learning about local food and customs. Since entering Mexico I've been enjoying the food. I love Mexican food (who doesn't?) and have been in culinary heaven.
Just down the street from my hotel I noticed a little taco shop and thought I'd stop in and have a few. I asked if they had carne or pollo (beef or chicken) and they said, "No, no. Tacos de cabeza." I had no idea what that was but it looked good and smelled tasty. I ordered three.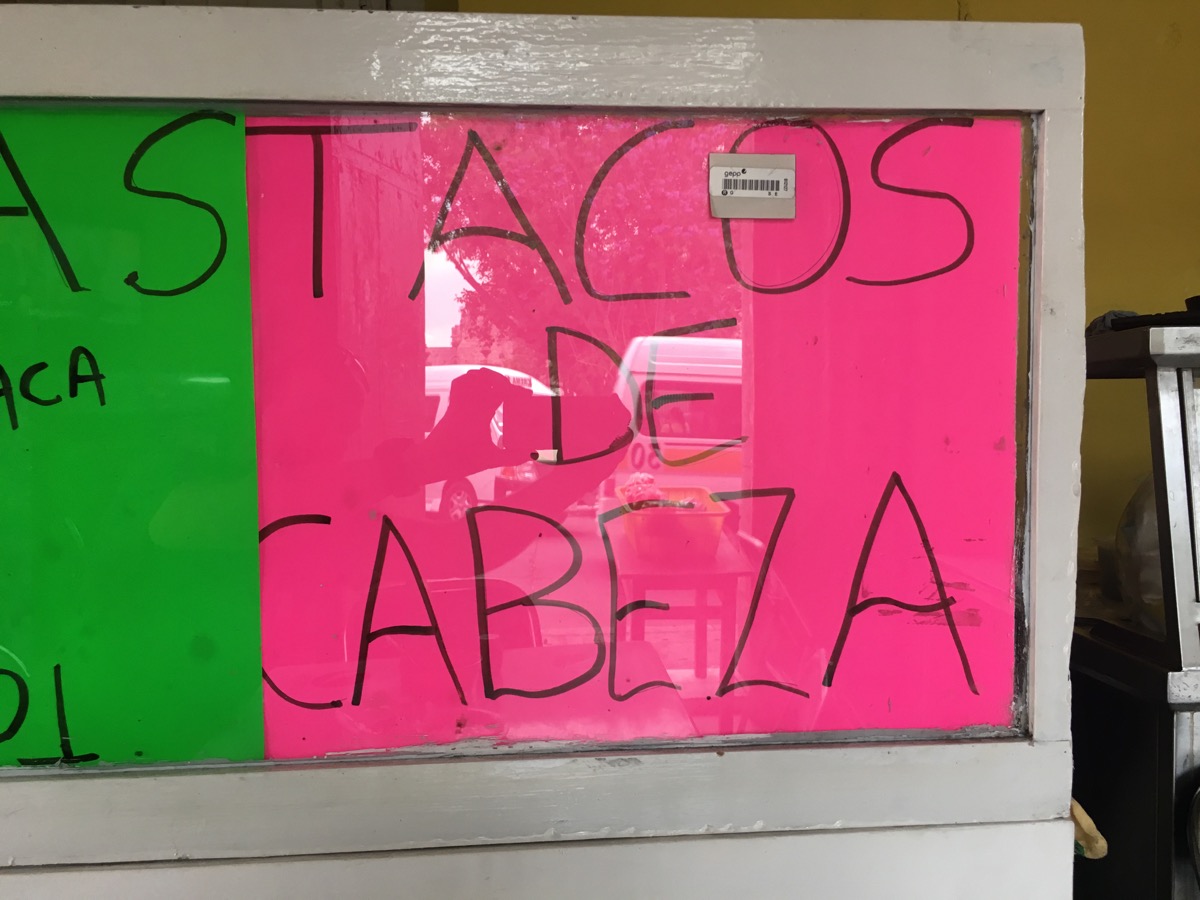 As I ate my tacos I decided I'd look up "cabeza" in my Spanish/English dictionary. Cabeza can mean "brain" or "head" or any number of things. But "brain" wasn't something I really wanted to be eating. I asked the cook if I was eating cow brains. Yes, yes I was. Not just brains but eyes, tongue, cheeks… It's all in the sausage.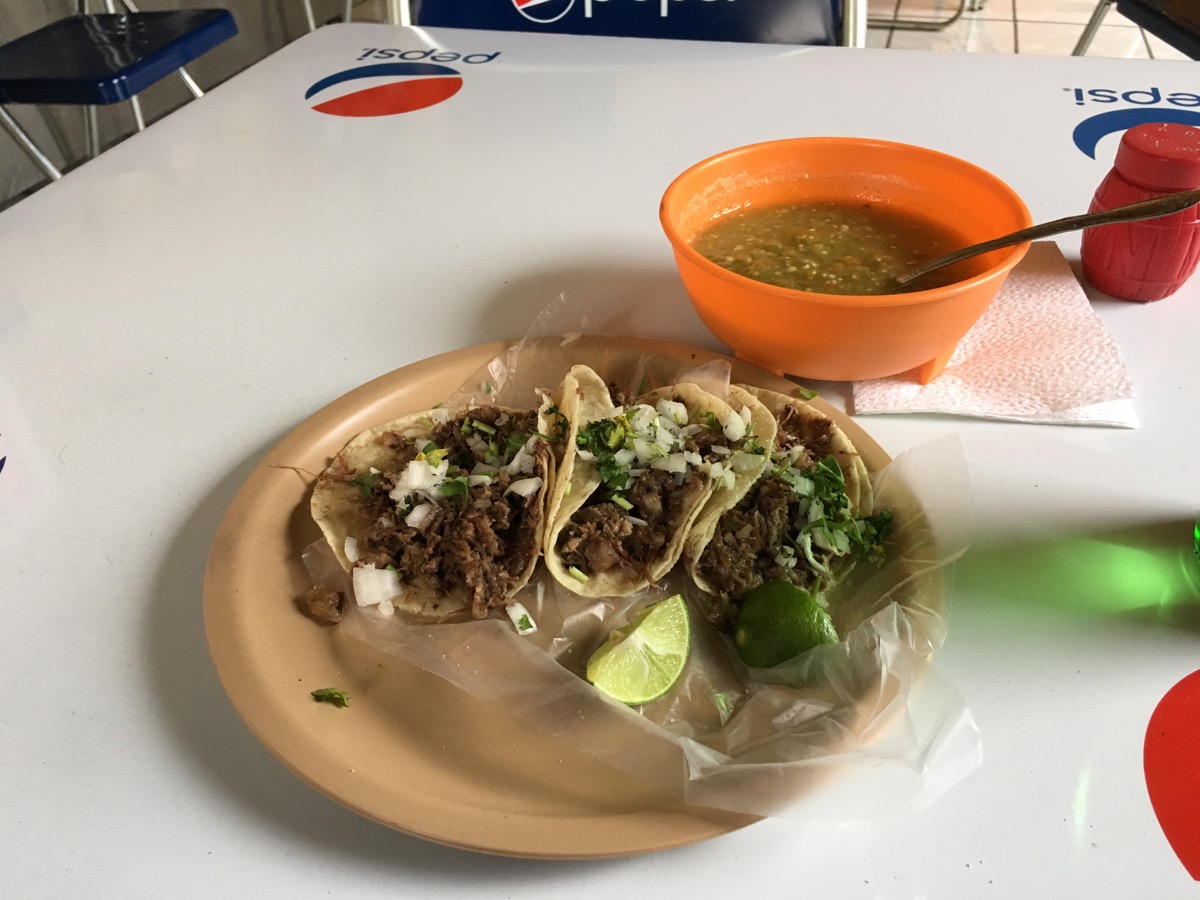 Go ahead, google "tacos de cabeza" and you'll find a few videos showing how the entire head of the cow is boiled and blended to make the dish. Yep, travel is so good for learning new things.
Looking Ahead
Tomorrow I leave for Mexico City. Now that the blog is caught up I'll be posting much shorter entries on a regular basis. I'm also working on a new video series about my travels, it's not ready for prime time yet, but it will be soon.
I'm extremely excited about the adventure and now that I've had some rest I'm happy to be sharing it with you. Thanks for coming along for the ride.