Manizales to Popayan
I left Manizales on a foggy wet morning. I'd gotten word from friends in the south that the Pan-American highway would be open for 36 hours. Now was my chance to get to Ecuador. The roads down the mountain where curvy but devoid of the normal onslaught of killer semi trucks. It was a beautiful ride that would only get better. In a short time I found myself on a two lane divided highway. I was actually able to ride at speeds above 100kmh. The day was absolutely spectacular.
I thought I would escape all of the danger that I was warned about. It seemed that the demonstrations were just a story from a far away place. Then I began the climb up to Popayan. As soon as I hit Cachimbal I could sense a change. The air smelled of ashes and I could see the embers from the fires that had been set on the road just a day before.
Before I arrived the protesters had cut down trees and set them across the road. They created obstacles; burning tires, large boulders, huge piles of gravel and dirt. All of these things had been bulldozed to the sides of the road, but the scars still remained. Shells of cars and trucks that had been set on fire littered the roadway.
The closer I got to Popayan the worse things looked. The military presence increased drastically, I saw a lot of soldiers in full body armor carrying their assault rifles. The closer I got the heavier the caliber. Eventually I saw fully armored military vehicles with turret mounted machine guns. It was looking like a war zone. Clearly things had been serious in the days just before I arrived.
The road became congested with all of the trucks and cars that had been waiting for the roads to open. It began to rain heavily and before I knew it I was riding through debris from the protests, mud, and heavy traffic. The dangers would not come from the military or the protesters, but from the everyday dangers of riding in Colombia.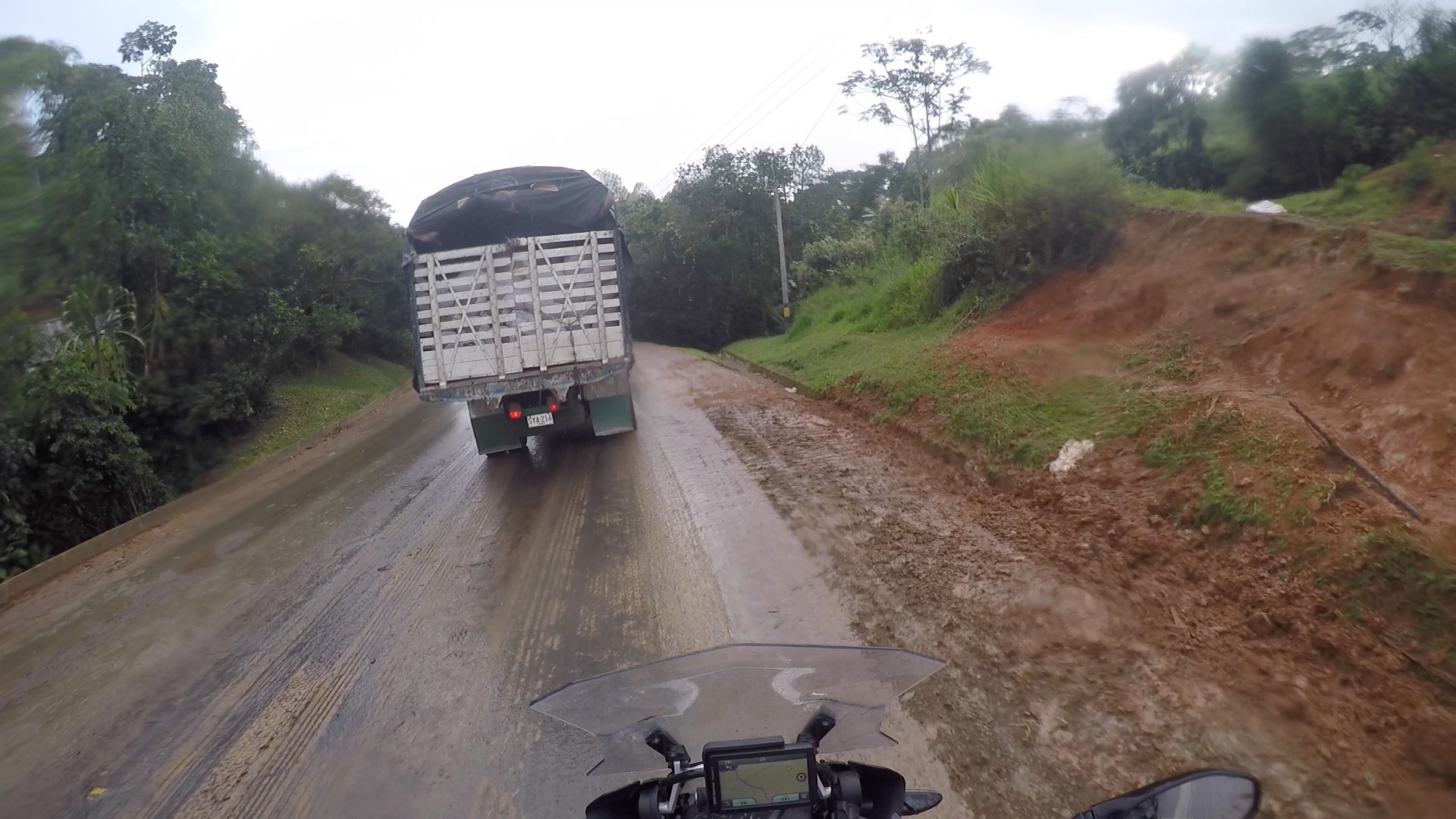 At one point I hit a patch of heavy mud that had washed onto the road. The road became as slippery as ice. Without warning my rear wheel lost traction and broke loose, I was beginning to turn sideways in the road. I had no doubt I was going to crash. But a miracle happened instead. It seemed like time stopped and a few Clinton Smout tutorials went flashing through my head. I relaxed and didn't over react. I let the front end wobble a bit and then the bike found purchase. Thanks Clinton, I think you may have saved me from serious injury!
The Three Amigos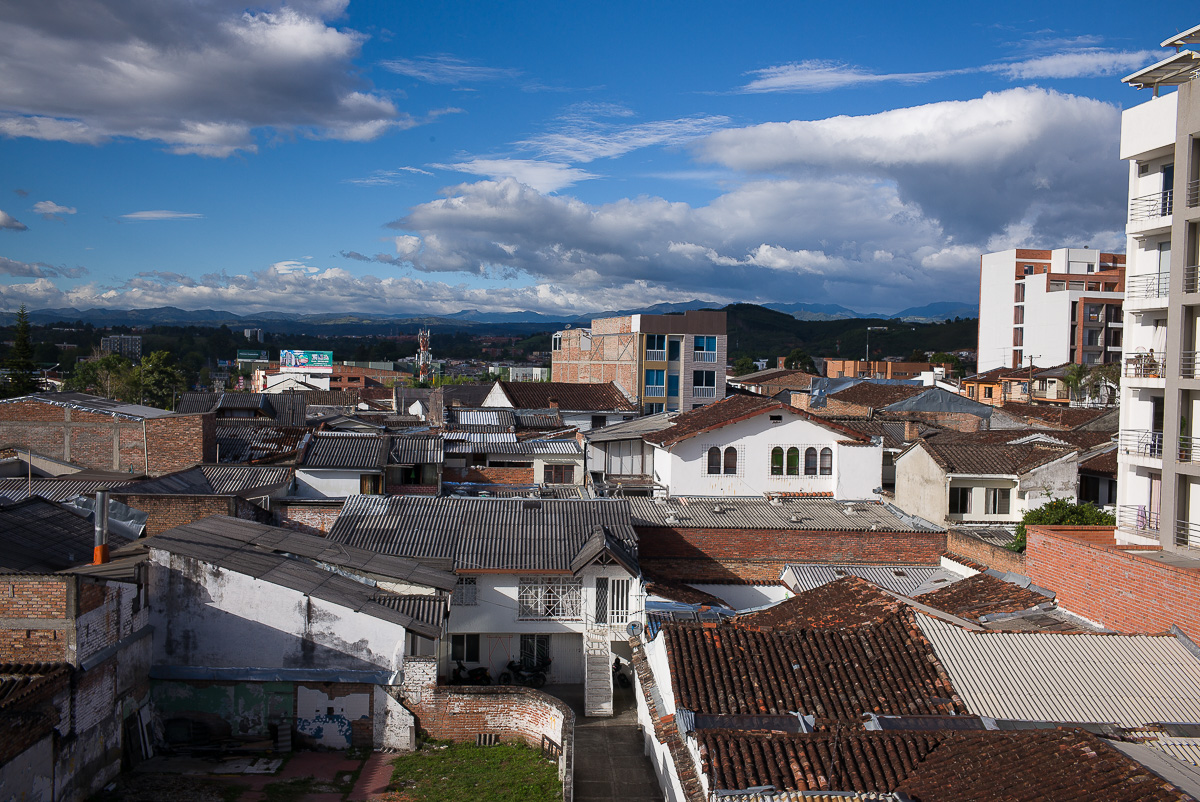 Once I reached Popayan I was able to actually meet a few of the people who've been helping me navigate my way out of Colombia. Eduardo Castro has been such a help, he contacted local authorities, kept me up to date with the latest Colombian news, and sent me updates every few hours.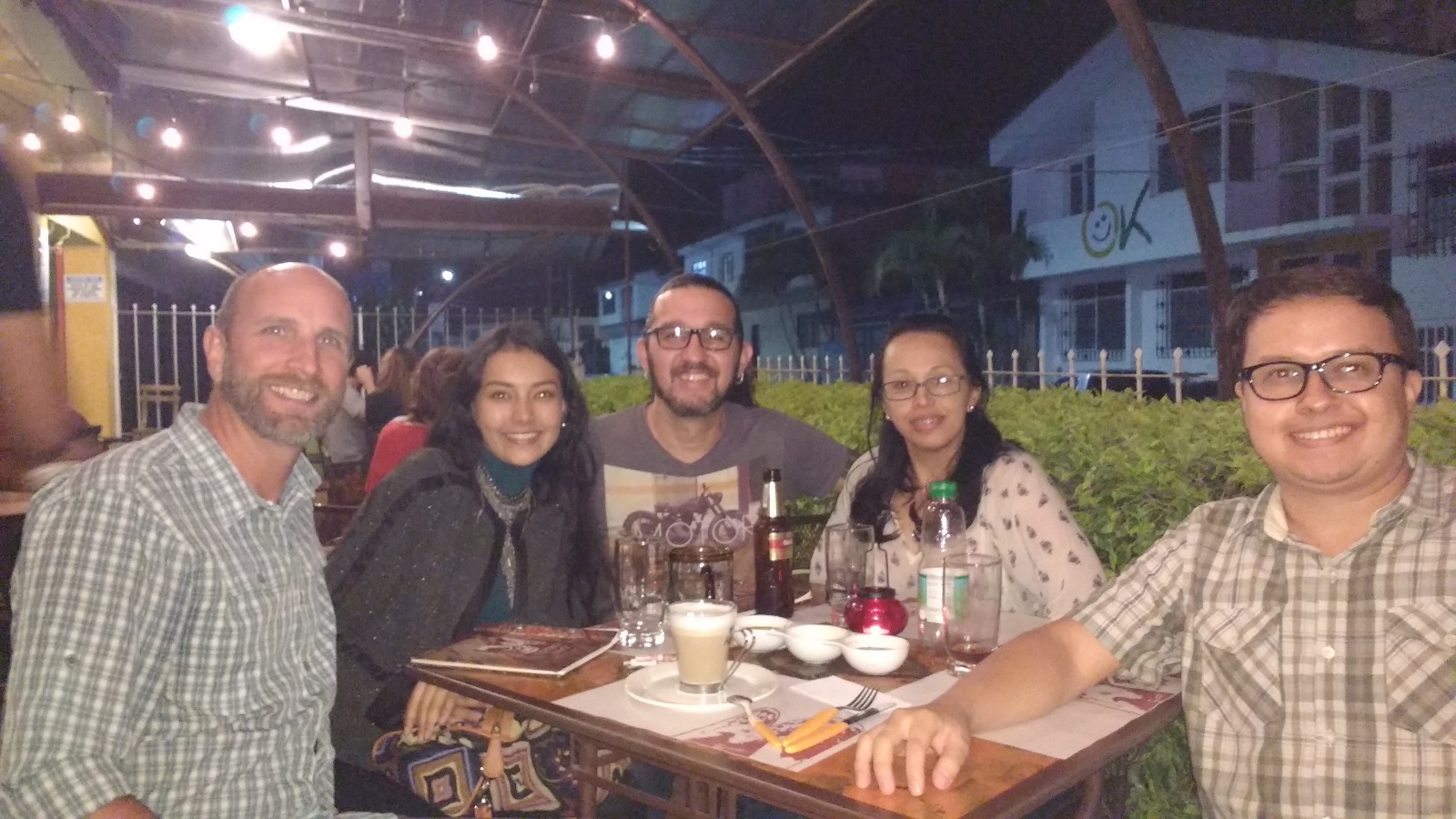 I also have to thank Miguel Echeverri Lopera and Adrianna Guzman Villamiza. Like Eduardo they both did a lot of research, contacting friends along the route, and reading local news. One day I hope to meet Adrianna and Miguel face to face as well. Without my three amigos I think I could have been in real trouble.
No Gasoline
As my evening with Eduardo, Yenny, Cris, and Alfredo was coming to an end Eduardo asked if I had enough gas to get across the border. In fact, I didn't. "Oh, that could be a problem." It hadn't occurred to me that the main artery of commerce had been shut down for days. There had been no gas shipments to southern Colombia in days, and in some places, weeks.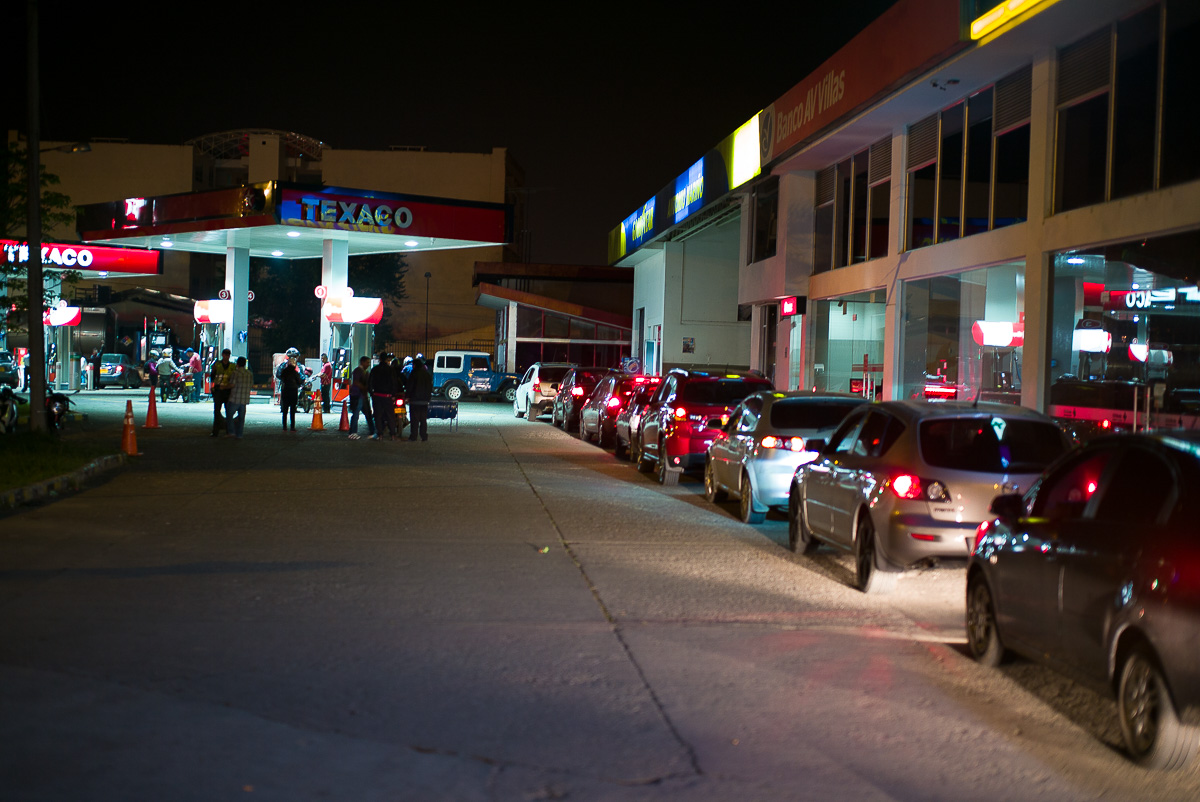 We made a mad dash to the only gas station in town. We found long lines of cars waiting to fill up. I had just missed the cutoff for motorcycles to get gas. Eduardo spoke to the gas station manager and the local police. If I returned to the gas station early the next morning (they suggested 4:00am) I should be able to fill up.
As luck would have it I overslept. I woke at 7:00am! I rushed to get my bags on my bike, check out of the hotel, and get to the gas station as quickly as possible. And I did make it. There was a line of motorcycles well ahead of me, but I was able to fill my tank and set off for Pasto.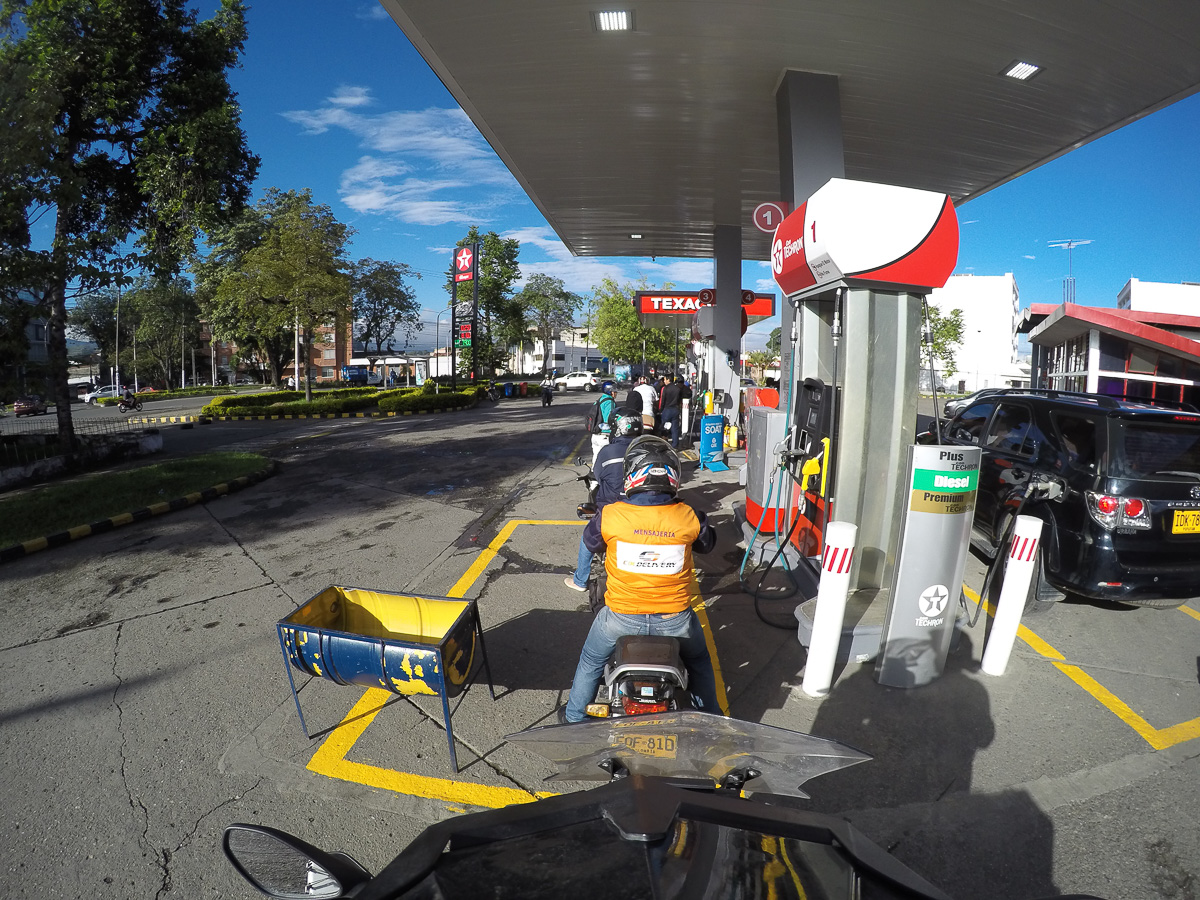 To The Border
The ride from Popayan to Pasto was uneventful. Just more beautiful twisty Colombian roads. There were no sign of the protests or the debris that I'd had to dodge the day before. My plan was to stay the night in Pasto but when I arrived I found a city in chaos.
The streets of Pasto were crowded with cars and trucks trying to make it to the border. There were only two gas stations that had fuel and there were lines of cars and bikes miles long. A few gas tankers were pulling into other gas stations and lines were beginning to form with people honking and pushing to get to the front. Hotels were full of weary travelers. The town just didn't feel right, and so I decided to press on to the small town of Ipiales.
I found a small hotel above a restaurant and was able to get a great meal, a decent room, and some of the best hospitality imaginable for only $25USD. Arturo, the owner of the small hotel/restaurant was just amazing. He made sure my bike was safe, made a fresh pot of coffee for a tired traveler, and had his kitchen staff cook me a meal hours before the restaurant opened. I'll never cease to be amazed at the hospitality of Colombians.
The Border Crossing
The next morning I woke up early. I packed the bike, had one last cup of Arturo's coffee, and was on my way to the border. I'd been warned that it would take hours to cross the border, that it was extremely unsafe, and to be wary of everyone. Those reports couldn't have been more inaccurate.
It took less than five minutes to get my passport stamped and cancel my temporary vehicle permit. Exiting Colombia was the friendliest and easiest border crossing yet. It took a bit longer to get into Ecuador, but again, it was simple and friendly. And it didn't cost a dime.
Lost in Tulcan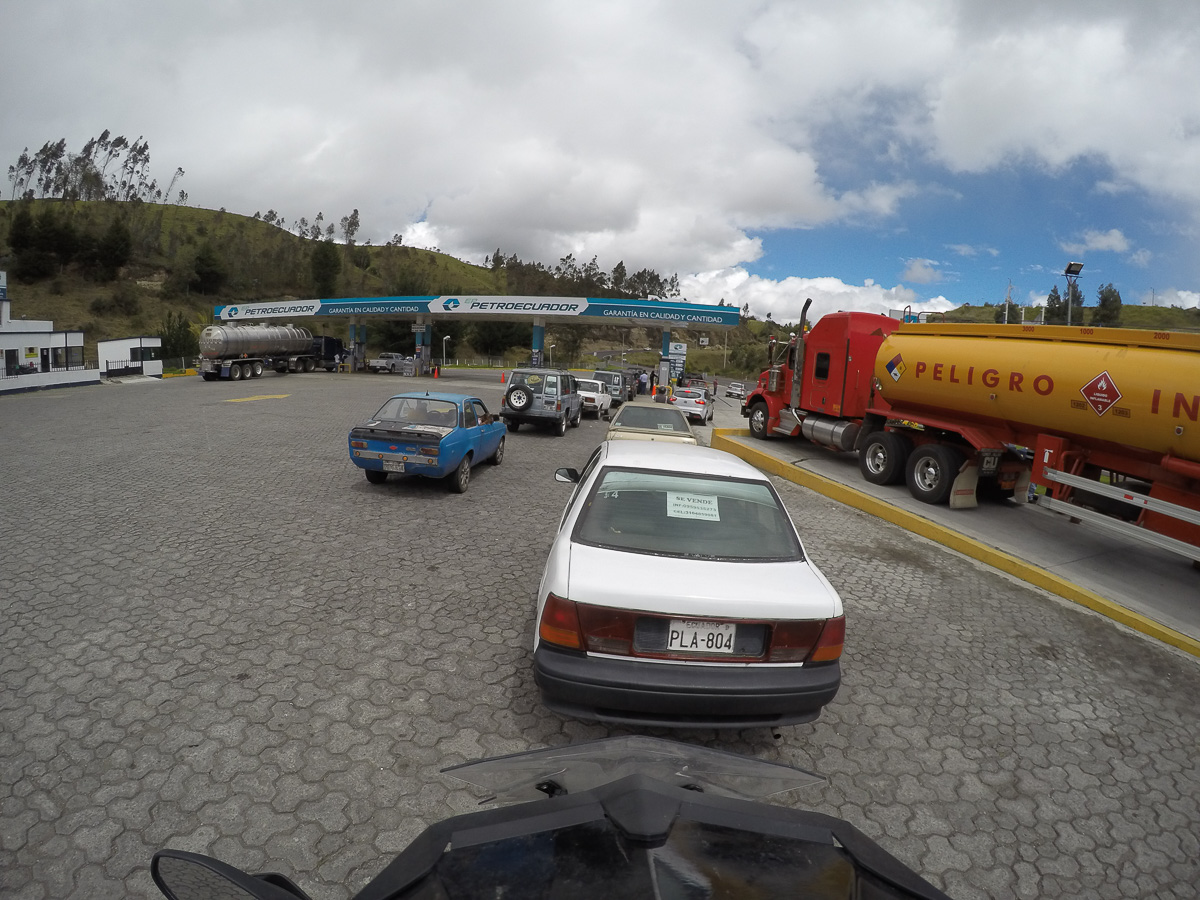 My first order of business in Ecuador was to buy gas. I found a station just south of the border and was able to fill my tank after a short wait. I was told that there was a lot of gas along the way but I didn't want to take any chances. I filled up at the first opportunity.
No long after the gas station I was stopped at a roadblock. Highway 35 was shut down and I had to take an alternate route through Tulcan. Unfortunately Garmin doesn't have maps for Ecuador. I had spent the previous night creating a route with Google Earth. I'm able to export the route from Earth and import it directly to my Garmin Navigator. And as soon as I was forced to leave my pre-planned path I had to resort to navigation by compass and the rare road sign.
Before long I was lost in Tulcan and it took me almost 30 minutes to find a way out. I kept stopping and asking locals which of the narrow, steep, twisty roads I should take to get me pointed in the right direction. Eventually I found my way out of town, and within an hour I was back on highway 35 and on my way to Quito.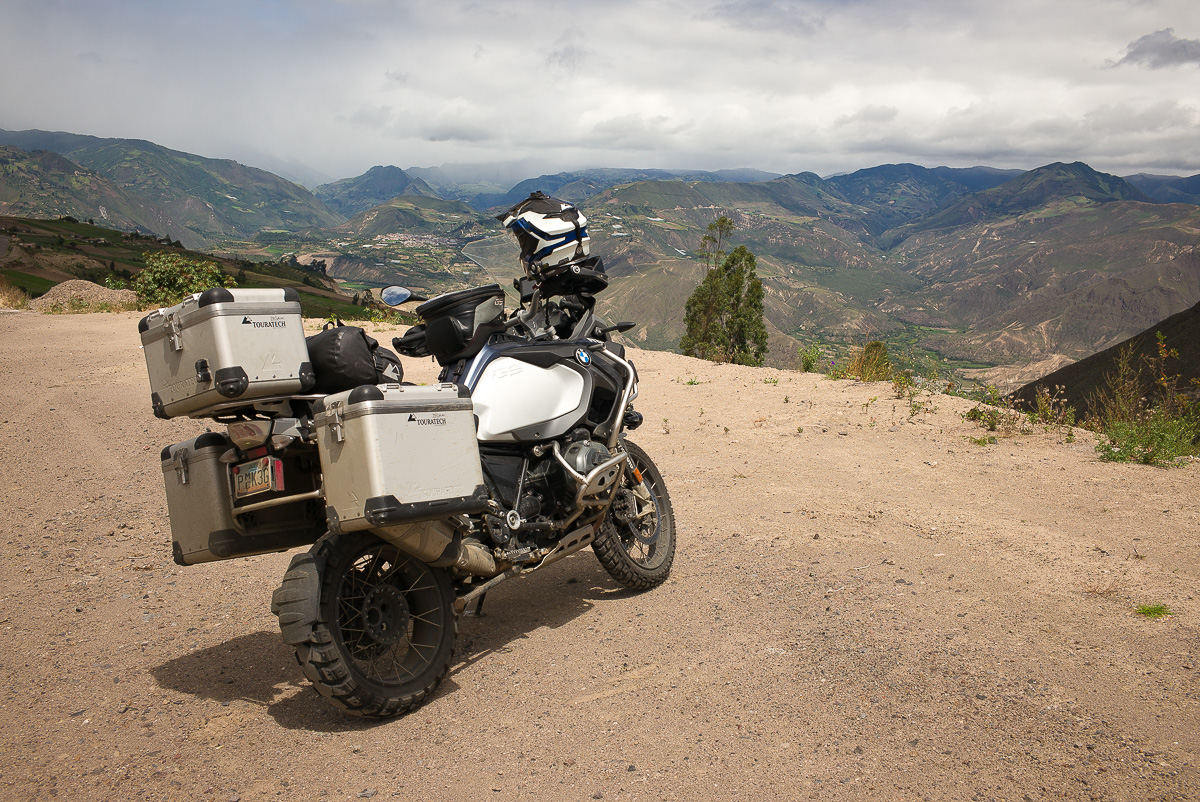 Hello Ecuador
The ride to Quito was spectacular. Although the roads are twisty they are much wider than Colombian roads. Most of the way was four land divided highway. I was able to enjoy the scenery and arrive in Quito by early afternoon. It's been two years since I was last here, and it feels good to be back.