The No-Go Boat and The Rush South
I stayed in Guatemala City for a couple of days. I needed to get the bike serviced, get a bit of rest, and spend some time on-line trying to catch up on work. After a few emails back and forth I was given official word that the ship leaving May 9th would not work out. The ship already had two motorcycles booked and had no room for a third bike.
I spent most of my time making phone calls and sending emails. At every turn I was told that the best way to make arrangements would be to get to Panama City, and the longer I waited the longer it would take.
In the larger scope of my trip this was starting to become an issue. I'm also trying to get to Buenos Aires to book passage to South Africa, so delays crossing the Darien Gap would translate into delays getting to Africa. If I did this wrong it would take me a month or two longer than planned to get to Africa. And that would mess up the seasons, the animal migrations, well – everything. The pressure was mounting.
New Tires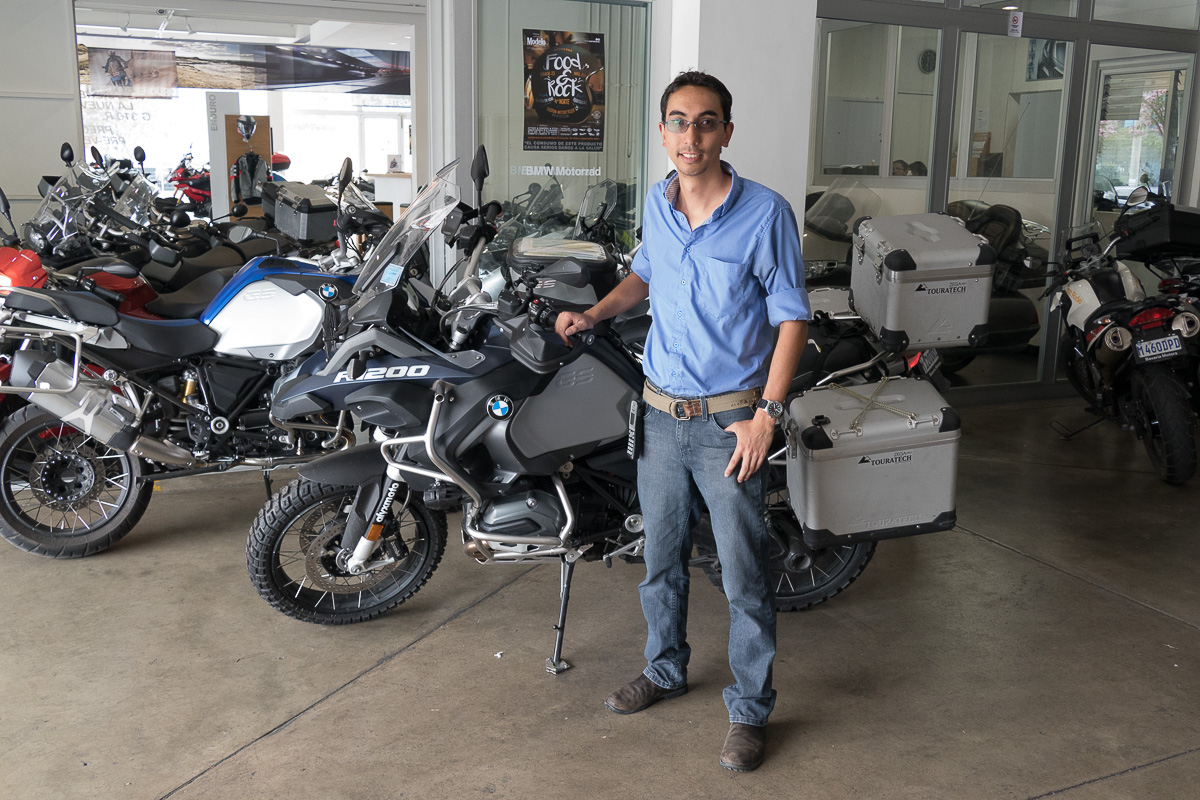 Before I left Veracruz, Mexico I'd made an appointment with Bavaria Motors in Guatemala City to get some new tires. Months earlier, when I was at Alyxmoto having my suspension replaced, Alex told about Heidenau K60 Scout tires. They are a dual sport off-road/highway tire and perfect for the type of riding I plan to do in South America.
Juan Yang at Bavaria Motors made sure the tires were waiting for me when I arrived. Huge props to Juan, when I arrived he had everything set to go – he even had the coffee ready! If you're on a Pan-American trip and need your BMW serviced this is the place to go.
Borders Borders Borders
Once I was finished with the bike maintenance I set my mind to a specific goal: go south, fast. Each border takes anywhere from 2 to 4 hours to cross. The steps are basically the same at each crossing:
Departure Country
Cancel temporary vehicle permit (this usually requires bike inspection)
Get exit stamp in passport
Get exit stamp for bike in passport (not required in all countries)
Arrival Country
Purchase temporary vehicle permit (bike inspection required)
Aduana (customs) declarations (cash, gear, etc must be declared, or you have to officially declare "nothing")
Get "visa" stamp in passport for bike (not required in all countries)
Have bike sprayed and obtain immunization certificate.
Obtain vehicle insurance (not required in all countries)
Obtain "visa on arrival" (not required in all countries)
Get entrance stamp in passport
In most cases you do each of these steps in different buildings. Sometimes those buildings can be a few hundred yards apart, but I've encountered some borders where the steps take place miles apart (ahem, Panama).
There are lines for different types of vehicles and nationalities. The process seems simple, but the steps are always in a different order at each crossing. The documents needed (copies of passport, permits, registration, title, insurance, etc.) are different for each country. I now carry 10 copies of every document because you never know when you'll need a spare copy.
By far the easiest way for a non Spanish speaking gringo to get through the border is to hire one of the local fixers.
Yes, they will charge a 500% markup, yes they take advantage, yes – I know, I know. I KNOW – please stop leaving your comments about this. Thank you very much.

But the bottom line is this: it's not that expensive and it makes life so much easier. Do your best to negotiate a good price, then let them do the work to get you through the border. Stick to your guns, if they agree to $10, only pay $10.
Please Buy a Photocopier, I'm Begging You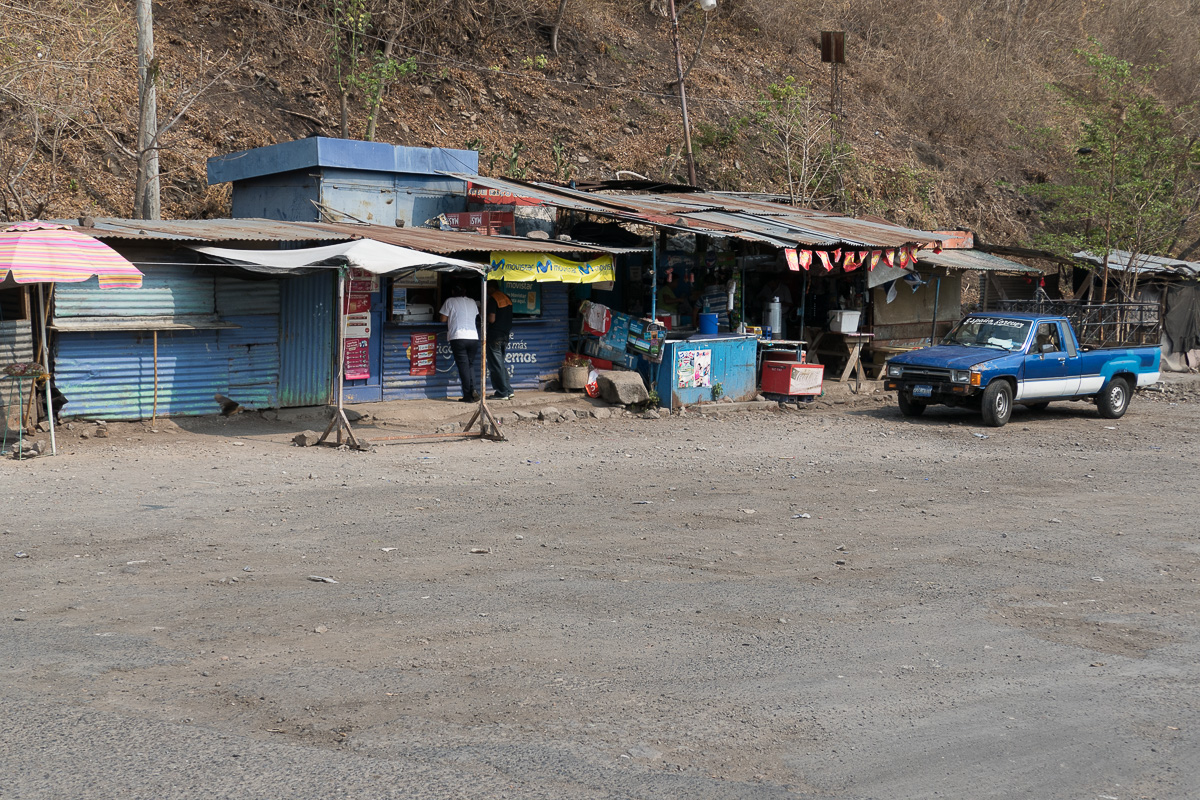 I'd like to take a moment to help the world. Governments of Latin America, It's simple, just buy photocopiers and give them to your border agents. Then go ahead and charge a ridiculous amount for copies at the border. Trust me, we'll pay.
But no, that's not the way it is. As soon as you get your permit you have to immediately get a copy of that permit to complete the next step. Usually three copies. Then you have to go to a new window or building and complete a new step. Then it's back to make copies and repeat. Did you run out of copies? Well, it sucks to be you – go get a new copy. Where is that copy machine you ask? Oh, it's just a short one mile walk.
And I hope you brought small change, very small change, because we can't take big bills. Did you think you could get cash at the border? Ha ha ha ha ha!! Oh, silly you.
My Near Death Experience
I did survive the border crossing process. Once you get through the first border or two it just becomes routine and a bit boring. It's no different than going to the DMV to get your new driver's license or car tags. Take a number, have a seat. Ignore the guy with the gun.
Although the video does a good job showing the border crossings I am guilty of leaving out a lot that happened along the way. In my push to make good time I found myself in a pretty bad situation.
First, it's important to understand I'm not a young kid anymore. When the sun goes down I, like many my age, enjoy the phenomena called night blindness. Yes, when I drive at night oncoming car lights look a scene from Close Encounters of a Third Kind. If you're old enough to remember watching that movie in the theater then you probably have the same night vision fun. I'm sure it's not "officially" night blindness, but I don't know what else to call it. Old age night eyes? We'll stick with calling it night blindness for now.
The Guatemala/El Salvador border was one of the easiest borders to cross in Central America. I was past the border just after lunch and made it into San Salvador just before sunset. My plan the next day was to ride across the remainder of El Salvador, cross the western Honduran border, ride across Honduras, cross the eastern Honduran border and then ride as far as possible into Nicaragua before the sun went down. That may seem like a lot, but it's only 360 miles (580km).
The roads in El Salvador and Honduras were much worse than Guatemala and Mexico. The ride was taking much longer than I expected. And the border crossings took longer than the previous borders. I found myself crossing the eastern Honduras border just after the sun went down. At first I didn't think this was a huge issue.
The first thing I did when I crossed the border was to look for a hotel. There was just nothing that looked safe at the border towns. I decided I'd push on for just a bit to try to find something more suitable. Mile after mile, hour after hour – nothing. No hotels, no safe haven.
The road in this part of Nicaragua had no shoulders, no markings of any kind, no painted lines, no reflectors, no guard rails or arrows telling me that a sharp corner was just ahead. The sky was cloudy and there was no illumination from the moon. There were no distant cities creating a glow on the horizon. There were no street lights and trees lined much of the road.
In many of the fields along the roads farmers were burning the tall grass and weeds. In addition to the dark trees, black road, and pitch black sky there were stretches of road that were covered in thick gray smoke. People, dogs, motorcycles (with no running lights), cattle, bicycles, horses, carts, and children; they walked, rode, slept and meandered across the highway. Trucks and cars drove past me or toward me, their lights blinding my aging night impaired eyes.
I rode hours deeper into the night. At each small town I looked in vain for a hotel. I was hot and tired. I was only able to drive at about 50mph, progress was slow and I was getting more fatigued by the minute. And then it happened.
Two small lights appeared in the distance. For a split second I thought it might be a house down the street or a small motorcycle parked along the road. And then I realized that they were eyes reflecting the light from my motorcycle's headlights. But these eyes were in the middle of the road and at least 5 feet above ground.
I suddenly realized I was about to hit a cow. I slammed on the brakes and thankfully my ABS system kicked in. My tires screeched and smoked and I found myself stopped in the middle of the road 15 inches from a huge dark gray cow.
To my amazement I realized it wasn't just one cow but an entire herd of cattle. They were crossing the road. If that cow hadn't turned his head I'm not sure I would have seen them in time. All of the cattle were dark and blended perfectly with the black road and dark sky. A ninja couldn't have hidden better.
I was filled with adrenaline and now realized that hitting a herd of cattle on a highway was a new reality. My speed dropped to a mind numbing 35mph and I crawled on though the darkness.
Finally at midnight I reached Managua, the only city large enough to have options for lodging. I found a very nice hotel and was able to get some rest. In the morning I made two decisions:
I would do everything in my power to never ride at night.
I would upgrade my riding lights to the most powerful Clearwater lights available.
I'm Sorry For Riding Into Your Back Yard
The next day I was determined not to repeat the late night ride. I got up early and decided to skip filming the ride and just focus on getting across the border safely during daylight hours. After a few hours of riding I was lost in the beauty of the countryside. Southern El Salvador is a place I need to revisit.
Just south of La Virgen I saw an amazing thing. To the left of the road is giant Lake Nicaragua surrounding a huge volcano. I would later learn the volcano is named Concepción. Bryce Canyon, Devil's Tower, Pike's Peak – Concepción is in their league.
As I was riding I kept looking for a place to pull over and take some photos. Unfortunately along the road I was on there are no roads to get to the beach. Eventually I realized I was going to drive beyond the lake and miss out on a photo altogether.
There were a lot of private farms and houses between the highway and the lake, all with giant signs warning visitors that trespassing was not allowed. I drove on until I found two locals by the side of the road. I pulled over and asked them where I could go to get some photos. They told me to turn around and go back about 40 minutes. I didn't want to risk missing the border crossing, so I kept riding toward Costa Rica.
Eventually I found a little gravel road that looked like it would crest a hill and give me a fantastic view. I turned off the road and started on my second off-road expedition. It didn't take long for me to realize that I was clearly heading down someone's driveway. Unfortunately there was no way for me to turn around, the hill was too steep and I'd certainly drop the bike if I tried a u-turn.
Unfortunately for me the road ended behind a family's house. The only way to get the bike turned around was to ride onto their (dirt) back patio. Their dog started barking and a woman came running out to see what was happening. I'm sure she was shocked to see a gringo on a huge bike at her back door.
I apologized profusely, got my bike turned around, and rode back to the highway. Sadly, I didn't get the photo. But I did get a fun story and I'm sure the lady had something to tell all her neighbors.
Costa Rica
The rest of the journey was uneventful. I made it across the border and into a hotel just as the sun was setting. The following day I made it to San José where I decided to work for a couple of days.