My flight from Buenos Aires to Cape Town, South Africa leaves in just a few hours. After months of planning, weeks of working out the logistics and permits, I'm now just hours from being in the air. I can't wait to see Africa! This will be first time to Africa, but hopefully not my last. I'll be riding from South Africa to Kenya, passing through Botswana, Zimbabwe, Mozambique, Malawi, Tanzania, Rwanda, and Uganda along the way.
The Tentative Route
The map below is my proposed route. I know I'll be making changes along the way based on advice of locals, security concerns, changes in weather, etc. But I wanted to give you a high level overview of my route and some of the places I plan to see along the way. Click here for a larger version of the map.
Shipping The Bike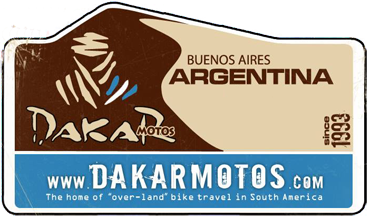 I worked with Dakar Motos in Buenos Aires to get everything ready for shipping the bike from Argentina to South Africa. They worked with the shipping company, Navicon, who in turn worked out everything with British Airlines who actually flew Bike from South America to Africa. I'm sure I could have contacted British Airlines directly, but it was totally worth it to have a broker take care of everything. I just had to pay the bill and show up at the cargo terminal ready to go.
The cost for shipping the bike was just over $2,300 USD. I also had to buy a flight for myself. I was able to find a deal with Qatar airlines, I flew for just $1,200 USD. I did have to pay extra baggage fees and buy some cheap luggage to hold all of the stuff that is no longer in my panniers. That brought my flight costs up to $1,500.
Javier and Sandra at Dakar met with me two weeks before the bike was scheduled to be shipped out. They walked through all of the paperwork I'd need, double checked to see that I had everything in order, and gave me instructions for preparing the bike for shipping. The physical requirements were very easy:
Arrive at the cargo terminal with as little gas in the tank as possible. I had about 1 liter left in the tank when I arrived.
At the terminal disconnect the battery cables.
Remove the windshield and mirrors.
Deflate the tires to about 20psi
I was allowed to leave some items in the panniers – tool kit, riding boots, heated vest, air compressor, helmet. All my camping gear, clothes, and computer gear have to come with me on my flight.
More Photos Than You Really Need
Bike was strapped to a pallet and then taken for inspection by customs and the airline. Once inspection was complete they wrapped the bike in plastic and then put security tape on it to verify it was fully inspected and approved. It was then taken to a secure area for staging. Eventually it was put in a container and finally on the plane. I wasn't allowed to see the secured areas, so you'll have to settle for these 32 photos.
Getting The Carnet

Travel with a vehicle in Africa requires a Carnet de Passage. I got mine through Boomerang Carnets, I worked with Leslie August and she was fantastic. She patiently worked with me to understand the carnet process, how to use it at the borders, and also helped me understand the fee structure and all the finances involved.
The carnet is very expensive. Mine was just over $7,000 USD. There is a refund for a large portion of that once all travel is done. If you're needing a carnet I suggest you call Leslie, she'll walk you through all of that. Since it's so expensive you'll need to plan well in advance.
More Videos Soon
I'm still catching up on the videos from South America. I'll be posting them to YouTube and adding them to the blog as quickly as possible. I know I'm jumping around in time a bit here, but I'm trying to post as often as possible and avoid getting even farther behind.