Sometimes the the trip feels like a living breathing being, and sometimes that being doesn't seem to like me very much.
Let me refresh your memory. I'd just shipped my bike from Nairobi to London (several thousand dollars), then my bike was stolen, smashed, and found. Bike needed serious repairs (many thousands of dollars) and I'd have to stay in London for weeks while repairs were being made (many more dollars). And then, after a wonderful stay in Spain, I arrived in Frankfurt only to discover that, somehow, I'd smashed my laptop. This was not good for a guy who'd just drained his bank account.
Oh Sh!*#
I'm not sure how it happened. But somehow I'd managed to smash the screen on my laptop. I think I crunched it on the bolts inside my pannier, maybe I crushed it when I put my bags on the dolly to my room, I have no idea. I just know that when I turned on my laptop all I saw was this: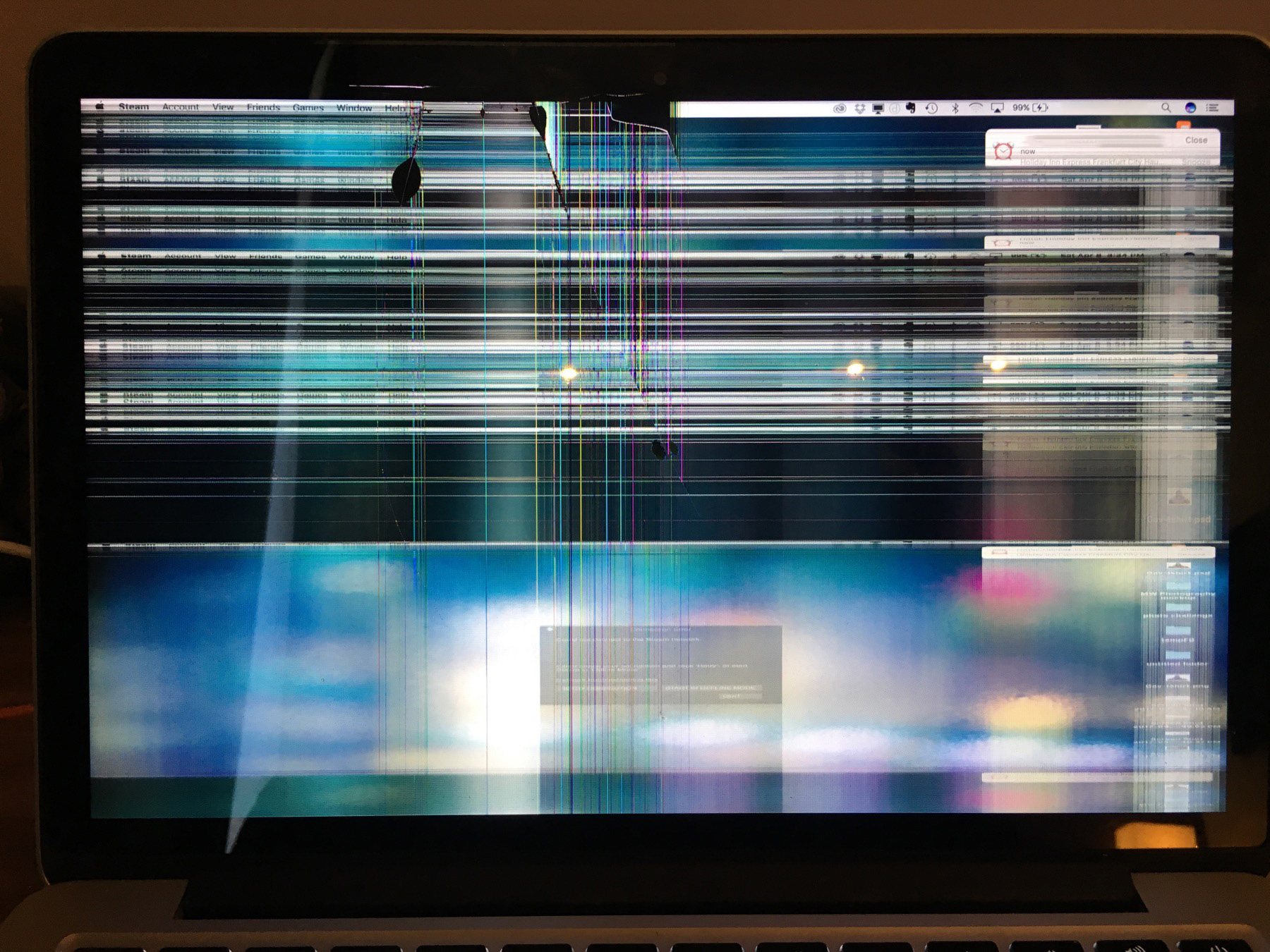 This was not part of the plan
I've been traveling full time for over three years now. I've been on the bike just over a year. I knew when I got to Europe I'd need to replace my laptop, make repairs to the bike, and get some new gear for Russia and Asia. I'd been saving and budgeting for a few things:
A new laptop
Upgrade my Leica M(240) to a new M10
New riding pants and boots
Full service on the bike with suspension tuning
A Mavic Pro drone
Unfortunately the cost of the bike repairs totally changed all of that. Parts and labor on the bike were nearly $10,000. My gear and laptop would have to make it another year. I really wanted a new M10, but I'd survive. My laptop was getting a bit old but it was still working. I'd make due and be happy that I got Bike back.
The Hidden Costs
When I got my bike back I knew it was going to be expensive to repair all the damage. But I didn't anticipate all of the hidden costs and the chain reaction of events it would create. The initial repairs took over a month. During that time I was able to stay with my friend Gavin for a bit, but most of the time was spent in a London hotel. London is expensive; the food, the hotels, the transportation. I wound up spending nearly double what I'd budgeted for that month.
During my time in London I learned that my good friend, Jyothi, was coming to Europe. She didn't have a visa to visit the UK, so we agreed to meet in Nice, France. I was able to fly from London to Nice, stay in a fancy hotel for four days, eat healthy food, and fly back – all for a few hundred dollars less than it would have cost just to stay in my London hotel room for that same amount of time.
The delay in London meant that the time I'd planned to spend in Italy was gone. I'd need to change my travel plans and schedule. I also had significantly less money than I'd planned on having, that would also mean cutting parts of Europe that I'd planned to visit.
The Chain Reaction
The bike theft had set off a chain reaction of delays and financial burdens I'd never anticipated. I had to stay longer in London which cost more than I'd planned, that forced me to skip places I thought I'd visit, that would rearrange my schedule and change my work plans. Things I'd budgeted for spring would have to wait for summer. Visa application fees, carnet updates, bike maintenance, new clothes… Everything was pushed back. And that meant Eastern Europe and Russia would have to wait. Unfortunately the Russian winter waits for no one, and that meant my crossing from Europe to Japan had to change as well.
I no longer have the luxury of time to explore Kazakhstan and Mongolia. Just making it from Europe to Japan at a reasonable pace will be a challenge. As I worked through all of this I realized I would need to be extremely frugal or I'd never survive the pricey European summer.
The bike theft had changed everything. These were my thoughts when I arrived in Frankfurt and turned on my laptop. Things were already tight, but the smashed laptop took it to a new level.
Repair or Replace?
My immediate thought was to simply have the screen repaired. That seemed like a simple fix. Fortunately Frankfurt has an Apple Store, so I hurried down and waited in line at the Genius Bar. I was told that they would have to order the screen for my laptop, it's over 3 years old so they didn't have the part in stock. It would take three weeks for the screen to arrive and then it would take another week or two to get to the repairs. I was also told that the cost would be nearly $1,000
I certainly didn't want to wait a month and spend a thousand dollars to repair a laptop that was nearly four years old. I checked other repair shops in town, some would be able to fix my screen – but with a cheap low quality screen. My laptop is my work, it one tool that I absolutely need. After a few days of research, and help from local friends, I realized I'd need to replace my laptop.
It's not so simple
In the USA I would simply go to the store and buy a replacement. But sometimes it's just not that simple. A MacBook Pro in Europe is nearly $1,000 more expensive than the USA. I'd also have to custom order one from Apple because the European keyboards are different than our friendly QWERTY keyboards, I'd also need more memory, hard drive, and a faster CPU for my video editing needs. All of that meant a three week delay and a price tag that was out of reach.
The insane truth is that I could get a fully upgraded MacBook Pro in the USA for less than an entry level MacBook Pro in Germany. I also had a friend who works for Apple that was able to get me a discounted rate. I'd found a solution in the USA – but I was in Germany. If I shipped the laptop to Germany I'd have to pay hefty import taxes.
Erik to the rescue
I posted my dilemma on my Facebook page and within a few hours I had a solution. A very nice guy named Erik from Mississippi told me he was flying to Munich and would be willing to bring my new laptop with him. He was flying to Germany in a month. That meant I'd still have a four week delay, but I'd be able to get the computer I needed at a price I could afford. So I placed the order and had the new laptop shipped to Mississippi.
Getting Creative
Once I ordered the new laptop my problems were not solved. I still had a month of work to do. Adorama was very patient, but they still needed finished videos for Exploring Photography. I had deadlines and still no working laptop. I'd also just spent the very last of my money on my replacement. Things were getting very, very tight.
The first thing I tried was to use my iPad mini as an external monitor. I have Duet installed on my laptop and I thought I might be able to survive a month with a tiny monitor. That worked just fine for email and writing, but I wasn't able to use Duet for video editing. Videos just wouldn't play on the external iPad, they didn't even show up. Try as I might, Duet wouldn't work.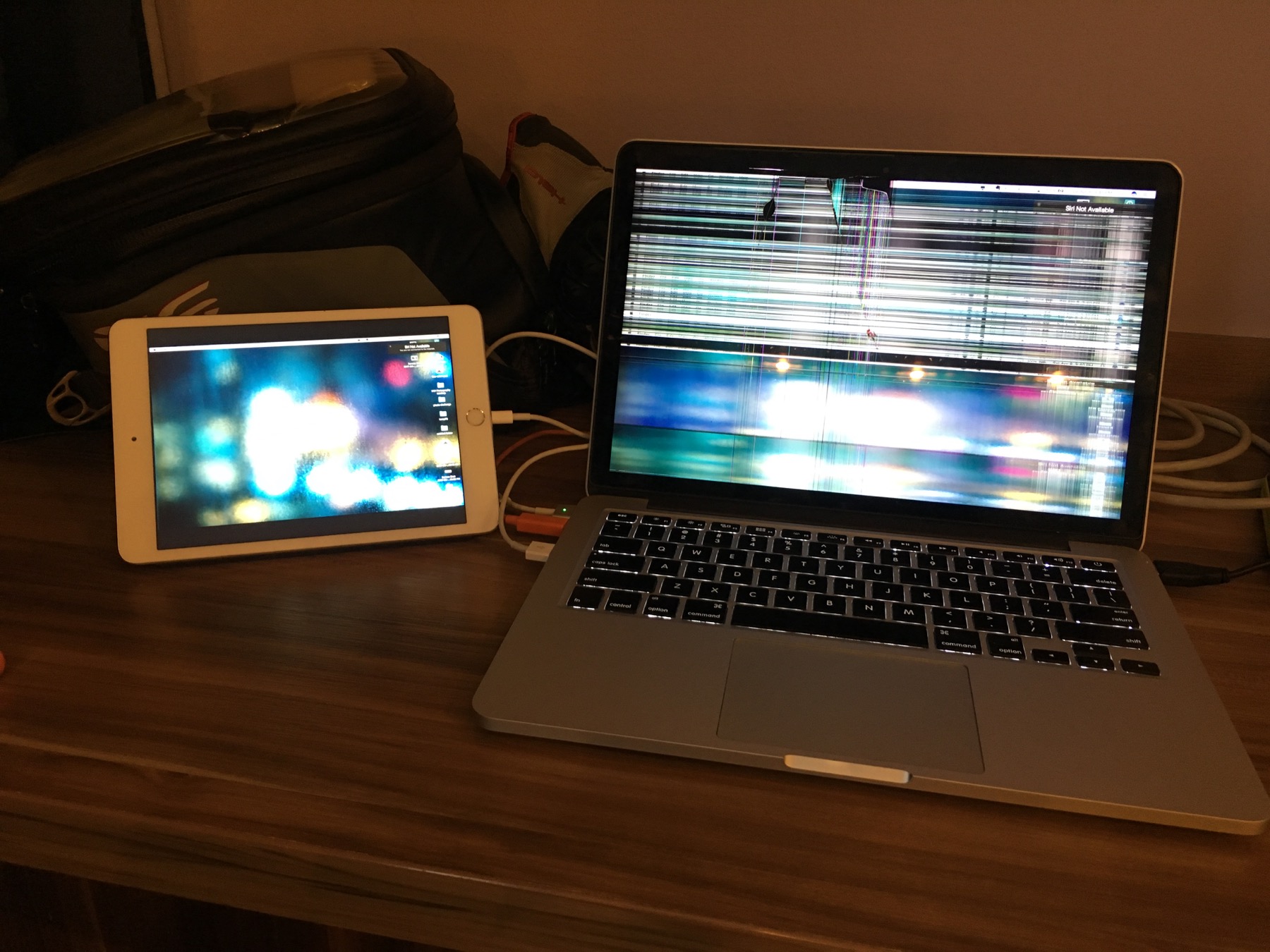 It's Not So Complicated.
After the Duet debacle I racked my brain trying to figure it out. Then I realized, I just needed a cheap external monitor. Almost every hotel has an LCD TV in the room. So I bought an HDMI cable and gave that a try. But the colors on the TV were so bad I couldn't edit photos and the resolution was so low editing was a nightmare.
I trudged down to the local Saturn (Germany's version of Best Buy) and found a 1080P monitor for just over $200. Now I was set to go.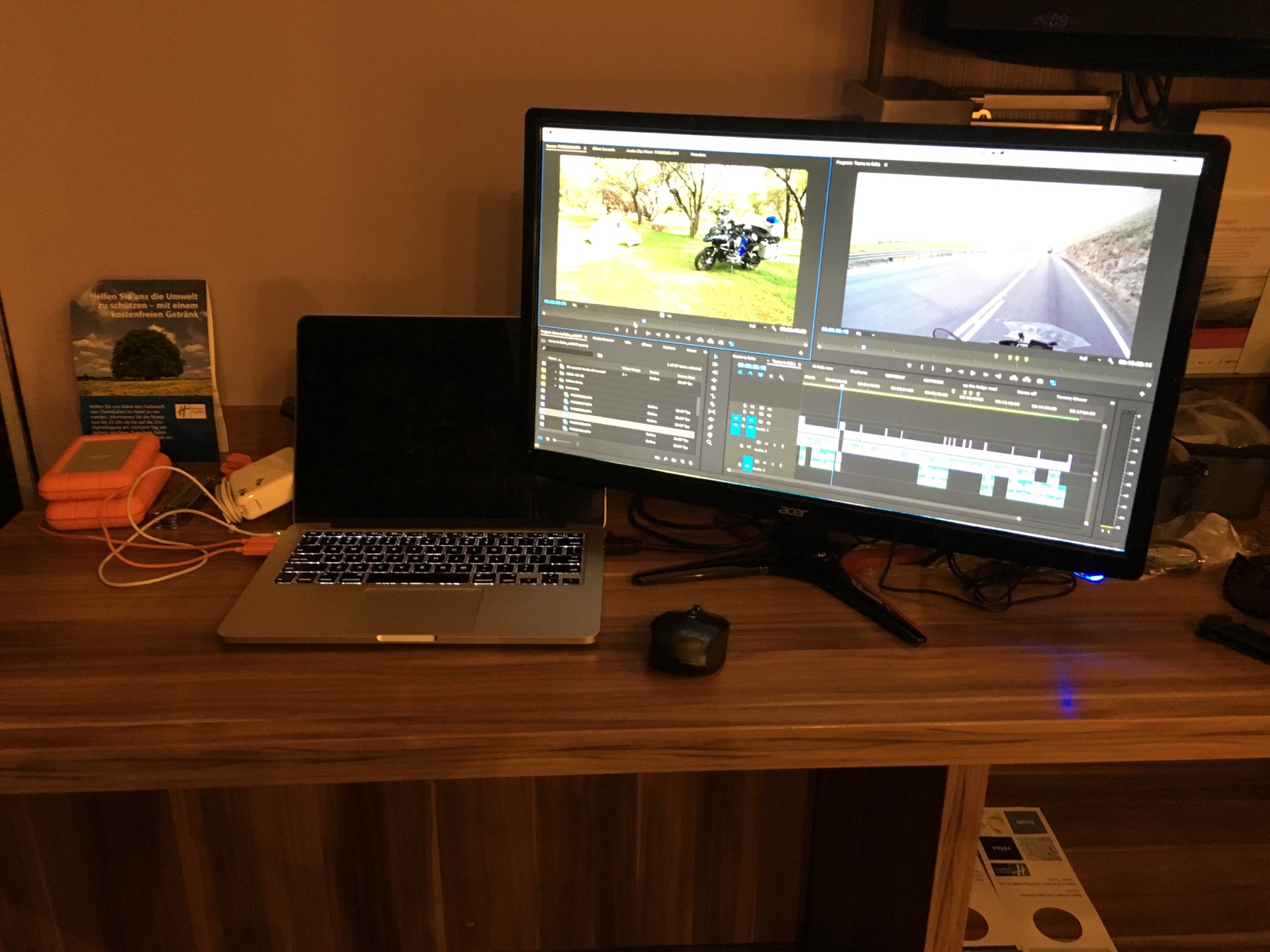 The Chain Reaction Continues
Now that I had my temporary laptop I could return to making videos. But it also meant that I'd spent every last spare penny. I realized I'd need to stay in Frankfurt for a few weeks, both to save money (Frankfurt is one of the most affordable cities in Europe) but also because I couldn't really ride around with a giant monitor strapped to my bike (although I did have to do that several times when changing hotels).
I also realized that I'd have to get some cash to stop the bleeding. Hotels, bike repairs, new laptop, external monitor… It was adding up, and I still had things I needed to buy before heading to Russia and onward to Asia. I realized I had to do the unthinkable. I needed to sell one of my Leica lenses.
Saying Goodbye to the Leica 135mm
One of the disadvantages of Leica lenses is that they are very expensive. But they hold their value. And that was good news, because I needed the cash. On my previous visits to Frankfurt I knew of a great used Leica store, Foto Brell. I rode down to the store and sold my Leica 135mm f3.4 APO-TELYT-M. It was enough to replace some of the cash I'd lost over the past few weeks. Just enough to get me to the next month. I'm hoping to replace the lens one day, but it had to go in order to pay for more pressing needs.
Paris
I worked as fast as possible while in Frankfurt, but I'd made previous plans to visit friends and do some work in Paris. So after a couple of weeks I sold the external monitor (for almost nothing) and headed to France. I ended up using a bluetooth keyboard on my iPad to write my articles for the Adorama Learning Center. It was a challenge working on a tiny screen, but I was able to make due.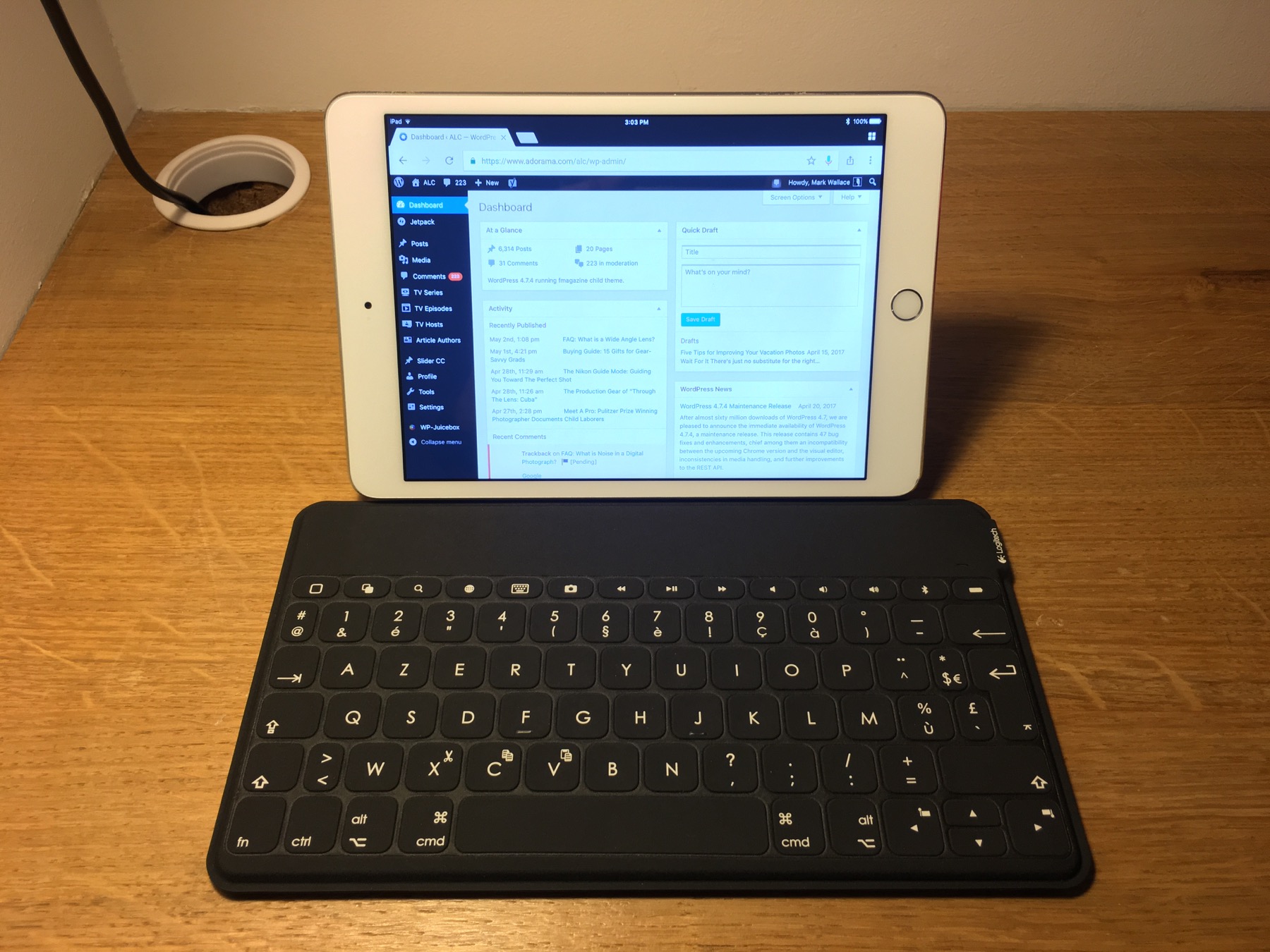 Thank you Erik!!!
Once I left Paris I zipped over to Munich where I finally met Erik face to face. We were able to meet for a very short time and enjoy some tasty German food.
We'd planned to go out and have beers and see some sights in Munich, but his flight from JFK to Frankfurt had to turn around over the Atlantic due to a malfunction with the plumbing on the plane. He spent a night being shuttled between the airport and a hotel and was delayed by a full day. By the time he finally arrived in Munich he was exhausted and our schedules never matched up for that evening of exploring and beer.
I owe a massive debt of gratitude to Erik. He's a lifesaver. I'd never met him before, and yet he was willing to sign for my laptop in Mississippi, carry it with his carry-on luggage, and hand deliver it to me in Germany. Thank you, thank you, thank you Erik!!
Erik asked to remain anonymous, and due to our short meeting time, I have no photos of Erik to post. 
New Laptop
After all was said and done my new laptop was finally in hand.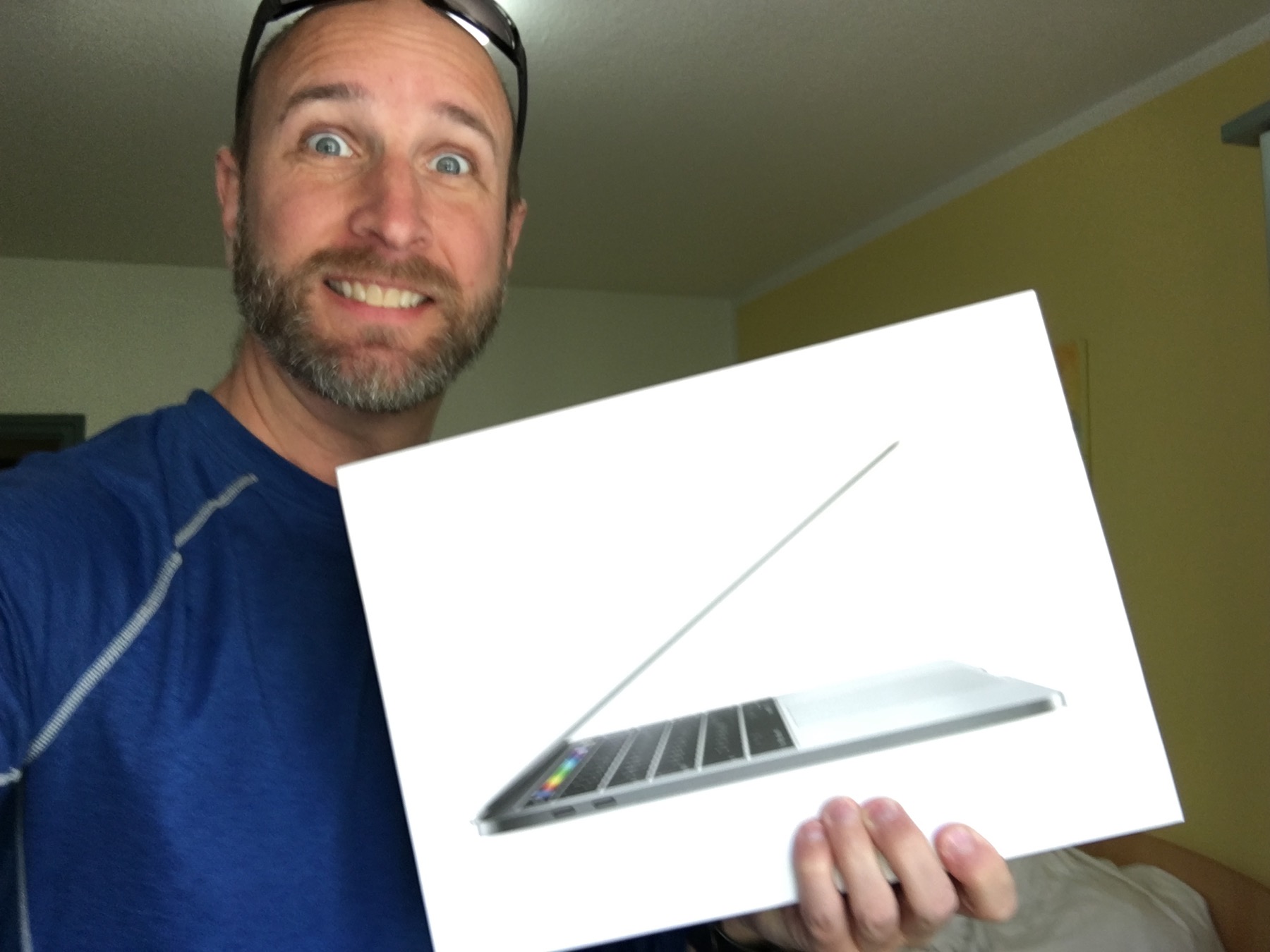 I am absolutely loving the new MacBook Pro. I'm glad I was able to replace my old laptop with something that will last me the next 4 years. The touch bar is great (especially for writing – it's a dream). I was able to get 16gb of RAM and a 1TB SSD hard drive. Renders are faster, editing is faster, and things are back to normal.
On to Russia
With the delays and expenses caused by the bike theft and smashed laptop my time in Europe hasn't been what I'd planned. But I have done a lot of work in the past few weeks getting everything reset, purchasing new gear, and preparing for Russia. I'll be riding from eastern Europe, across the entire country of Russia, and into Japan. It's been a ton of work getting things prepped. I'll tell you all about it in my next post.
Stay tuned…