After traveling abroad for five years, I'm finally back in the United States. I'm happy to announce that I'll be riding through the Western States with my good friend, Alicia Sornosa. We'll be visiting most of the National Parks, many state parks, and all the nooks and crannies in between. Here is our 2019 route and dates – and an invitation for you to join us along the way.
Alicia Sornosa is a world traveler, writer, inspirational speaker, and travel guide. She's the author of 360 Grados: Una Mujer, Una Moto, y El Mundo (360 Degrees: One Woman, One Bike, and The World).

Read the story of how I met Alicia.
The Man in the Shadow
Also traveling with us is a man we will call La Sombra del Viento – The Shadow of The Wind. He's a world traveler who prefers not to be named or appear in photos and posts. But he'll be a part of the trip nonetheless. We will be three; Alicia, La Sombra, and me.
If you watch closely you may be able to guess who La Sombra is, but I've been sworn to secrecy and will leave it at that.
Yes, the name is a tribute to one of my favorite books.
Ninety Days
Due to visa limitations, we only have 90 days for our US tour. We'd hoped to take a much longer trip, but after months of work, we've come to accept that 90 days is our reality. With a country as large as The United States, we had to make some compromises. In the end, we decided to travel through the land I know best – The American West.
I was born in Hamilton, Montana. I lived there until I was eleven. My family and I moved to Cheyenne, Wyoming for my Junior High years. Then we moved again to Crescent City, California where I attended High School. I attended college in Phoenix, Arizona and then Denver, Colorado. I finally settled in Phoenix, the city I've called home for the past 27 years. The American West is in my blood.
Videos and Posts
We will be filming as we travel and posting as frequently as possible on Youtube. If you're not in The West, have no fear, you'll still be able to follow along as we document our travels.
If you haven't seen the past episodes of Mark On A Bike, you may want to start there. Click here to see the entire playlist.
Our Route: The American West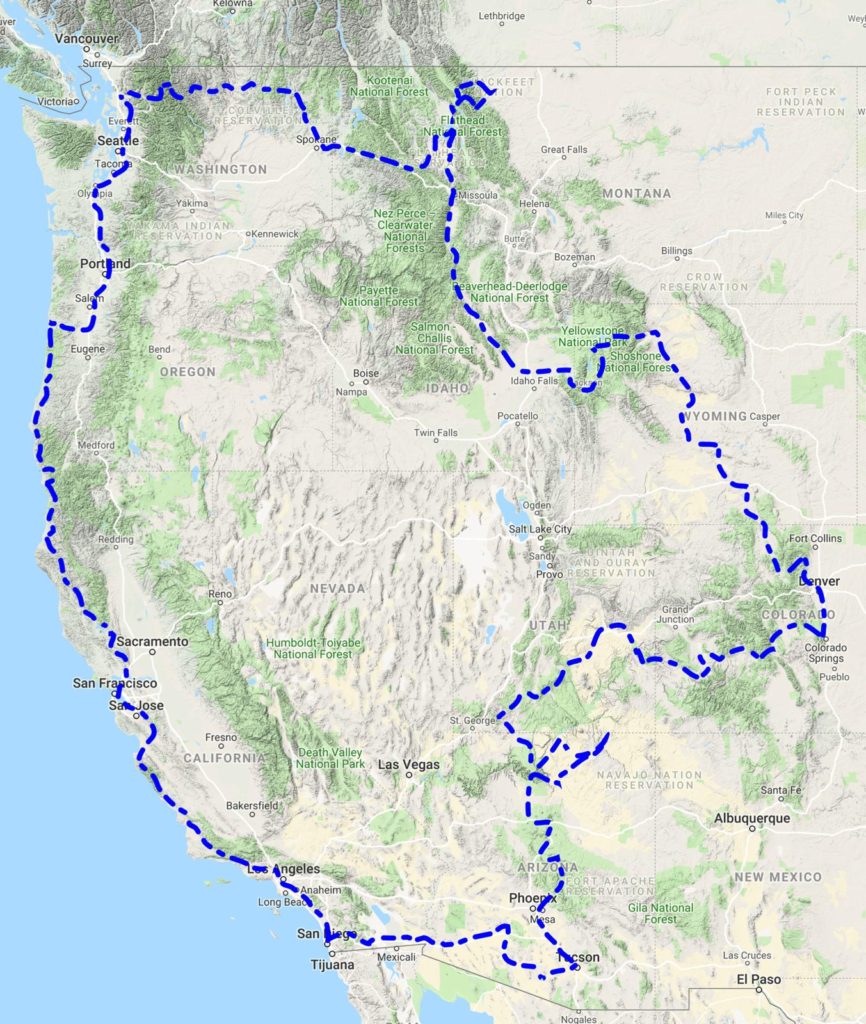 Alicia will be flying her Ducati from Madrid to Los Angeles. Her bike will clear customs there and that's where the trip will begin and end.
We will spend a bit of time in Southern California before making our way north, exploring the Pacific Coast Highway, San Francisco, Napa Valley, past Clear Lake and up Hwy 101 to Crescent City and the magnificent Redwoods.
We'll then continue north along the Oregon coast and on to Washington. We'll turn east in Seattle and head over the Cascades, across the panhandle of Idaho, and into Montana where we'll explore Glacier National Park and the Bitterroot Valley. We'll ride south through the back roads of Montana until we cross the Wyoming Border near Jackson.
We'll visit Jackson and Grand Teton National Park before continuing north into Yellowstone National Park. Then it's east to visit Cody, WY and the Cody Stampede Rodeo, we can't visit The West and not see a rodeo. After watching a few barrel races and bull rides we'll head south.
In Colorado, we'll be doing some serious off-road riding as we travel down parts of the Colorado Backcountry Discovery Route; known as the COBDR. We'll do the northern sections of the COBDR and then take a break in Denver for a few days. We'll then return to the COBDR and ride across the Rockies and into Utah.
We plan to explore Moab and Arches National Park, then we'll make our way south to the Four Corners area where we'll spend a few days in Monument Valley. Then we'll be heading east once again; Page, AZ, Bryce Canyon, and Zion National Park, UT. Then it's south to Arizona and the Kaibab Plateau.
We'll begin at the North Rim of the Grand Canyon and then wind our way around the Northeast corner of the Canyon, across Marble Canyon and back to the South Rim.
Then we'll turn south towards Flagstaff, Route 66, and the red rocks of Sedona. We'll spend a few days exploring before we head east to Rim country. We'll take in views of the Mogollon Rim as we camp and ride sections of the Arizona Backcountry Discovery Route; the AZBDR.
Eventually, we'll arrive in Phoenix where we'll have a bit of a homecoming party. We'll stay long enough to rest and wash the dirt of our bikes, but then we'll be on the road again – south to Tucson to explore Mission San Xavier del Bac, built in the late 1700s when Arizona was part of New Spain.
After a short time in Tucson our 90 days will be almost over. We'll turn west, ride across the Sonoran Desert, and return to Los Angeles where Alicia will fly her motorcycle back to Spain.
The Goal: Authenticity.
We're exploring "Authentic America", the things that aren't in the movies or on TV, the America I know and grew up with. We'll be avoiding freeways when possible, and in many places, we'll seek out fire roads and back routes.
Waffle House is an American icon. Sure, I'll make sure Alicia has some hashbrowns that are "smothered, covered, chunked, diced, peppered, capped, topped, and country." We'll visit fast food chains only in the context of understanding American culture. Our preference will be to eat at local diners, restaurants, and explore mom-and-pop shops. We'll work hard to find small-town experiences.
We'll be camping, staying at local hotels, and sleeping in spare bedrooms of friends and family. We plan to meet and chat with as many locals as possible, and that means you!
We Want To Meet You!
We'll be posting updates very frequently to our Instagram and Facebook accounts so you can track our progress. When we're in your town we'd like to meet you; let's have a coffee or a beer.
If you are a rider we'd love to have you ride along for a bit. If you're interested in doing that, just reach out and we'll try to make it happen.
The best way to stay in touch is to follow along on Instagram or Facebook. Since our plans are fluid based on weather, road conditions, and other unforeseen difficulties, it's hard to post specific dates. So follow on social media so you don't miss out!
Mark (English): @jmarkwallace | Facebook
Alicia (Spanish): @aliciasornosa | Facebook
The Tour Begins… Very Soon!
We are currently waiting for final approvals from the EPA, DOT, and US Customs to import Alicia's motorcycle into the USA. It could happen any day now. Once we have approvals things will move quickly.
We could begin as early as June 3, 2019, and don't expect to start any later than June 10, 2019.
Once we have a final start date I'll be posting our tentative dates and travel times here on the blog. But things can shift and change, so make sure you're also following on Instagram or Facebook for the latest updates.