This morning I went on my first off-road test ride. My friend Keith followed behind in his Jeep and documented my first day off-road. I had three goals: get some off-road riding experience, test out all my new riding gear, and do some experiments to determine the best way to document everything when I'm riding alone. This was a learning experience, and I learned a lot!
The main goal was to get some off-road experience with the big bike. I've been watching a ton of riding tutorials, reading articles, and talking to experience riders. But there's just no substitute for getting out there and doing it myself. No amount of YouTube watching will give me the experience I need.
To set the record straight, I've done a ton of off-road riding. I started out riding little dirt bikes when I was a kid in the 70's. But the largest dirt bike I've ever ridden was a 500cc Honda, and that was years ago. The big BMW is a 500+ pound, 1200cc beast. I'm definitely planning on doing the official BMW off-road training to learn proper technique. But today I just wanted to get out on the dirt.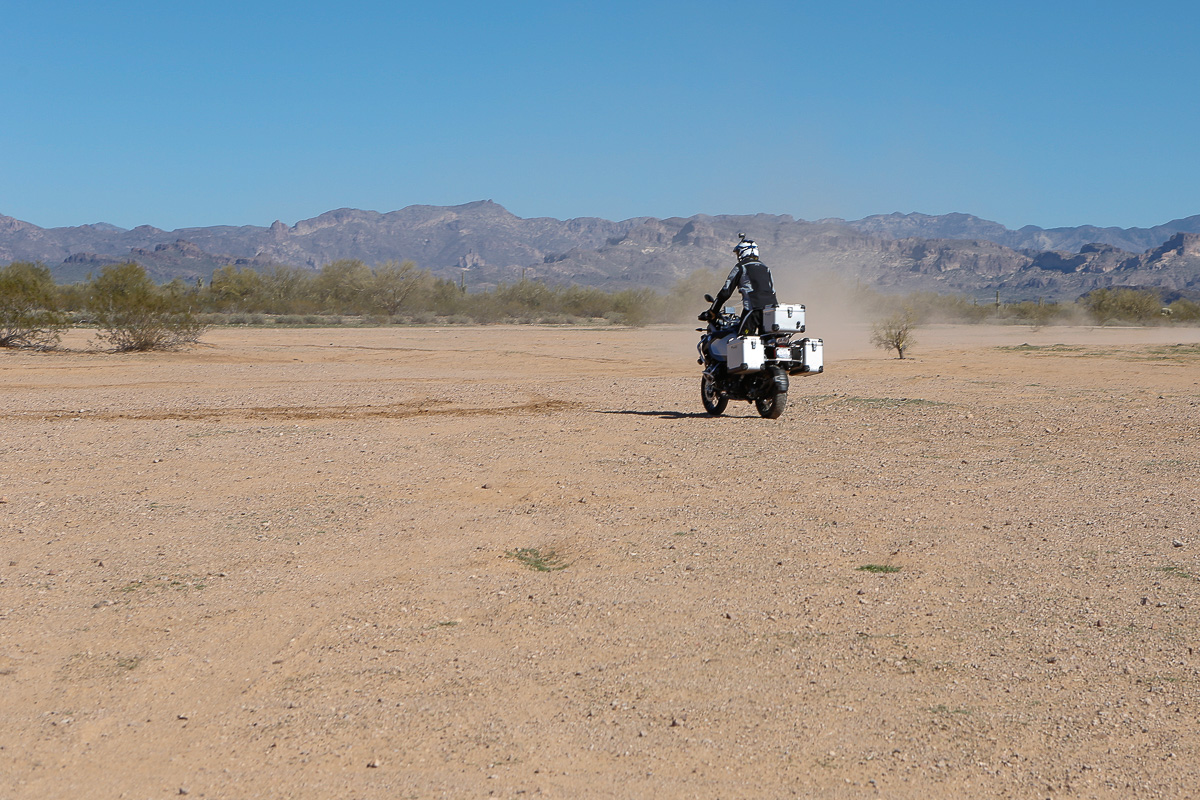 The first thing I did was get to a wide open space. I spent a good amount of time just getting used to standing on the pegs, riding very slowly while controlling balance, covering the clutch and brake, steering with my feet, and many of the other basics.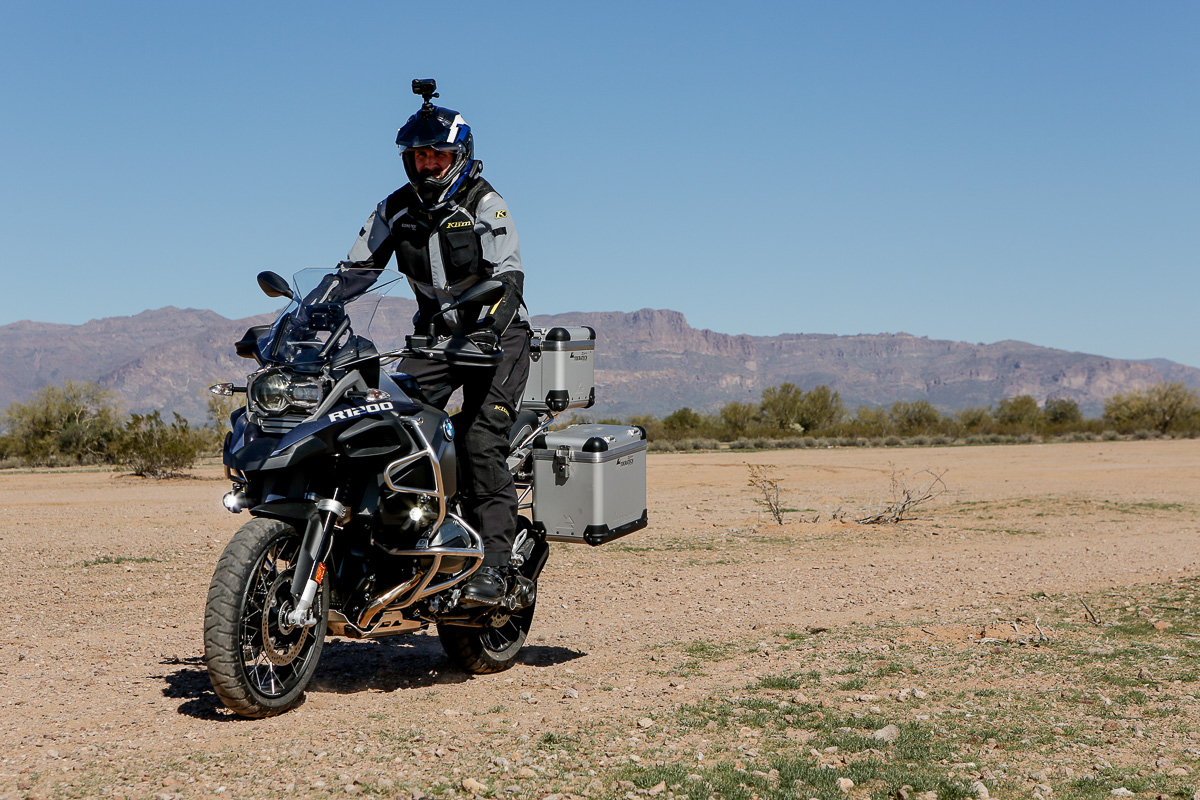 After a good amount of time I was ready to head to the trails and test my riding skills. The roads were mostly dirt but occasionally there would be some loose gravel and deep sand. I'd found the perfect training area for my first outing. Simple stuff. Or so I thought.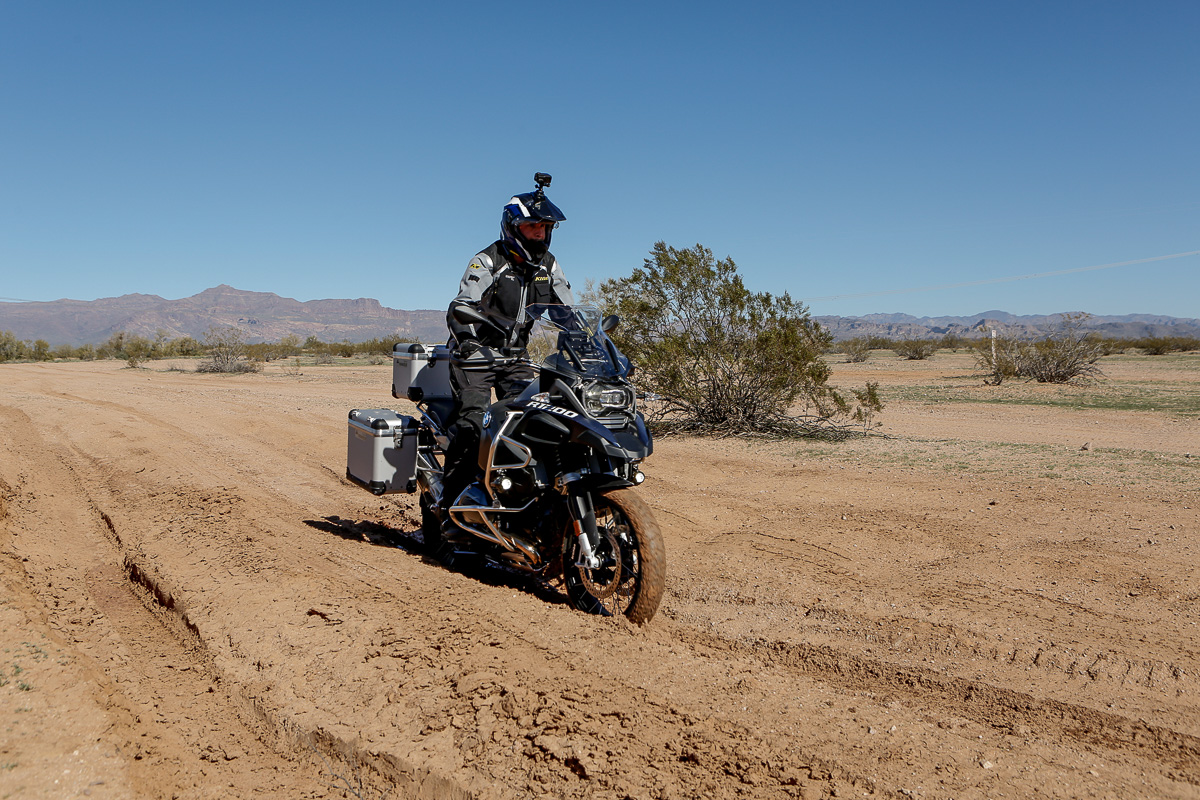 My first real challenge was this patch of mud. This was a very small puddle and I rode through it over and over again trying to get used to the feeling of the front wheel swimming around. I had to keep reminding myself to look where I wanted to go and not stare at the road directly in front of me. There was a moment where I overcorrected and almost drove into a bush. Luckily I was able to recover and I made it through with nothing more than a bunch of mud on my wheels.
And then it happened…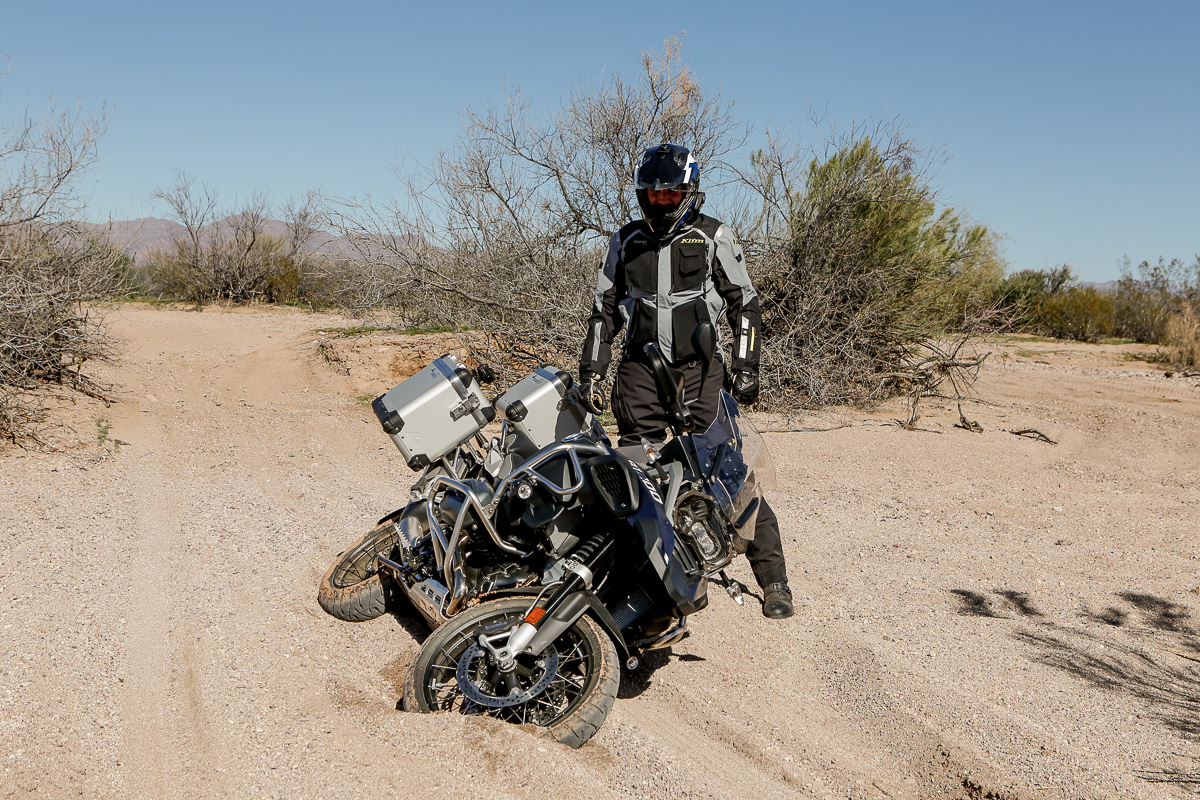 It's my first crash! Well, not really a crash. I was traveling much to slowly and I just sunk into the deep sand. I should have been on the gas, keeping the front end light. But I was much too timid and the sand stopped me in my tracks and I just fell over. It was pretty funny. There was no damage to the bike or injuries to myself. I guess if you're going to crash it's good to be in soft sand only traveling at 6mph.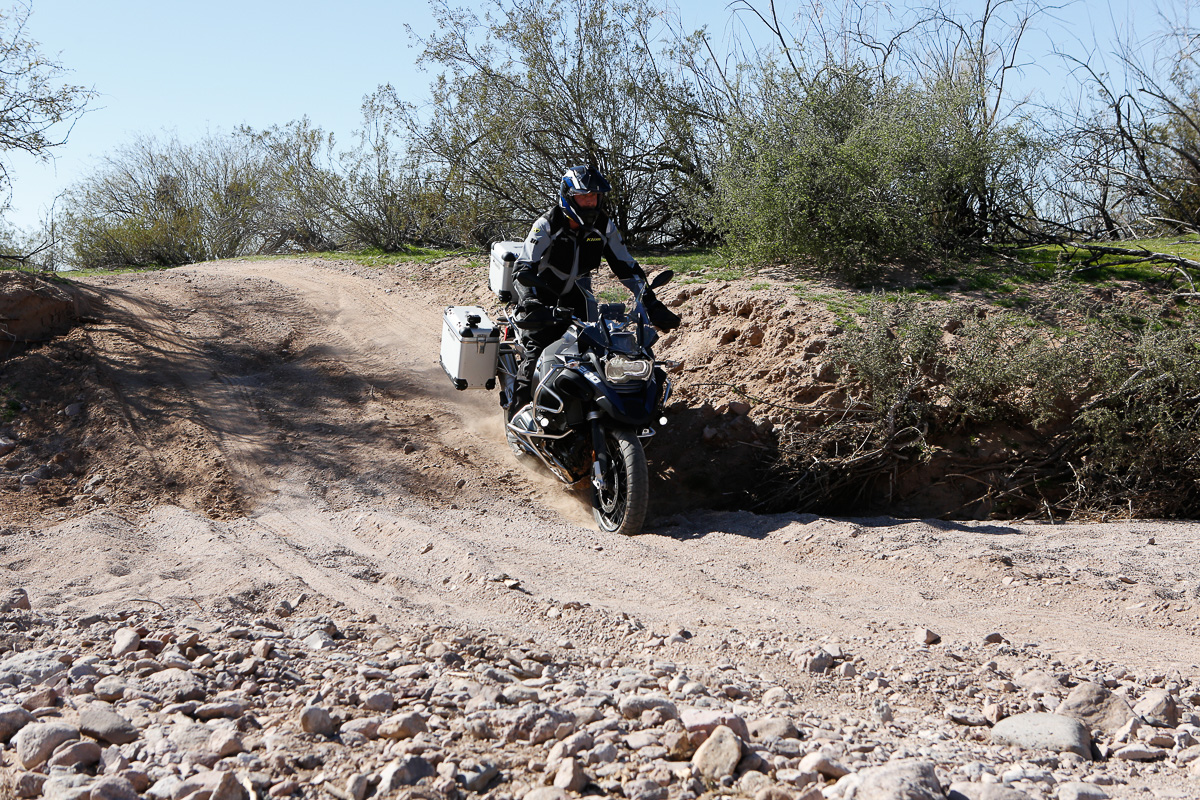 About 30 minutes later I was faced with this wash. Keith was full of confidence and told me to "Ride on through!" I was not so certain, this was a much more technical section than the little place I crashed just earlier. But I reminded myself to stay light on the bike, give it some gas and keep the momentum rolling.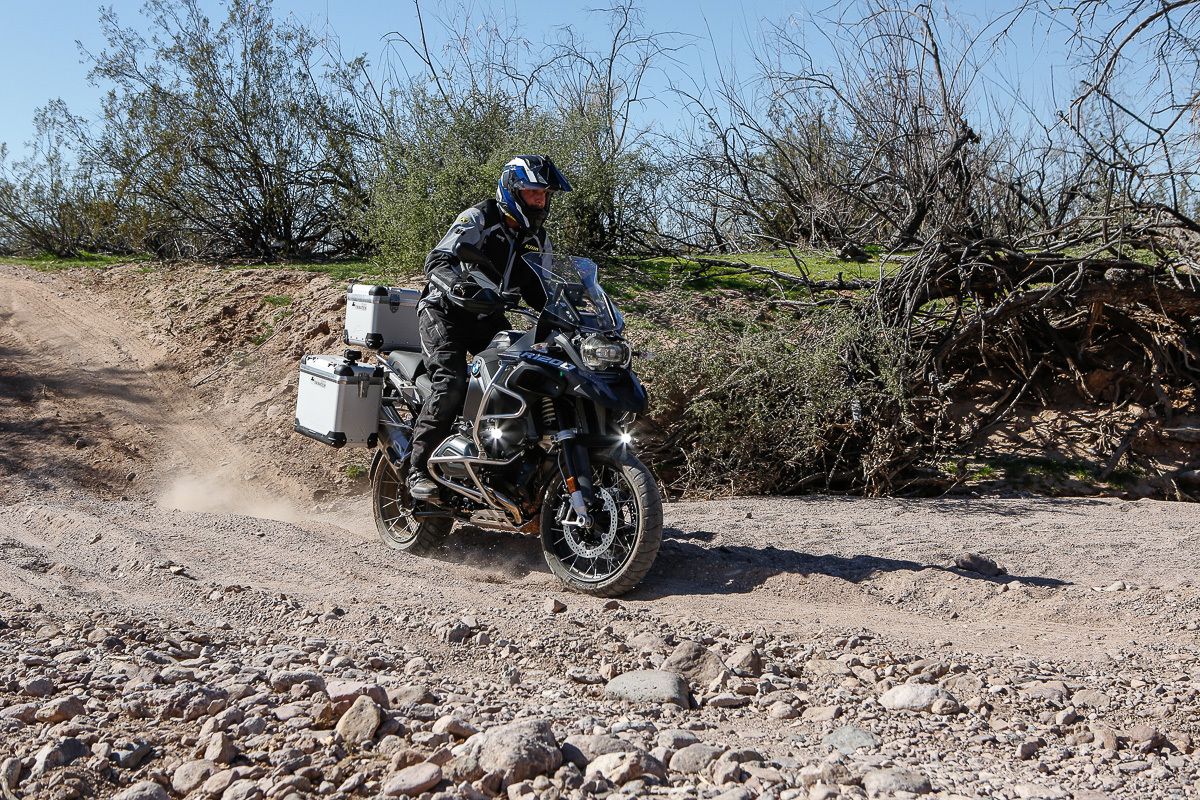 Bam! I rode right through the wash with no issues whatsoever. This bike is amazing and will do anything if I just learn to trust it. Although I didn't think I was going to crash I was a little surprised at how easy it was to ride through this section. I learned that proper riding has just as much to do with your brain than your body.
The first objective was a huge success. My off-road abilities and confidence changed considerably in just this short ride. I'll be doing many more training rides in the future, but I couldn't have been happier with today's experience.
I also learned a few other things. I was debating adding some cylinder head protection. After the crash today I will definitely be adding the extra protection. Although the crash bars worked as planned a small rock could have easily done me in. I've already ordered some Aluminum Cylinder Head Guards from Touratech.
During the ride I was testing my video setup. My headphone mic connects to my Garmin Virb XE via Bluetooth, but it sounds horrible. I'll need a different solution. I'll also need at least two more cameras so I have coverage and can make more compelling videos. I've also learned that the battery life on the Virb is totally inadequate, so I'm looking at ways to hard wire power to the cameras. Luckily Garmin has a Rugged Combo Cable and Bare Wire Power Cable that should fix both issues.
I'll be doing a lot more testing before I head out for the six continent journey. I plan on spending the majority of February getting ready, practicing, learning, and making sure everything is in order before I cross the border.
Special thanks to Keith Kessler for following me around in his Jeep today, taking great photos, and helping me lift the bike up after my crash. Keith is a rock star!