I recently made some significant changes to Bike. I wanted to give Bike a small overhaul for the ride through Africa. Most of the work was done with the help of Hex Microsystems and Bavarian Motorcycles in South Africa. They really did a great job. Here's a rundown of the things I've added or changed.
New Baja Designs LED Lights
The most significant change are my new Baja Designs Squadron Pro LED lights. When driving at night the standard OEM lights are just not adequate. This almost cost me my life in Nicaragua, let me refresh your memory.
Two small lights appeared in the distance. For a split second I thought it might be a house down the street or a small motorcycle parked along the road. And then I realized that they were eyes reflecting the light from my motorcycle's headlights. But these eyes were in the middle of the road and at least 5 feet above ground.

I suddenly realized I was about to hit a cow. I slammed on the brakes and thankfully my ABS system kicked in. My tires screeched and smoked and I found myself stopped in the middle of the road 15 inches from a huge dark gray cow.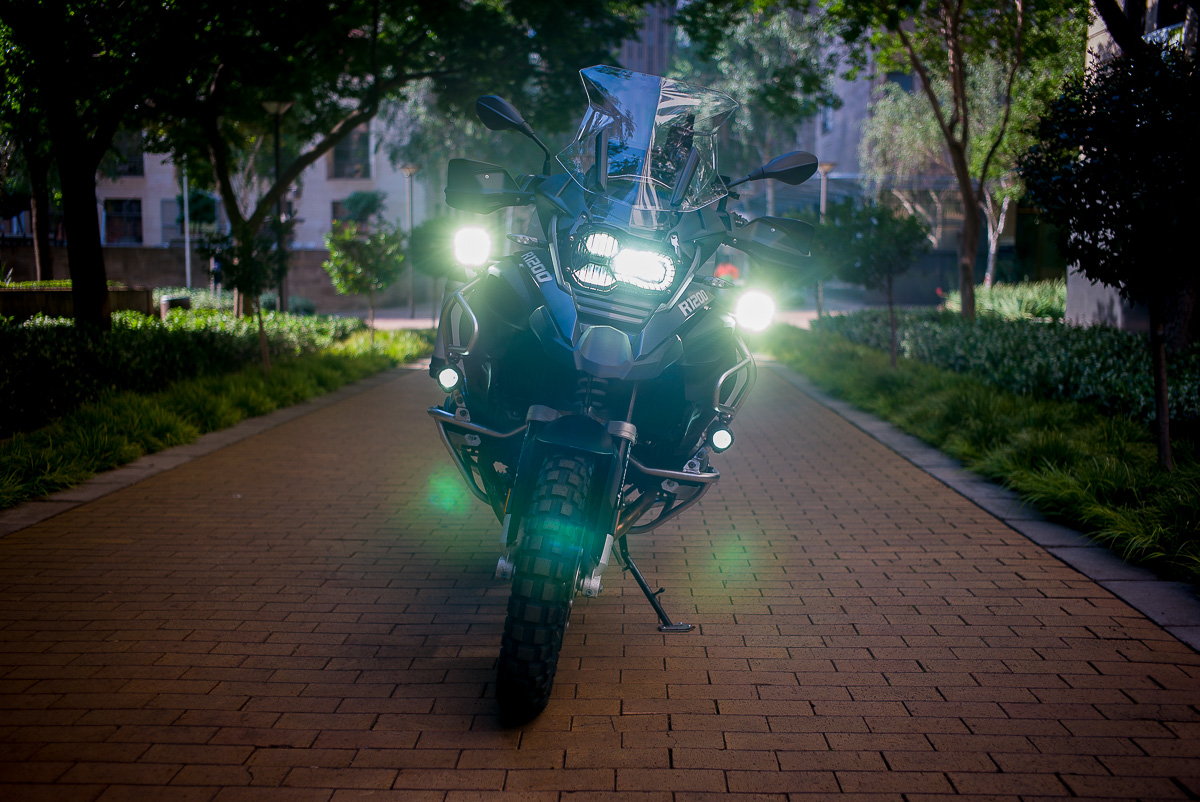 The guys over at Hex, the makers of the GS-911wifi really helped me with this project. They loaned me their shop for the day and did most of the work. Peter-John was the mastermind, Vernon did almost all of the installation (with significant help from Zoöl), and Duncan used his engineering skills to test all the power and make sure everything was electronically sound.
The Squadron Pro lights are 4,900 lumens each These bad boys are incredibly bright. The day after the install I tried them out by riding for 3 hours after sunset. These lights make the road look like I'm riding in daylight. When I turn them off for oncoming traffic it's almost like complete darkness again.
Driving/Combo Pattern
I got the "driving/combo" lighting pattern which is good for lots of light at medium speed. I did find myself wishing I had light farther down the road when I was riding at speeds over 100kph. Baja Designs has a light for that, it's the "spot" pattern. I may add one or two of these at a later date (if I can figure out how to mount them).
Driving/Combo: Maximum trail coverage in a single light. The Driving/Combo pattern is equipped with both Driving (10°) and Spot (9°) optics to provide you with a smooth blend of light for both near field applications and distance (Lighting Zone 3)

Spot: A longer and narrower 9° beam focus for illumination further down the trail or road. The Spot pattern is designed to be used in conjunction with additional Wide Driving and/or Driving/Combo beam lights. (Lighting Zone 4 & 5)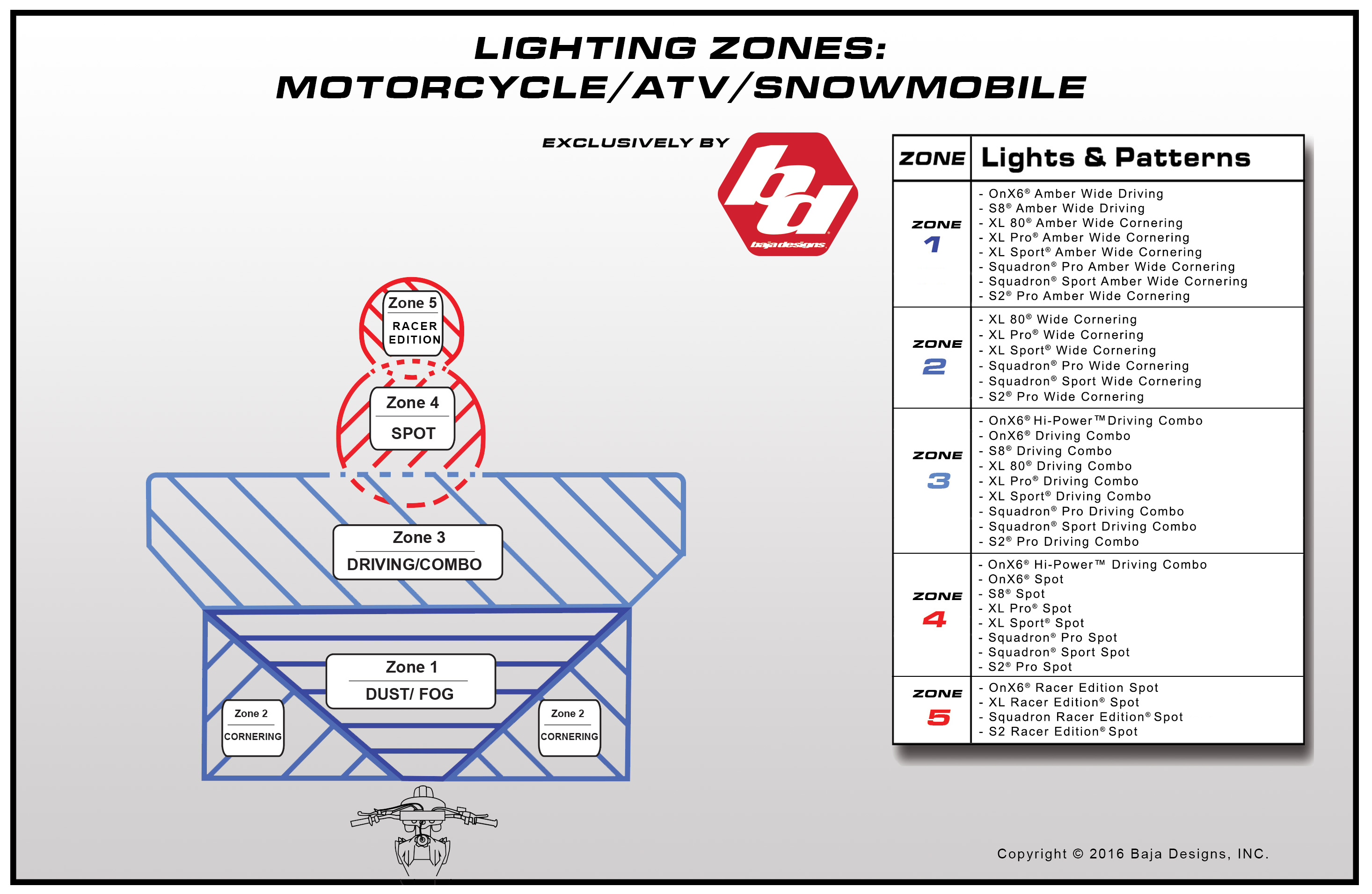 Additional Brake Lights
We also added two large LED strip lights to my rear pannier. These light up with the brake light and make the bike much more visible from the rear. Vernon and Zoöl also created a quick disconnect system so I can easily unplug the new lights when I remove the rear pannier.
LED Turn Signals
Although the new lights are pretty awesome there was one big problem – the OEM incandescent turn signals are so large they blocked the new riding lights. I zipped down to Donford BMW in Cape Town and picked up a set of BMW LED indicators.
The installation of the turn signals is fairly straightforward, I replaced all four while Vernon was installing the big LED riding lights. But there was a problem – the voltage for LED lights is not the same as the incandescent lights. The parts department in Cape Town told me I'd need to have my bike's brain, the CAN bus, reprogrammed. If I didn't, my turn signals would blink too fast and I'd get an error light on my dash. Eventually the wrong voltage could cause issues with my new signals.
The Hex garage is very close to Stellenbosch, so after we wrapped up the install I rode over to Donford BMW in Stellenbosch and they hooked Bike up to their computers and updated everything. They even let me take a brand new R NineT out for a joy ride while Bike was getting fixed. What a blast!
New Accessory Outlet Added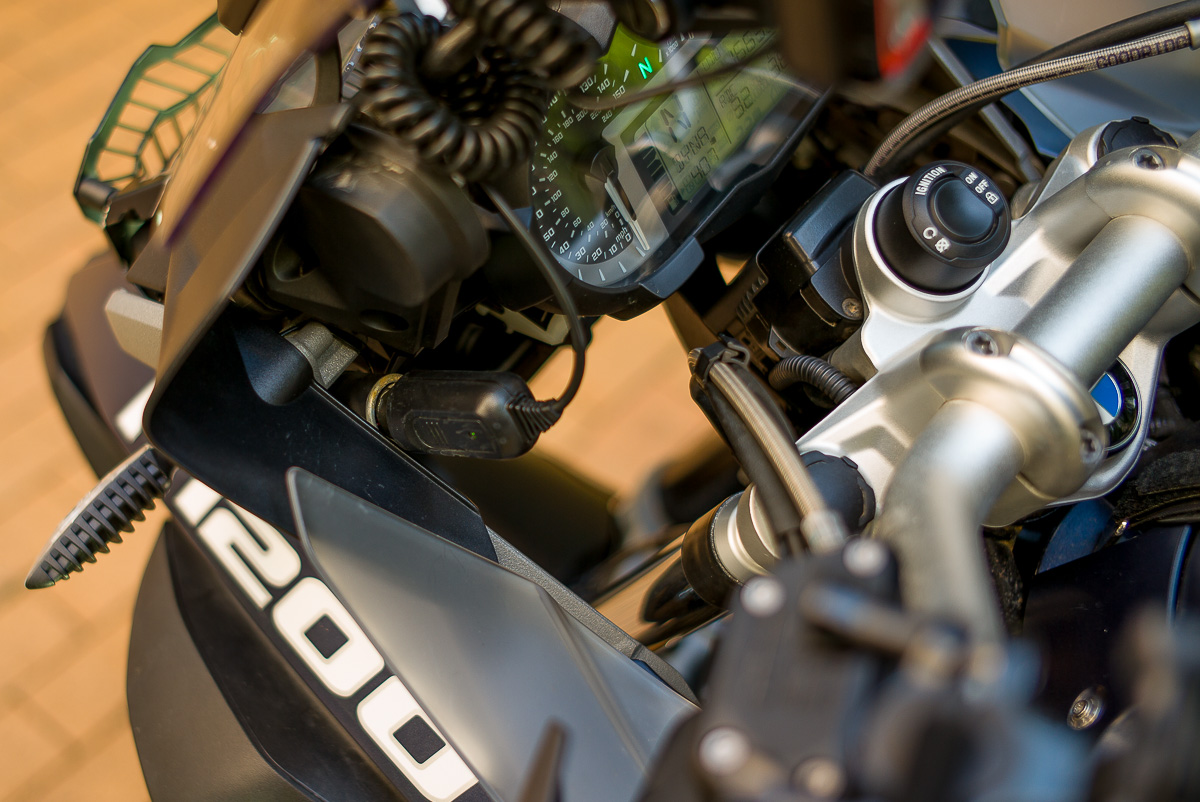 I added a DeLorme inReach Explorer to my bike a few months ago. It's one more measure of safety for the solo ride. Although I've had the RAM motorsports mount I didn't have any way to power it. It requires a large "cigarette lighter" plug for power, but BMW bikes have a much smaller 12 volt plug. Because the plug has a transformer you can't just chop it off and replace it, it needs a new accessory outlet to work properly.
Vernon and Zoöl took care of this for me. Zoöl found a spare accessory outlet that Hex had in the shop and Vernon installed it for me in about 10 minutes. Now my inReach is powered while I'm riding which means I can have it continuously communicating with satellites instead of connecting every 10 minutes to conserve power. That translates to more timely tracking and better communication if needed. And I won't have to worry about forgetting to charge the batteries every night.
New Tires
Now that I'm in Africa I'll be doing a lot more off-road riding. My Heidenau K-60 Sport tires still have plenty of tread on them. I can't believe how well they traveled, I bought them in Guatemala and they've lasted all the way to Africa, it's pretty amazing. As far as tread life is concerned, these tires are spectacular.
I really enjoyed the K-60s, with one giant exception: rain. These tires are slicker than snot in the rain. They are by far the worst performing tires in rain that I have every experienced. The back end of the bike slipped around every time I rode in the rain, on several occasions I was lucky not to drop the bike. If you are considering these tires and think you'll be on tarmac in the rain a lot: DO NOT BUY THEM. Stick with the OEM Michelin Anakee III tires.
The Heidenau tires are pretty good for light off-road riding. They are perfect for the tarmac rider who finds himself on gravel occasionally, but I need something that has a better off-road tread pattern. I decided to install some Continental TKC-80 tires.
I've only had my TKC-80s for a couple of days, so I can't really speak to their performance yet. Once I've done a few days on the dirt I'll let you know my thoughts.
Bar Risers are Gone
Next week I'll be getting more off-road training. I am super excited about this. I'll be taking the intermediate course with Country Trax. After I enrolled they sent me some documents that told me how to prepare for the weekend. I was surprised to see this:
Important: please remove handle bar raisers if fitted to your bike unless you are taller than 7ft. They interfere with the overall balance of the bike & rider and are considered dangerous. You will not be allowed to ride the oval track if you have handle bar raisers fitted!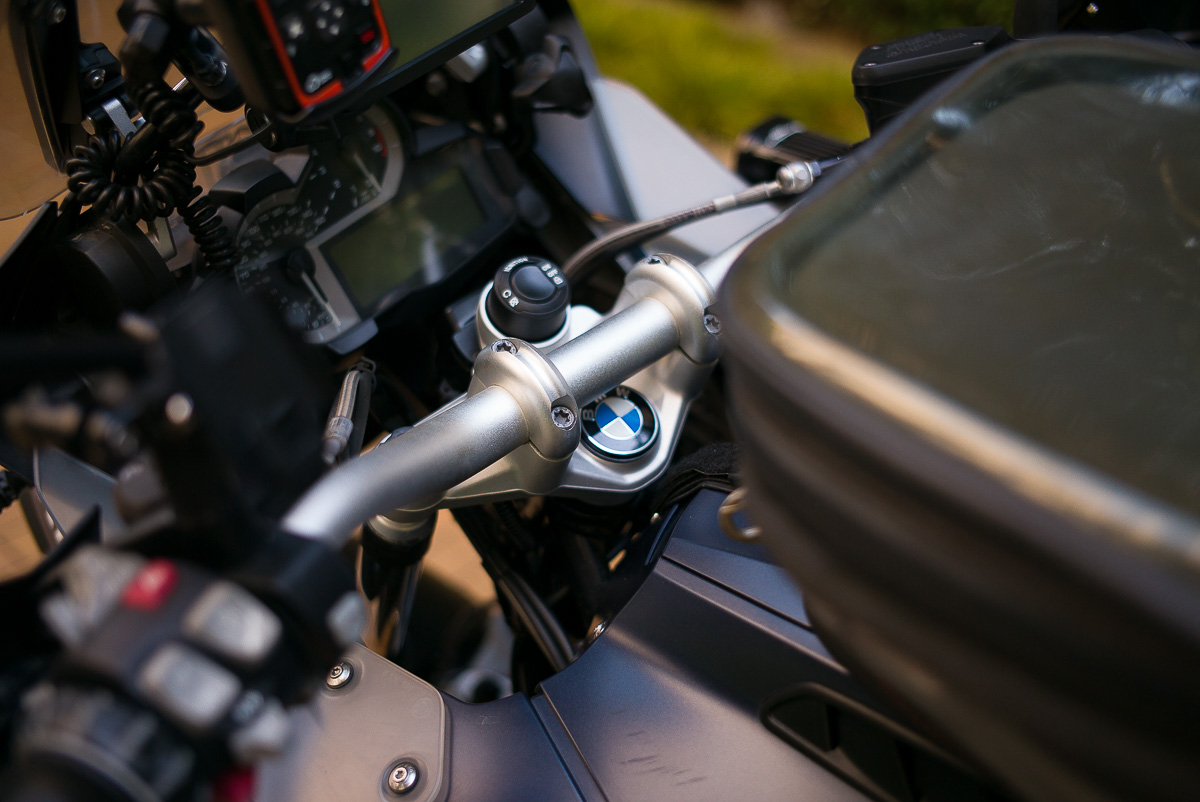 I've never heard anyone say that bar risers are dangerous. In fact, I heard from many places to have them installed before my trip, specifically for off-road riding. But these guys are experts, and they won't let me on the track with the risers, so I had them removed.
Wow – I can't believe how different the bike feels now! It feel tighter, easier to handle in the corners, almost like the wheel base has been shortened. In biker terms, the bike now feels more "flickable". I have no idea how it will feel on the tarmac after 10 hours of riding, but I'm certain that my off-road riding will improve. I'll keep you posted on my thoughts.
Small Fixes
When were were installing the lights I discovered that there were several bolts and clips that had rusted. This happened when I strapped my bike to the sail boat from Panama to Colombia. It wasn't really an issue but I figured I might aw well replace things now before it becomes an issue later.
The paint on the frame of the bike had worn off in several places. I had Bavarian Motorcycles sand and repaint the damaged areas to prevent rust issues down the road. They fixed the big issues but I think I'll need another paint job in a few months. There are just a lot of small places on the frame where the paint is coming off. I'm not sure why this is happening, but I'm guessing it has something to do with riding through deserts in high wind, it's a natural sand blaster. I'll have to keep an eye on it.
BMW "campaign" changes – finally
When I had my bike serviced in Mexico they told me that there was a "campaign" on my clutch slave cylinder. BMW used the phrase "campaign" as a nice way to say "factory recall". Evidently the slave cylinder on some of the new R bikes have been leaking which eventually causes the transmission to malfunction.
Unfortunately the shop in Mexico didn't have the part, and I would be long gone before they could ship it in. When I had my service in Argentina they told me the same thing – I needed to get my clutch slave cylinder replaced, but they didn't have the part either. They ordered it but it didn't arrive before I had to move on. These guys worked very hard to get the part, but shipping in South America can be very tricky and it just didn't happen. It was no fault of the dealer, that's for sure. I think they made a million phone calls to try and get this done.
When I had the bike reprogrammed for the new LED turn indicators in Stellenbosch they also told me I needed the part. They had the part, they could do the repairs – but – they needed approval from someone in the USA to make sure that I hadn't had the service done somewhere else first. Because of the time difference they weren't able to verify things. It was a weekend and I was heading out the next day. So they called ahead to Bavarian Motorcycles in Pretoria and made sure everything was ready to go when I arrived.
As I mentioned before, Bavarian Motorcycles did a spectacular job. They replaced the clutch slave cylinder when they did the rest of the work on the bike. Thanks guys
New Helmet at last!!!
My Touratech helmet just didn't live up to expectations. It was horrible in high winds, didn't fit right, and generally didn't make me happy. I started looking for a new Aria XD4 in Lima, but once again, the shipping issues and import taxes in South America made it unrealistic to buy a helmet in South America. So I suffered with the Touratch helmet.
When I arrived in Johannesburg I was happy to find several dealers. I wound up at Full Throttle and was helped by a great guy named Malibongwe. Here's a shot of us with the new lid.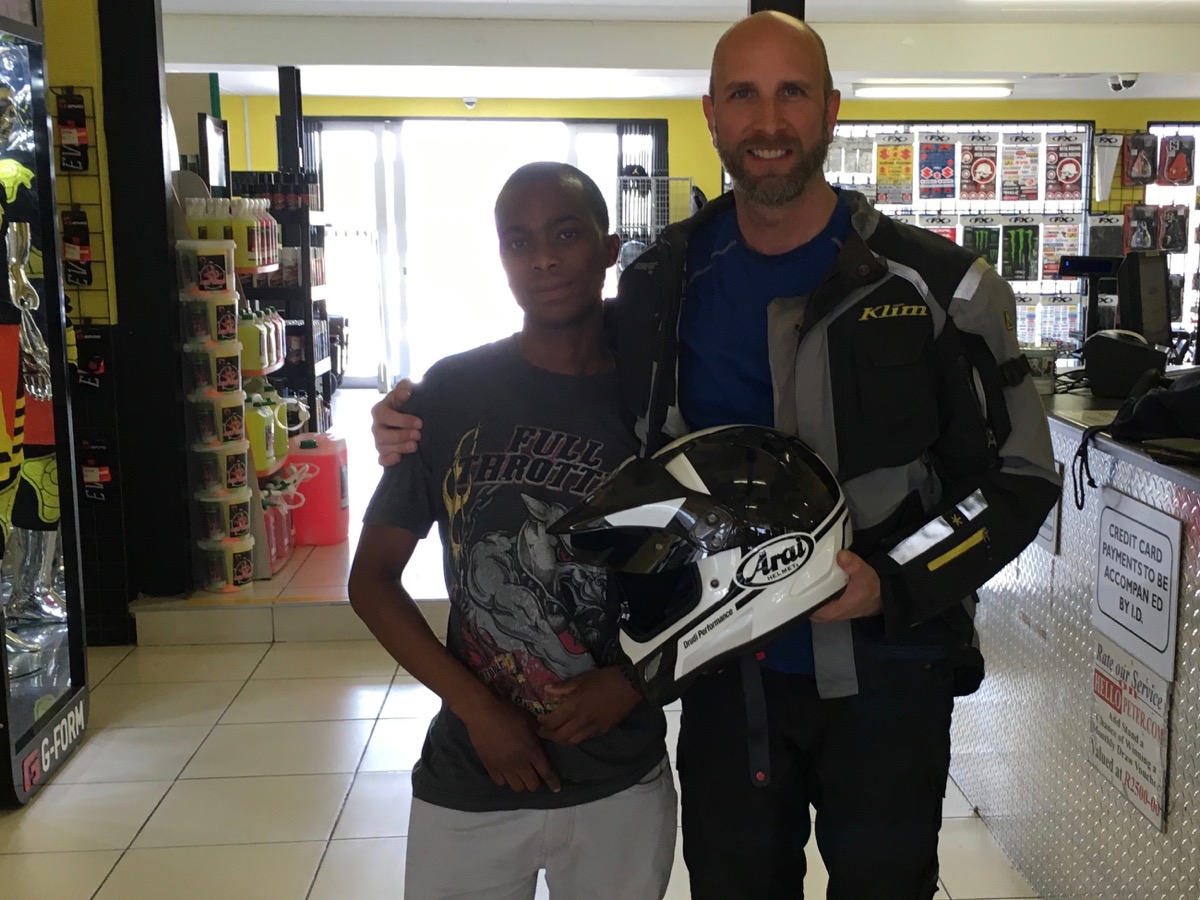 Top Secret Stuff
There are a few more things that have been added to the bike, but I'm not allowed to talk about it just yet. I've been sworn to secrecy until the gadgets are officially released. I will tell you this – if you're a rider, you're going to want what this stuff.
I was taken to a secret location, a bike shop that Q from James Bond would be proud of, and shown the gadgets. I was asked for feedback. I only had one thing to say, "When can I get this on my bike??"
Lucky for me the super secret gadget manufacturer had production model gadgets and they allowed me to add it to my bike. I cannot wait until the gag order is lifted and I can show you. For now, stay tuned…