It was mid-morning and I was sitting in a coffee shop in Cape Town. I was with Elsa Hoffman and her friend Eric Miller. The three of us were waiting for the weather to clear up so we could film an episode of Exploring Photography for AdoramaTV. Elsa had helped me with some previous episodes but thought it would be better if Eric came along to shoot this video. Little did I know this would lead me to Langa township.
This was my first encounter with Eric and so I thought I'd get to know him a bit while we waited for the clouds to part. I was stunned to learn that he was a photojournalist who had an impressive body of work; he'd spent decades documenting the end of Apartheid, he'd photographed Nobel Prize winners Desmond Tutu and Nelson Mandela, he was in Rwanda during the last weeks of the genocide. This guy is serious business.
We drank coffee and I asked questions. I listened and asked more questions. Elsa reminded me that we would run out of time if we didn't get moving along. I asked Eric if he'd be willing to take some time later in the week, time to just let me listen and learn. He graciously agreed.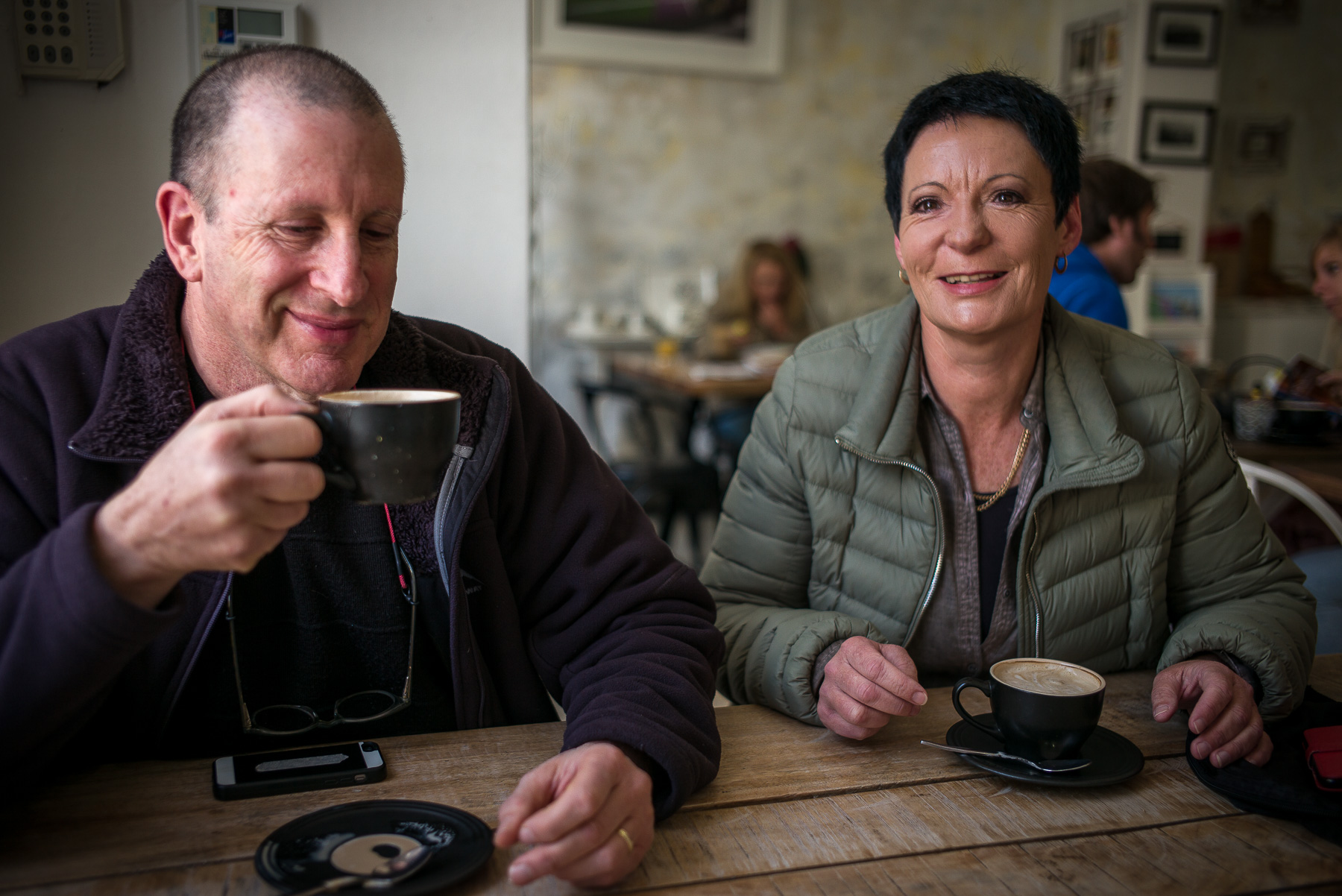 Langa Township
During the days that followed Eric and I exchanged a few emails. I mentioned to him that I was interested in visiting a township. He made a few phone calls and set everything up. He made sure I would get a real view of a township, not a tour to treat the residents as a freak show for tourists. I'm adamantly opposed to "slum tourism", Eric understood and took steps to make sure that was not what I would be doing.
Slum tourism turns poverty into entertainment, something that can be momentarily experienced and then escaped from. People think they've really "seen" something — and then go back to their lives and leave me, my family and my community right where we were before.

Quote from Slumdog Tourism by Kennedy Odede, The New York Times, Aug 9, 2010
Just outside Cape Town is the Langa township. This was one of the first townships, areas in South Africa that were designated for black Africans. Tens of thousands of people are crammed into the townships surrounding many of the large cities in South Africa. The poverty is staggering, crime rates are high, and education is limited.
Eric connected me with a local Langa resident named Abosh who agreed to be my guide for a day.
Get Involved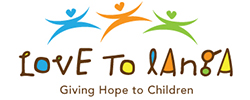 Just a note. It's important to me that anytime I photograph an impoverished community, I also provide a way that viewers can help that community. I certainly don't want to make poverty a form of entertainment. If you'd like to make a difference in the lives of those living in townships, consider donating to Love To Langa, a US based non-profit organization.
The Sheeban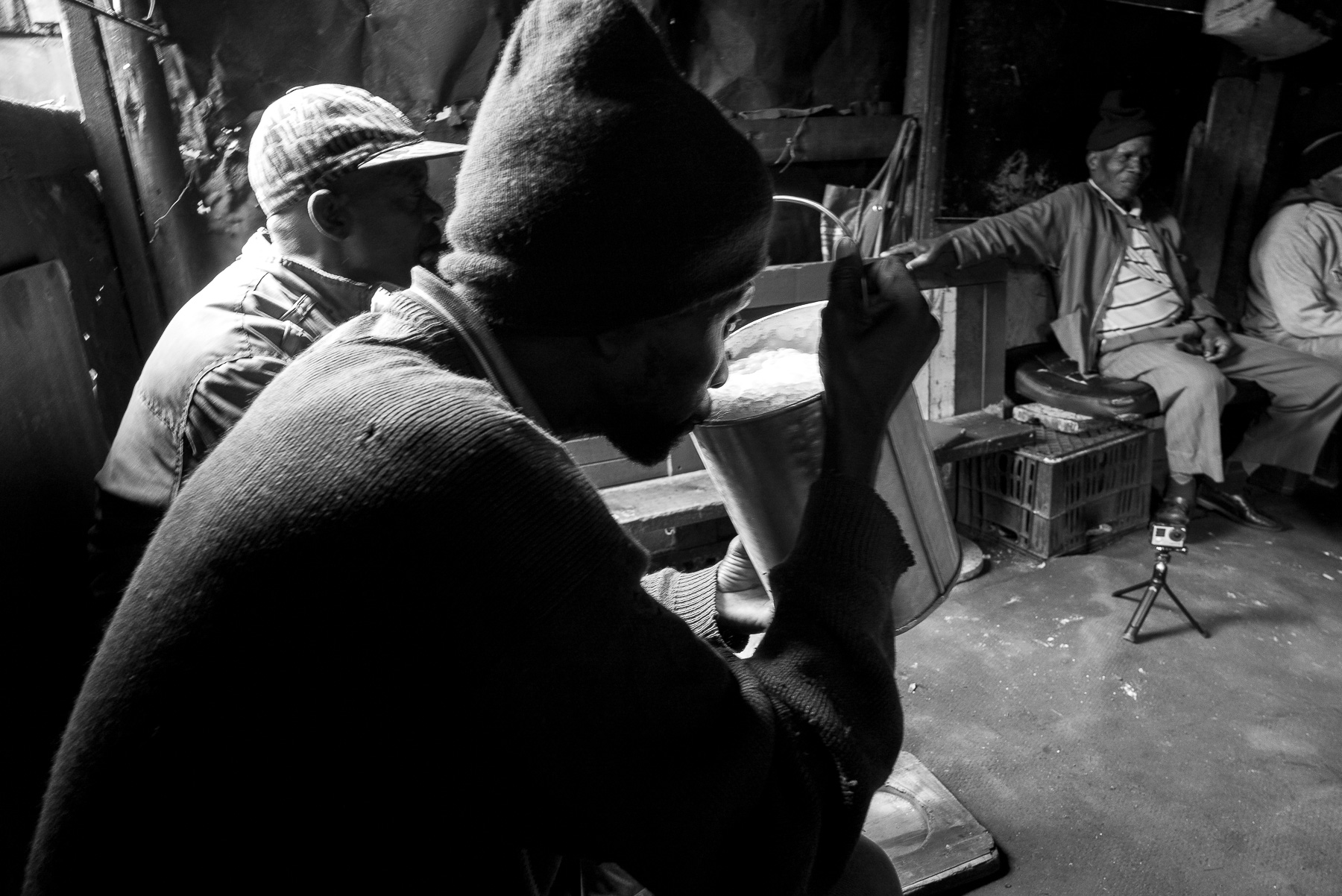 A few days later Eric drove me to Langa and left me in the care of Abosh. Eric had a busy day but would return in a few hours to pick me up for a late afternoon coffee and chat.
I told Abosh I wanted the genuine experience. He began our day by telling me about the history of Langa. As we walked I mentioned that I'd heard about sheebans, an informal "pub" where locals drink homemade brew called umqombothi – a "beer" made from corn. It's an acquired taste, that's for sure.
As we drank, the locals tried to help me pronounce umqombothi. It requires clucking with your tongue while simultaneously making a "b" sound. Try as I might, I couldn't do it. I filmed much of the day on my GoPro, I hope to post the video soon so you can try to say the words yourself.
Eating Sheep's Face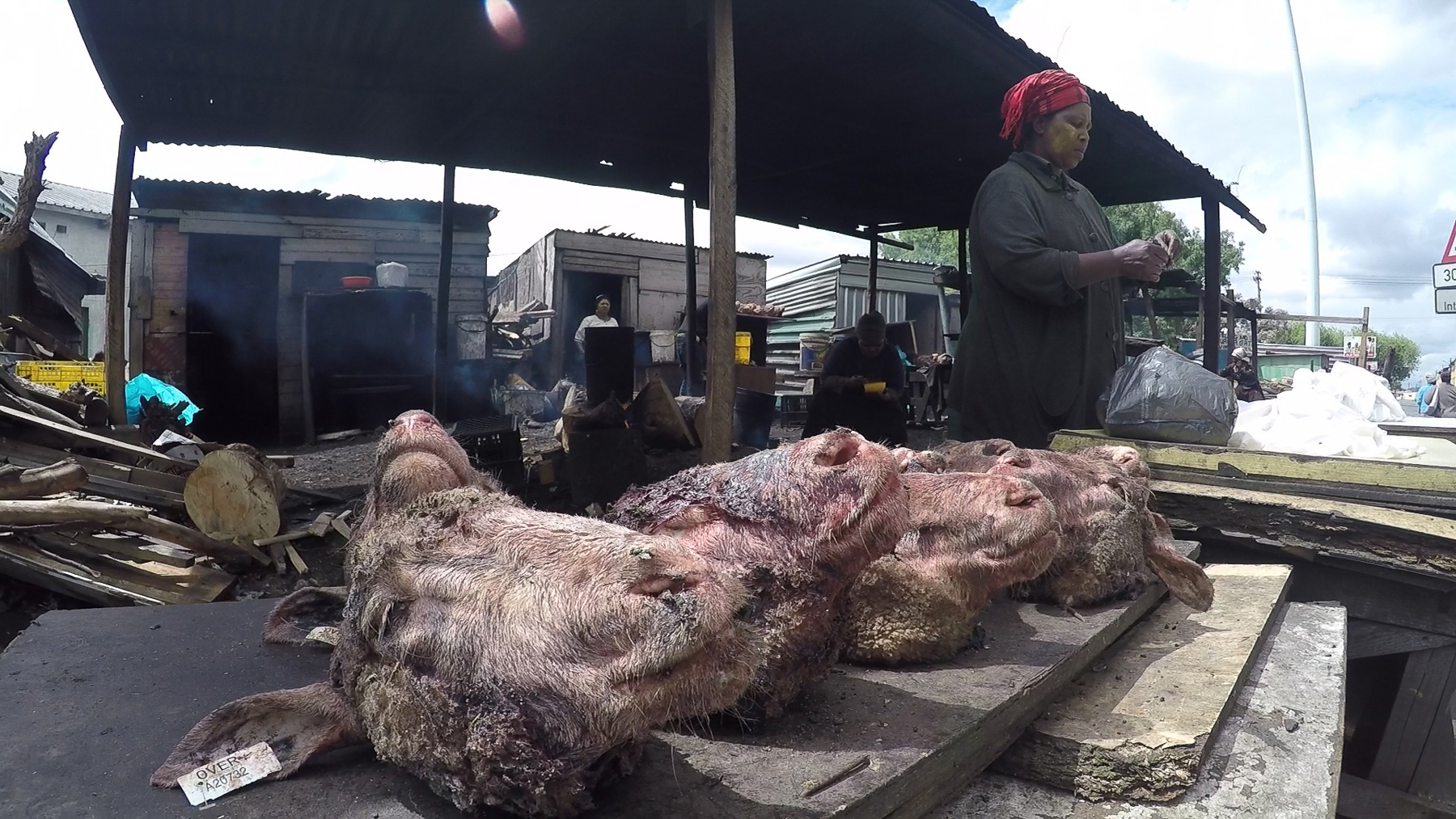 We walked a bit more and I mentioned to Abosh that I was a bit hungry. He suggested I try sheep's head. Yes, it's exactly what you're thinking – the head of a lamb, chopped off, and served up on a plate.
We arrived at a little shop where two ladies were cooking and serving the sheep's head for locals. This is a very popular dish in Langa. I was a bit surprised at the sheer volume of sheep's heads that were being readied for the afternoon crowd. I was facing one of my very first cultural challenges of my time in Africa. I'd been told by many that I'd encounter sheep's head during my visit, I guess I just wasn't prepared for an entire herd of sheep's heads.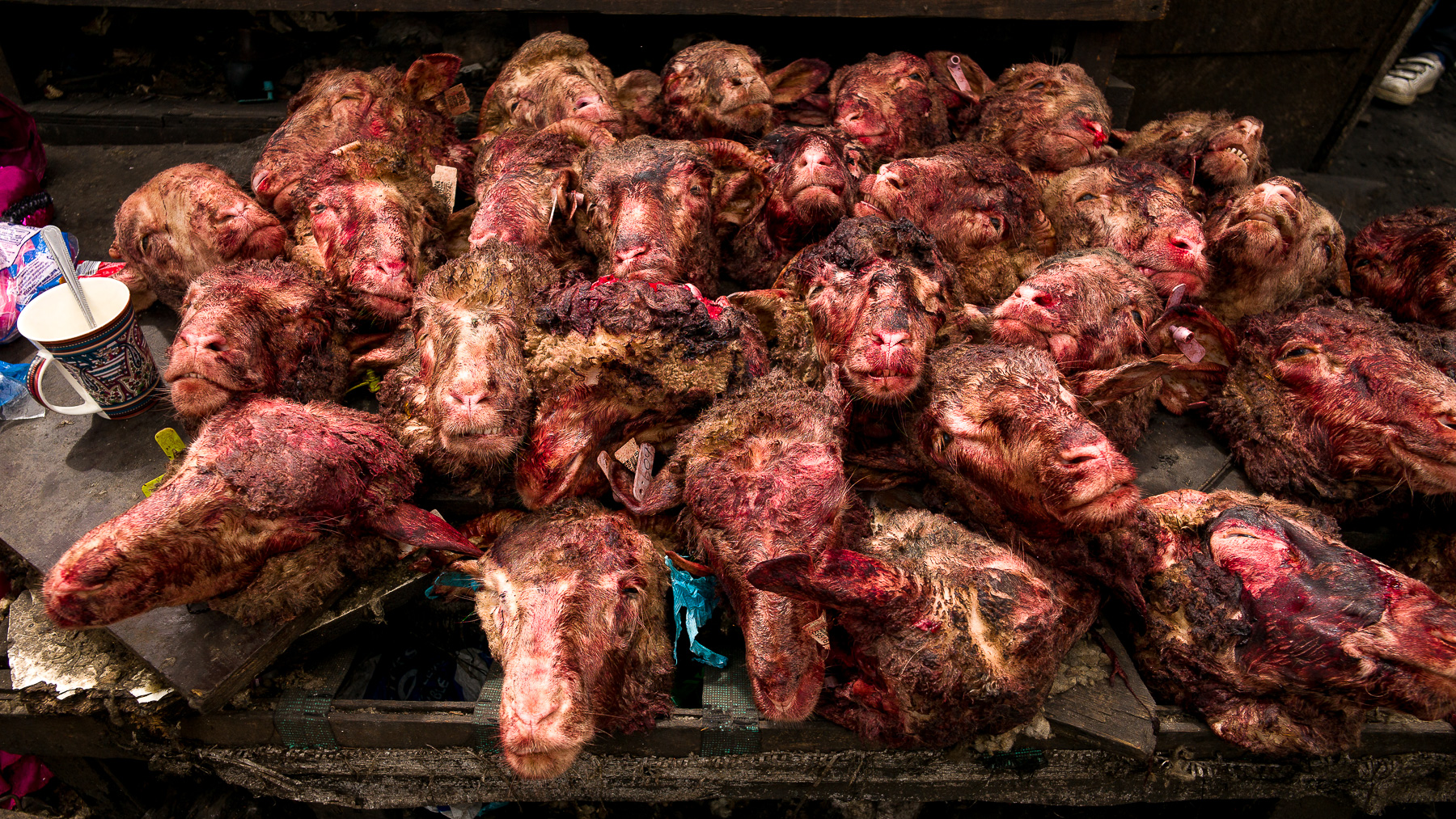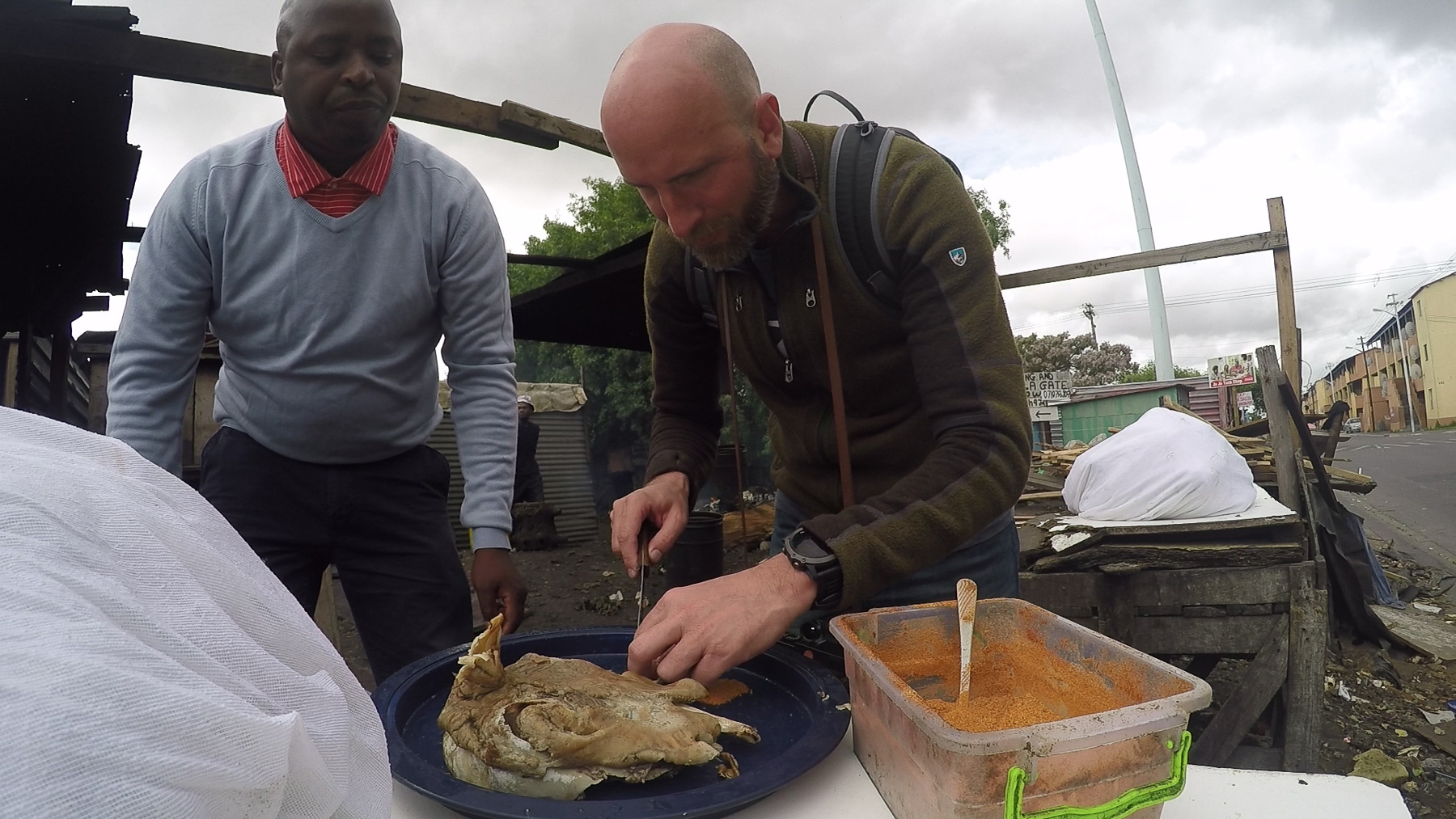 I took a small piece of meat from the cheek. I had to get over the fact that I was eating meat from the face of an animal and just dive in. I seasoned the meat with some of the spices on the table and gave it a try. It was a bit fatty, but not bad at all. I decided I'd better not eat more because I'm not sure how my system was going to react to the street food. Abosh and another friend finished off the rest of the head within a few minutes.
Visiting Abosh's "shack"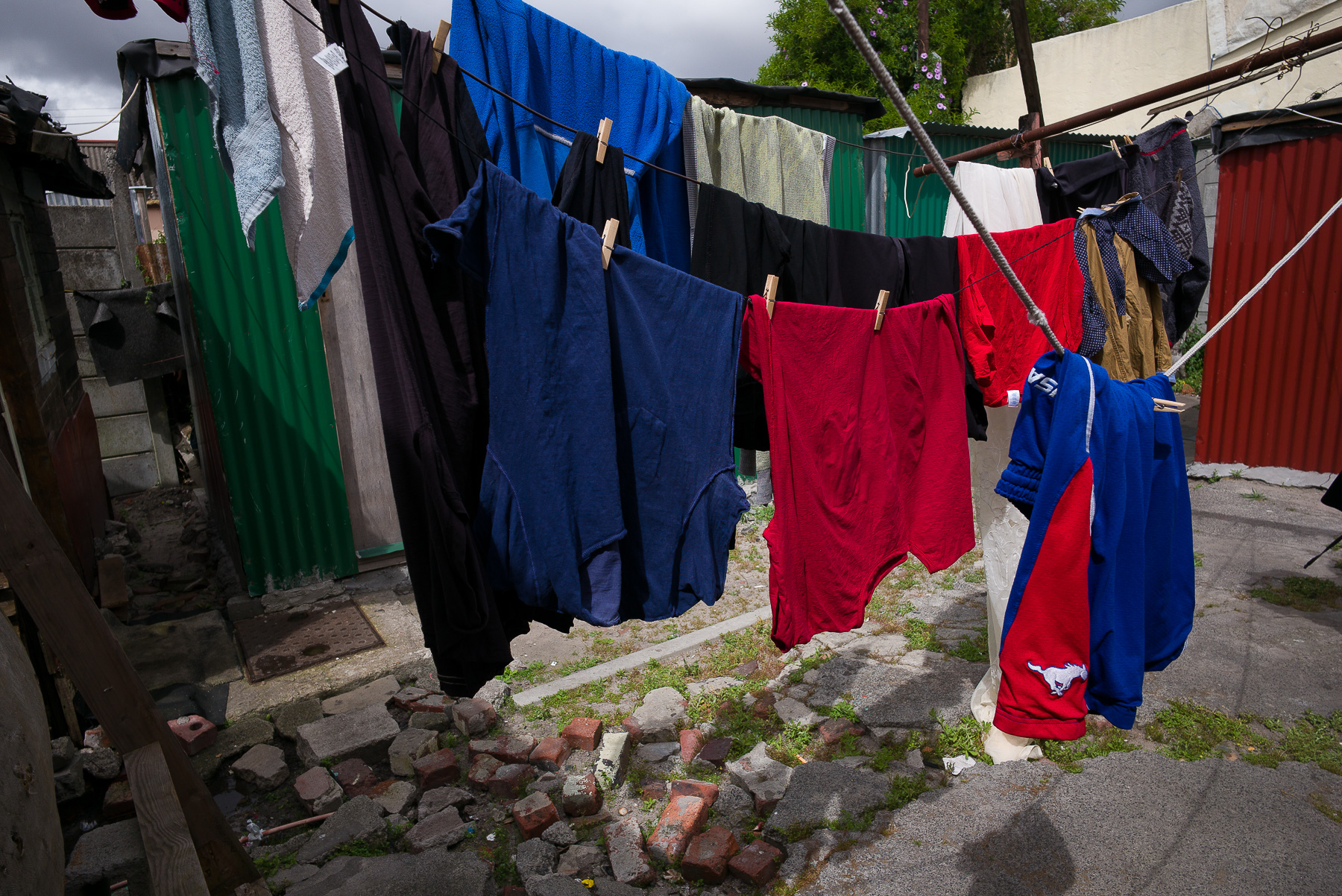 "Oh no, I forgot to bring in my laundry," Abosh exclaimed.
"Where is it?" I asked.
"It's at my shack," he said.
"Your shack?"
"Yes, I live in a shack."
I didn't know what to say. Certainly he didn't mean a literal shack.
But he did.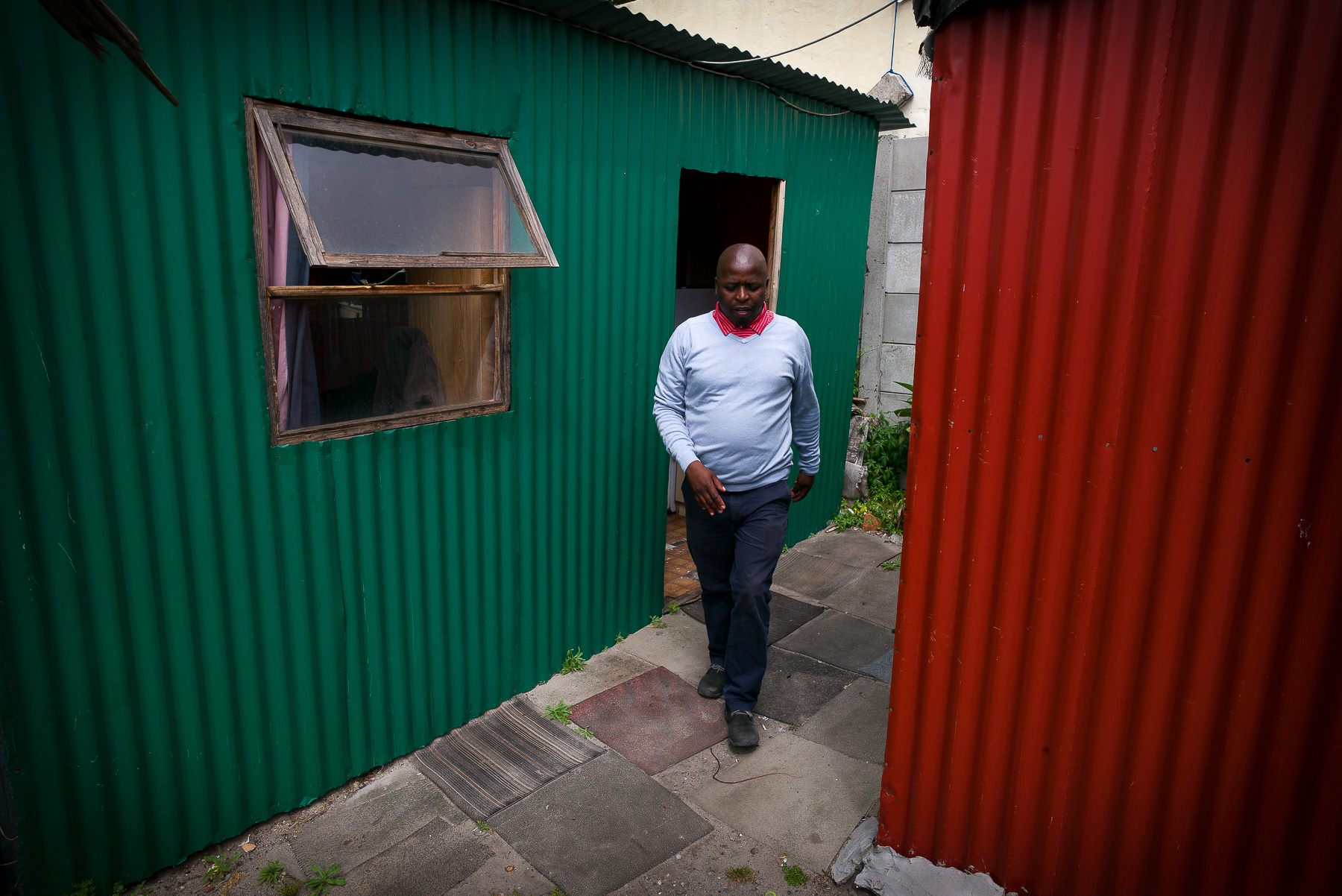 We arrived at Abosh's home and he showed me around. I asked him if it was OK to take photos. "Of course! I am proud of my home."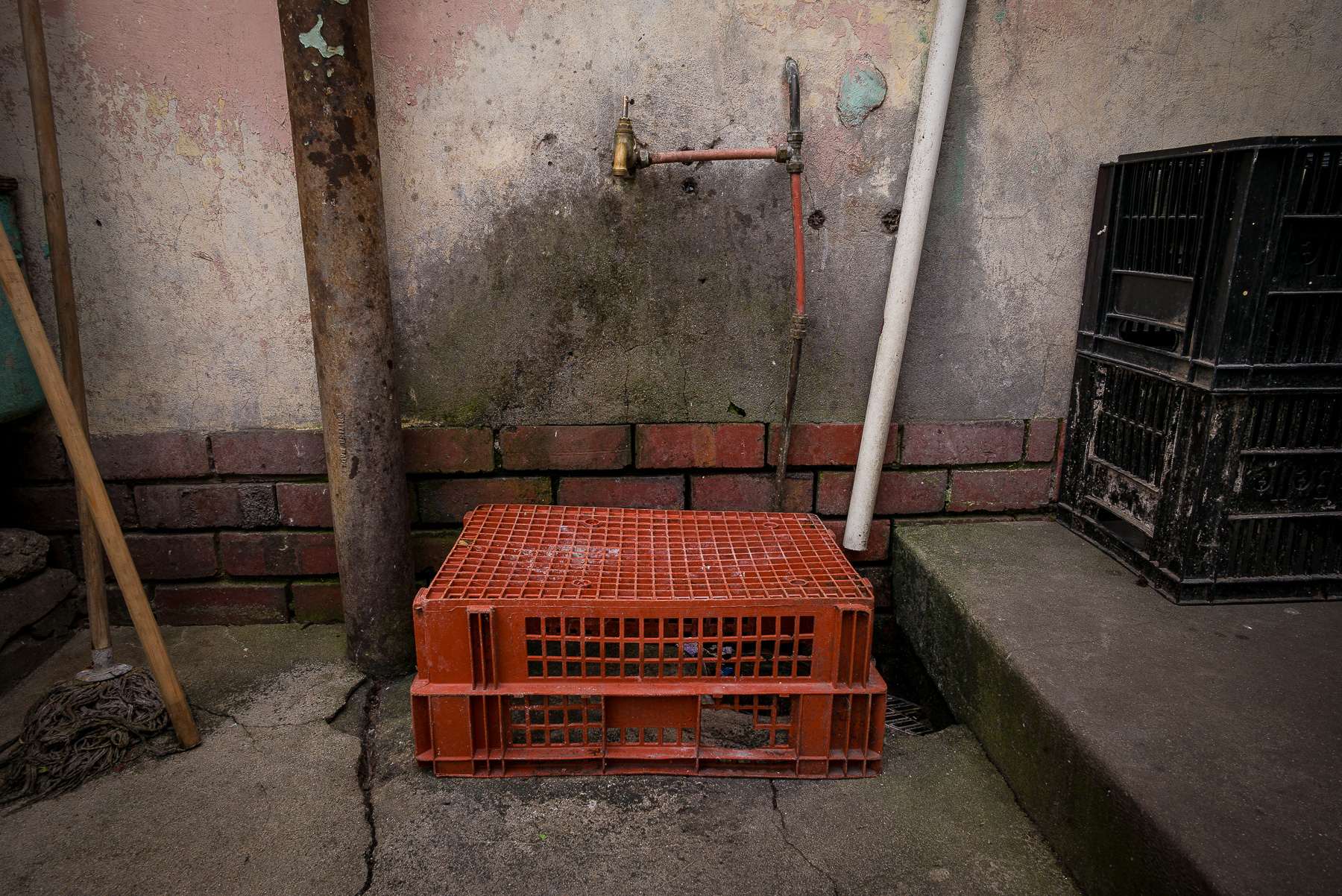 Abosh lives behind a house, in a shack that's about 15 feet wide. There are other shacks next to his and they all share the same common area for washing and drying clothes, eating, and social gatherings. After he'd shown me around a bit he invited me to see inside his home. He sat on his bed and began to tell me more about his life and growing up in the township. I asked if I could create a portrait while he talked. "Of course."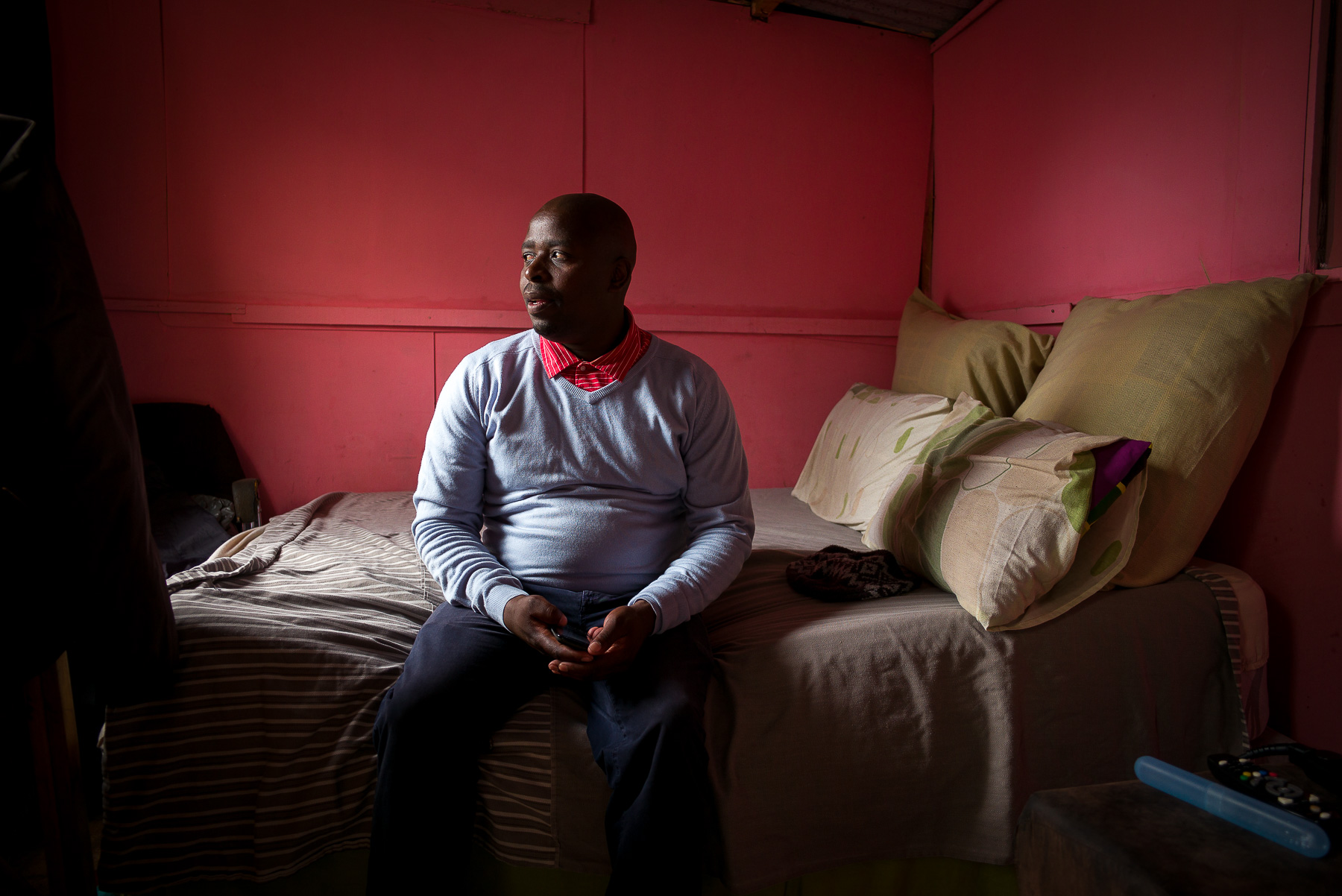 The Hostels
During Apartheid tens of thousands of black Africans were displaced from the cities. They were forced to move to the townships and many were made to live in large dorms which they call hostels. Today the buildings still exist and families pack into the rooms. I visited hostels where 8 or 10 family members would live in a single tiny room. Here are some of the images I captured.
No Understanding
We spent a bit more time just walking through the township. I talked to people, asked questions, and took photos. Before long Eric arrived and my time in the township was over. I said goodbye to Abosh and we began the drive back to town.
"I don't think I could ever understand what it's like to live in a township," I mused.
"No. You can never understand. Even if you spent years living there, you would always have the option to leave. An option most of the residents don't have. You cannot understand what that's like," Eric replied.
I sat in silence. I watched the shacks slip away as we drove closer to a world I knew.
Coffee with Eric
I don't have words to explain what it was like to sit and talk with a man like Eric. He's seen so much, has a world of wisdom, and was kind enough to take hours to listen to my questions.
We talked about race, politics, the history of South Africa. But most importantly, we talked about people and the importance of peace, the dangers of racism and xenophobia, and the consequences of violent rhetoric.
I'm positive it's a conversation I'll be having with Eric, and others, for the rest of my life.
To see more of Eric's work, visit his website by clicking here.
Eric Miller is one of the most widely published and experienced photojournalists working in South Africa.

In the 1980s, he documented the struggle against apartheid and since the 1990s he has covered various aspects of the transformation process in South Africa, as well as travelling extensively across Africa on assignment for various European publications.

Miller has worked on a range of assignments, from news-related stories covering the horrors of the Rwandan genocide and famine in Sudan, to human interest features such as women's boxing, the training of sangomas and evocative essays capturing highlights of several dance and opera productions.