Well, it happened. My bike was stolen. In London of all places, Greenwich to be exact. Here is the ongoing story of how my bike was stolen and nearly destroyed. And how I got it back.
If you're following me on Twitter or Facebook you've heard fragments of this story already. But there have been many questions and things change frequently, the stolen bike saga is almost over now, so I'm at a place where I can finally give an update.
UPDATE: March 10, 2017  – I spoke with Simon at BMW Park Lane Battersea. They were not able to complete the repairs before the weekend. They expect everything to be finished by the end of the day Monday, March 13.
A Little Background
I was staying at a hotel in Greenwich. I was excited about the day. I was heading to a studio to shoot several Adorama TV episodes. That night I was hosting a meetup at the famous Ace Cafe. I'd been looking forward to riding up to the Ace Cafe for ages, it's a bucket list destination for any biker. It's one of the original cafe racer hotspots.
The days leading up to the day were a flurry of activity. I'd just left Nairobi, Kenya and finished the Africa portion of my journey. Bike was shipped from Nairobi to London. I'd made a detour to Paris while Bike was in transit. I'd just picked Bike up from Heathrow a few days earlier. I took it to BMW Motorrad Battersea for a total service and new tires almost immediately.
Because of the shipping, and my side trip to Paris, my bags and panniers were in a state of disarray. Things were in the wrong places, the weight was all wrong, I needed to organize. The night before my bike was stolen I decided to remove the panniers and take everything off my bike so I could restore order. I would usually just take the liner bags out of the metal panniers, but that night I decided to take everything inside and get organized.
Can I Park Here?
When I checked in to the hotel I couldn't find a parking spot that felt "safe". So I rode my bike up on the sidewalk where it could be seen from the front desk through a giant window. Next to the bike was a storage container, I wasn't sure if it would be OK to park on the sidewalk so close to the container, so I asked the person at the front desk if that was alright.
"Sure, if there's a problem we'll just call your room."
My bike was parked next to the front door of the hotel, in view of the front desk, and under a CCTV camera. It was locked, but not chained to anything.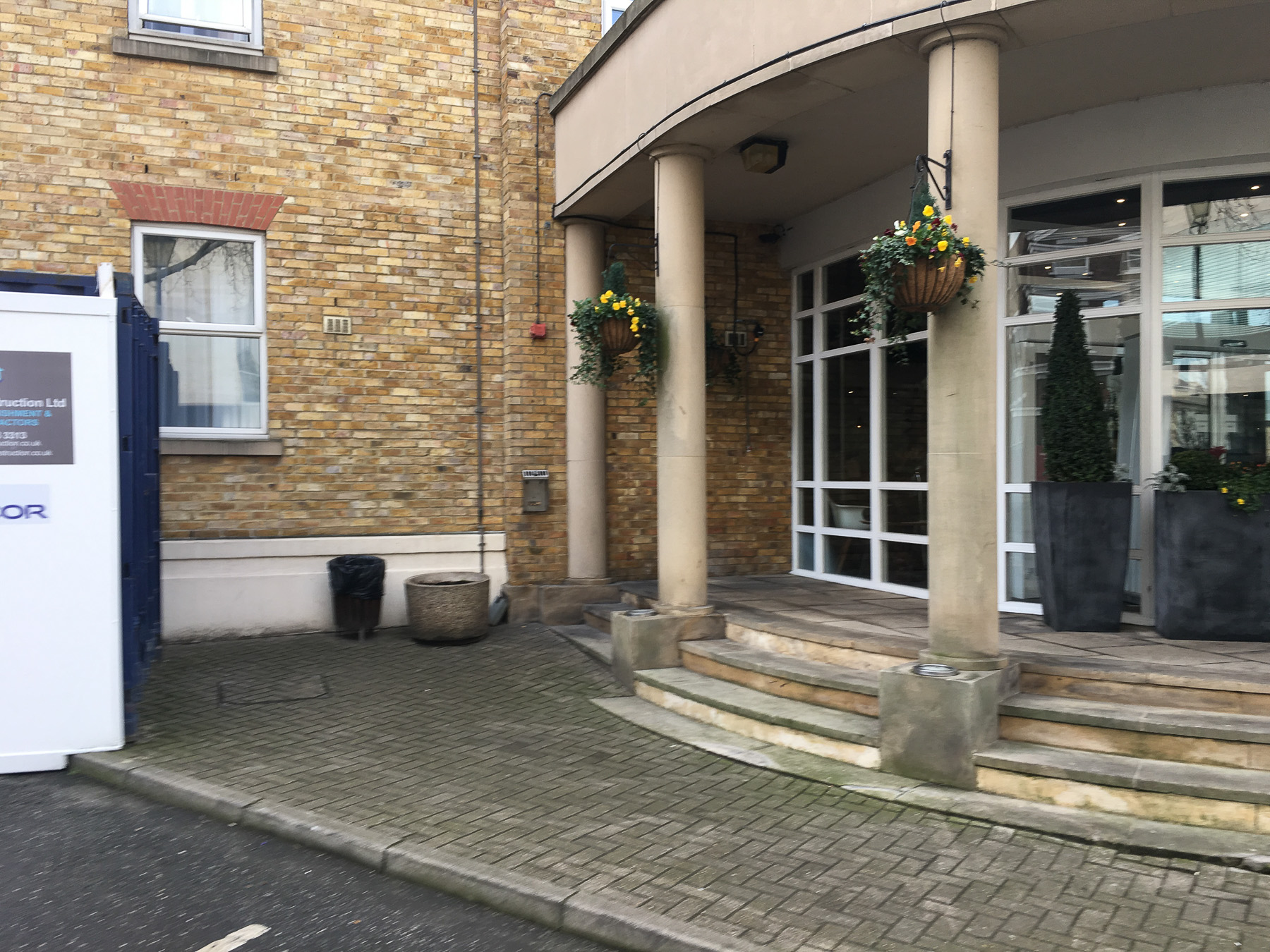 It's Gone
The following morning I loaded my panniers and dry bags on to a luggage cart and headed for the elevator, excited to have a day in the studio and an evening at Ace Cafe.
It hit me like a ton of bricks, my bike was gone.
As soon as stepped out of the elevator and took two steps into the lobby I knew something was wrong. I could see through the window that my bike was missing. My first thought was that the hotel had towed my bike because it was parked on a sidewalk. I asked the hotel employees and they told me that they didn't tow the bike. It hit me like a ton of bricks, my bike was gone.
Walking Through The Fog
As soon as I realized what was going on I entered a mental fog. I realized my bike was gone and knew the chances of recovery were about 1%. A million possibilities ran through my head. Was my trip over? What would I do next? Could I buy a new bike? Where would I stay that night? What does this mean for my publishing schedule for Adorama? Can I possibly make my deadlines?
One thing was as clear as day: I would continue my journey. I didn't know if it would be by bicycle, motorcycle, or on foot. But I knew I would keep traveling, that was never in question. Not for a second.
The first order of business was to call the police. Then I sent an email to the model and studio to inform them that the shoot was off for the day. That was followed by calls to my insurance company. Then the paperwork started. Police reports, insurance claims, paperwork for the hotel.
For the first few hours it was like walking through a fog. I wasn't upset, I wasn't sad, angry, or in a state of disbelief. I was just in a fog.
Replacing the bike would be expensive. It had taken months of savings, a lot of extra work, and selling the truck, trailer, and motorcycle I had in storage to pay for this bike. My bike is not a stock bike, I'd made a lot of modifications so it could take the abuse I would give it. I might be able to buy a new bike, but adding all the extras would be nearly impossible.
One thing was as clear as day: I would continue my journey. I didn't know if it would be by bicycle, motorcycle, or on foot. But I knew I would keep traveling, that was never in question. Not for a second.
But how would I travel? What had changed? I didn't know. And during my day of living in a fog, it didn't matter.
A New Adventure
This might sound strange, but this experience is why I travel. I'm not saying I wanted to have my bike stolen. I don't seek negative experiences. But travel has taught me a few things.
My bike, well, it's just a bike. It doesn't define me. If it's gone, so be it. It's just metal and plastic. It's not a person. It's not an experience. It's just a thing. Travel has helped me understand that my life is not defined by the things I own. My life is defined by the relationships I make with people. It's defined by the experiences I have. It's defined by my relationship with nature and other creatures of this world. I know that sounds incredibly hippy, but it's true.
Losing my bike was horrible. But almost immediately I was thinking about all the new things that were in store for my life. Suddenly my journey had changed in a way I never anticipated. A new adventure was on the horizon, new challenges were waiting. I was excited to see how I would handle these things, what new friends I'd meet, and where the journey would take me.
I was excited to see tomorrow and determined not to dwell on yesterday.
Good Friends
The next morning I headed to Gavin Hoey's house. Gavin and his wife Sam are good friends. They invited me to stay in their guest room. Sam, who's a wonderful cook, made me food, and tasty coffee. Gavin let me use his studio to film new Adorama TV episodes. Cancelling my shoot in London put me way behind schedule and I really needed some help.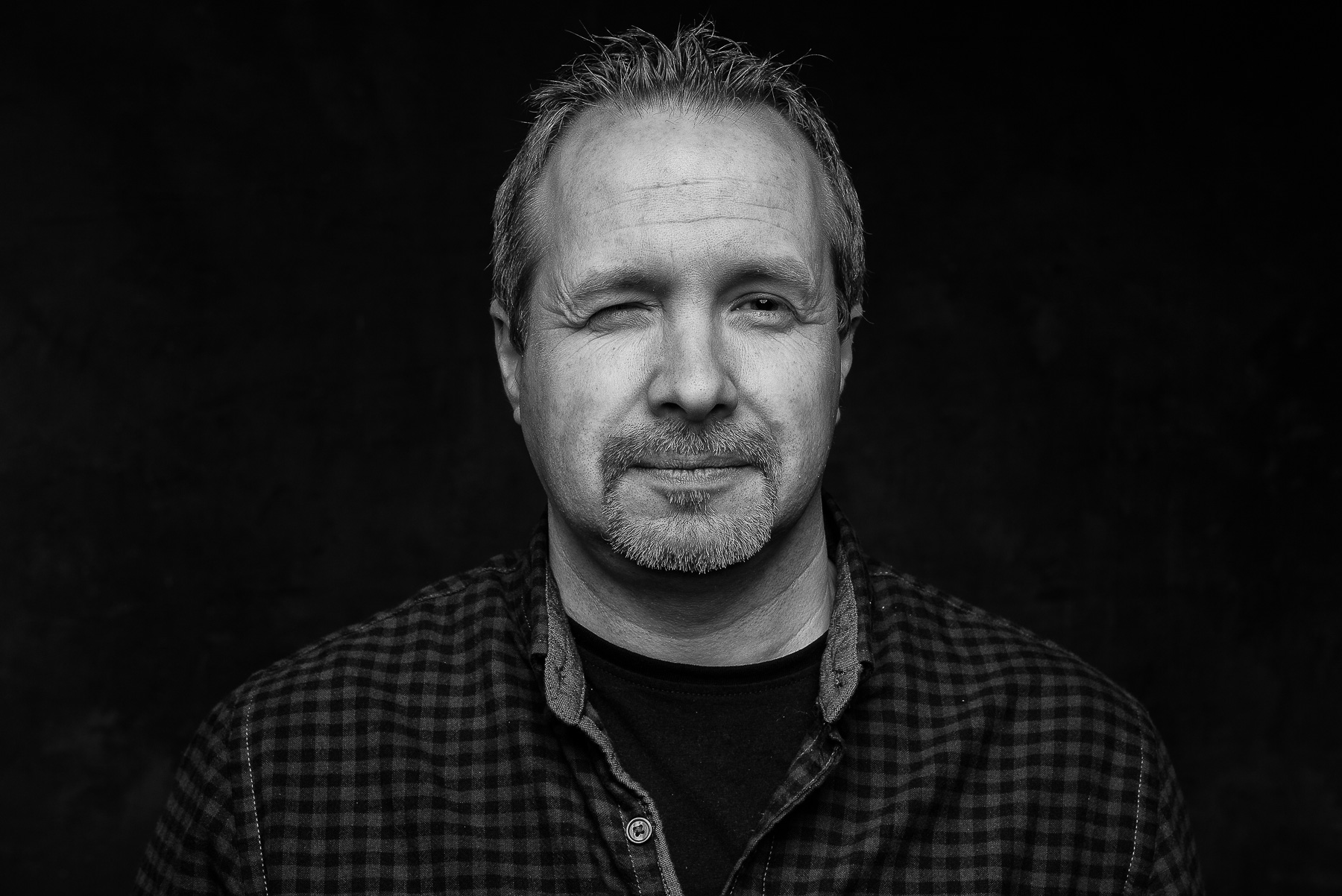 The Hoey's are also a ton of fun. We drank wine, laughed a lot, and they introduced me to the British show, Taskmaster. If you have seen some of the recent Gavin/Mark videos and were wondering how we came up with the crazy challenges, now you know. It was during our beer infused binge watching sessions of Taskmaster.
My Insurance
For the record, I did have insurance. But not the right coverage. Being insured and being covered are two very different things. I have a full comprehensive insurance policy in the USA, it covers me for anything; theft, fire, crash, etc. But only in the USA. When crossing into a foreign country it's usually required (by the country) to purchase additional coverage. Most borders have insurance agents that will sell you the minimum coverage needed to be legal. When I shipped the bike to Europe I quickly bought "Green Card" insurance – just the minimum I'd need to ride legally when I arrived. I bought a policy that had "liability" coverage.
The Green Card (typical Third Party insurance) covering up to € 750.000 of full liability against persons, animals and things
If I'm going to be in a country for more than a few days I'll buy a much better policy, and that was my plan for Europe as well. But thieves don't work according to my schedule, my bike was stolen before I got my full coverage. Unfortunately for me, none of the damage to my bike is covered by insurance. Not a single penny.
Update: I now have full comprehensive coverage through Motorcycle Express.
The Phone Call
The day after I arrived at Gavin's house the police called and told me they'd found the bike. Here's a little video I posted on Facebook just moments after the call.

I thought I'd never see my bike again, you can clearly see I was very happy. The police informed me that the bike was damaged. They didn't think it was serious damage, but I'd soon learn that was not the case.
The Damage
My bike was recovered by the police and held at the Motor Vehicle Pound in London. Gavin and I headed to the city, based on what the police told me I came ready to ride my bike out of the pound.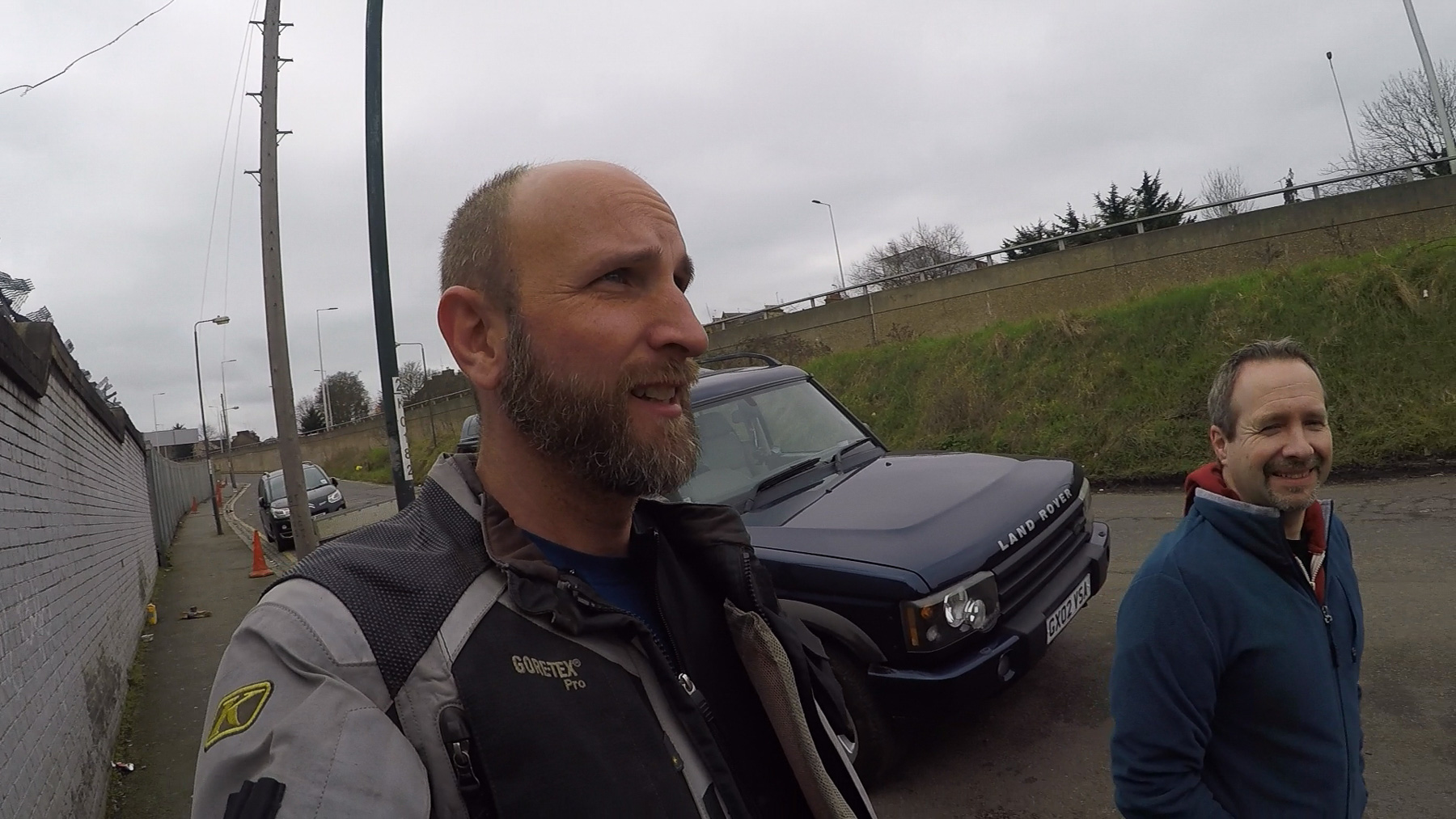 When I finally saw the bike I didn't think the damage was so bad. It was only when I started to move the bike that I realized it was in no condition to be ridden. The front forks were bent. The tire points in one direction and the handlebars another. I would later learn that it was thrown off a truck (or out of a van). The impact nearly destroyed the bike. Here are some iPhone photos from my initial inspection.
The Repairs
The next day BMW Park Lane Battersea sent their crew to the pound to haul the bike to the shop. They did a complete inspection and learned that the front end was essentially destroyed. The forks, steering damper, and top yoke were all damaged. The rear rim was broken. The crash bars had been bent and smashed right up to the cylinder heads. The handlebars, grips, taillight, and many other small parts were broken. Here's a list of what I know needs to be replaced. This list may grow if the mechanic finds hidden damage:
Right and Left hand guards
Left handle
Handlebar
Controls for cruise, GPS, etc (control cluster on left side)
Right and Left Mirrors
Windshield
Entire Front fork assembly
steering damper
Rear rim
Rear light assembly
Rear mudguard
Top Yoke
Secure Keyless Ride
Crash bars
Pannier Rack
The Schedule
My bike has been in the shop for over two weeks now. A lot of parts had to be ordered. The actual repair work is scheduled to begin tomorrow, March 9, 2017. I am hoping that Bike will be ready to ride by March 10, but that may be optimistic.
It's taken some time to get things sorted out, order parts, do a thorough inspection, and rearrange the shop schedule to accommodate my bike. Simon and Nicoloas at BMW Park Lane Battersea have been very helpful.
The Theory
So what happened? How was the bike stolen? I'll never know, but here's the best theory based on the police investigation and information I've received from The UK Motorcycle Theft Protest group. This is my best guess about what happened. There is just no way to know for sure.
Spotters on scooters see my bike in the hotel parking lot and make a plan to steal it during the night. My bike was probably on a list of "bikes to steal" from the very organized group of professional thieves. This was organized crime, there is almost no doubt about that.
During the night two riders on scooters enter the parking lot. They kick the handlebars and front wheel to break the steering column lock. They push the bike out of the parking lot with the scooter and into a waiting van. Total time, about 30 seconds.
The thieves head for a warehouse to put the bike on a truck headed for Eastern Europe. During the drive they discover what they think is a GPS tracking device on my bike. They panic and throw the bike out of the back of the van (or off the truck).
My bike is discovered by police near Greenwich park and hauled to the vehicle pound.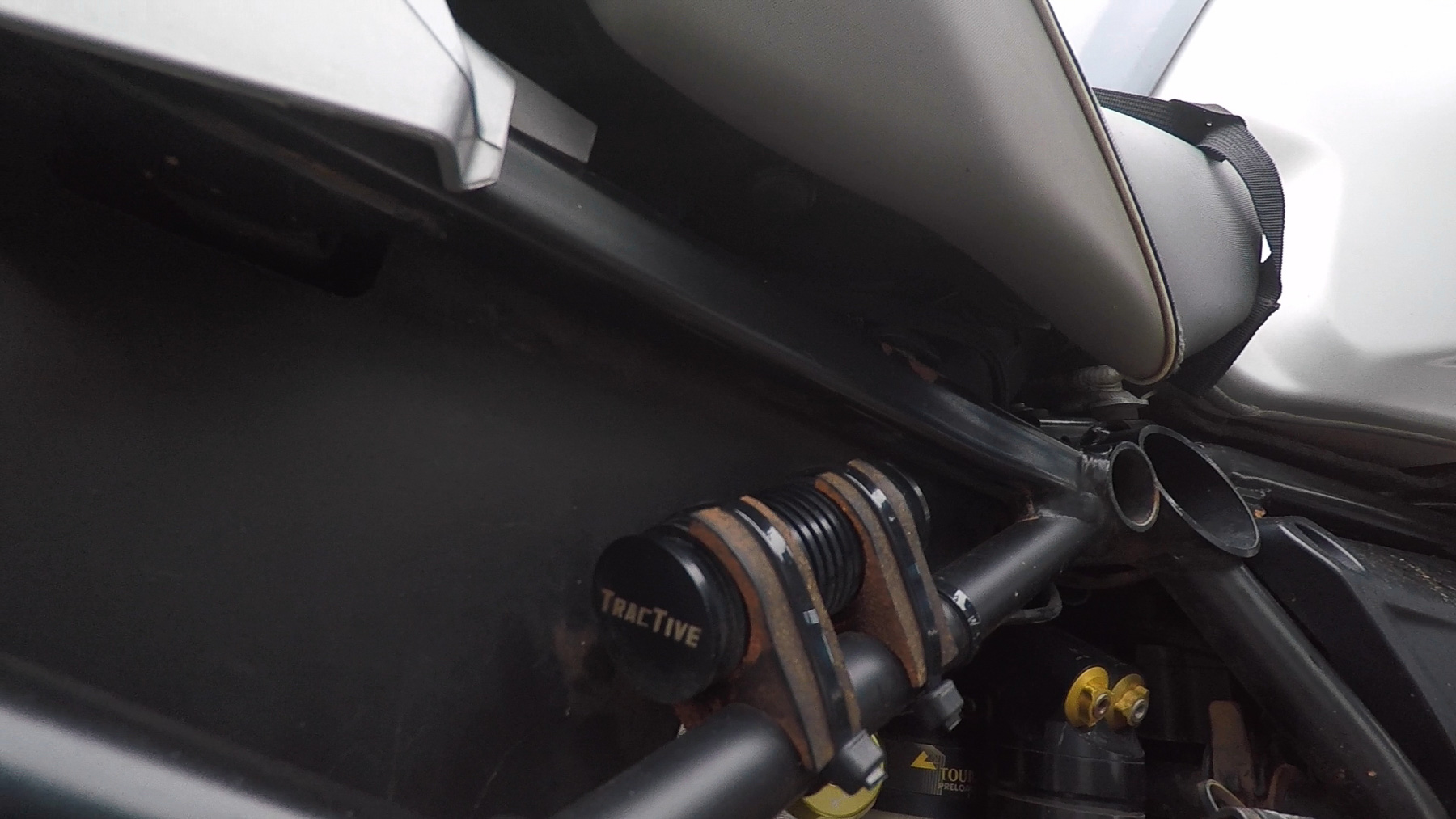 The scooter thieves in London are incredibly fast and good at stealing bikes. I had no idea that bike theft was so bad in London. But now… I know better.
The Cost, How You Can Help
Many people have asked how much this is costing and how they can help. At this point I don't have a final number on the costs. At this point the total is about $8,000. Although my insurance doesn't cover any of those costs, I do have a savings account that is for this type of thing. I'll be OK.
For the hundreds of people who've asked how they can help, just keep doing what you've been doing. You can support me by purchasing my online courses, my creativeLIVE workshops, attending my workshops, and buying merchandise I promote. You can also help by sharing my work with others.
Thank you for the many emails and comments you've sent during the past couple of weeks. I really appreciate it. I wouldn't be able to do this without your ongoing support.
Special Thanks
There have been many people who have helped out during this entire ordeal. I've skipped a lot of parts just to keep this post to a reasonable length, but I do want to say thank you to the following people. They have been incredibly nice and helpful.
Gavin and Sam Hoey
Sule Kaya, Emergency Response and Patrol Team, London Police
Sylvie Gallon, General Manager, IBIS London Greenwich
Simon Watson, Service Consultant, BMW Park Lane Battersea
Nicolas Contasti, Service Consultant, BMW Park Lane Battersea
Tony, Mechanic, BMW Park Lane Battersea
UK Motorcycle Theft Protest
Touratech USA, Touratech UK