Yes, I've been gone a while. When I last left you I was heading south to meet Alicia Sornosa in Madrid. I did make it to Spain, but then I smashed my laptop and have been unable to update the site for a few weeks! I'm saving that craziness for a different post. First, let me tell you about Madrid.
Meeting Alicia Sornosa
Alicia agreed to meet me for a beer at a park in downtown Madrid. I was hoping I could meet her and spend an hour or two asking her about her travels, listen to her stories, and get some inspiration along the way. I had no idea what was just over the horizon.
Alicia arrived with her friend Iratxe and we enjoyed the sun and a cold beer. Fortunately Alicia's English is much better than my Spanish and conversation was no problem. After we'd finished a beer Iratxe had to leave but Alicia and I decided to take a short ride through the city, she wanted to take me to a little place that had authentic Spanish food.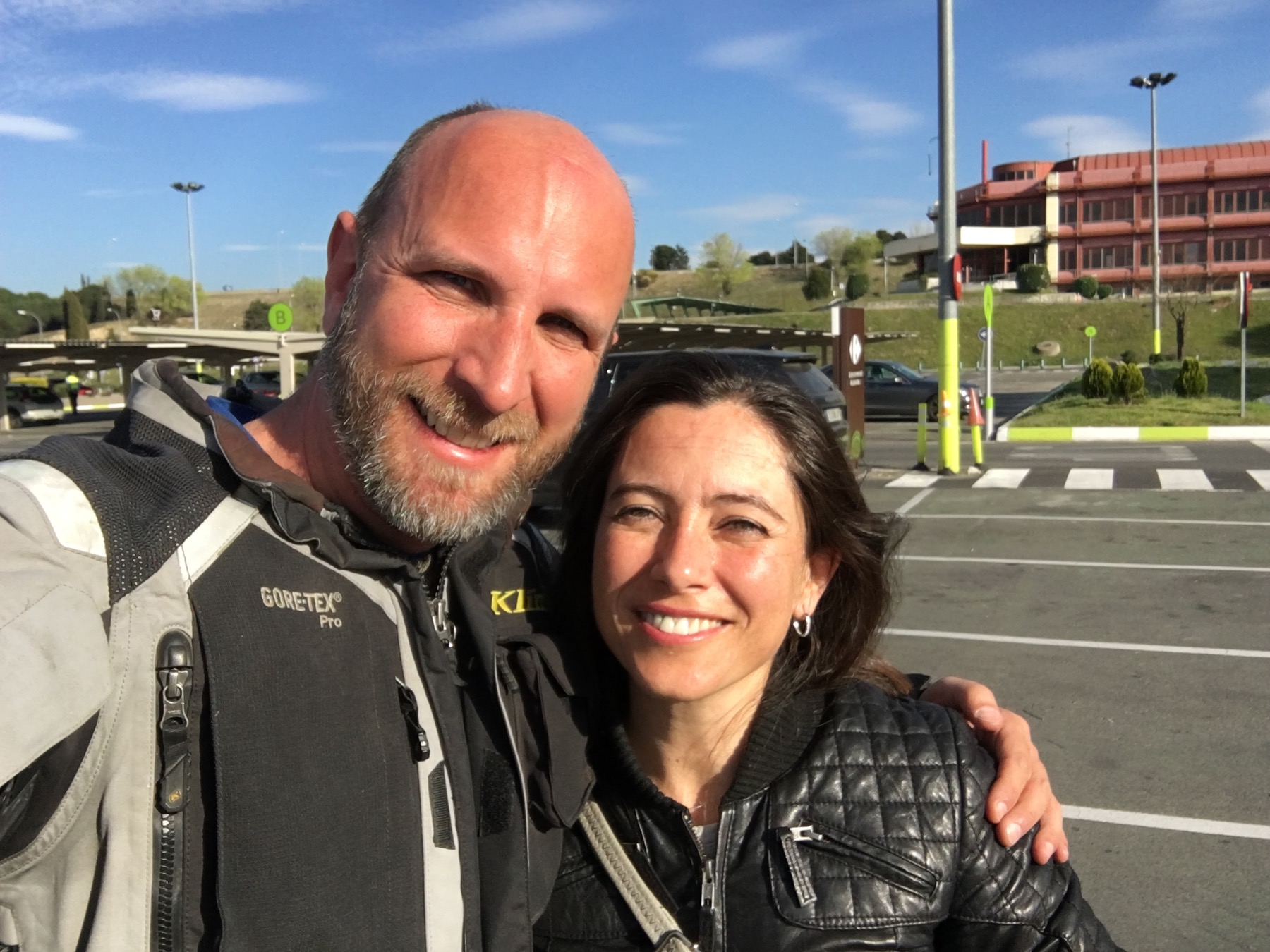 We talked for a couple of hours. It was great to interact with someone who's already experienced what you're going through. Conversation was fun and we laughed about our similar travel stories; crashes, misunderstandings with the locals, "interesting" food we've eaten. Before the afternoon was finished Alicia invited me to join her and her friends for a ride in the Spanish countryside the next day.
Meeting the gang in Madrid
Early the next day I arrived at a little breakfast place in downtown Madrid. Alicia hadn't arrived yet but it was obviously the right place, bikes were lined up on the sidewalk and a few people in bike gear were sitting outside chatting and enjoying their first cup of coffee.
As I was getting off my bike, a custom cafe racer pulled up. The rider took off his helmet to reveal a crazy head of hair and a beard that would make ZZ Top proud. He grinned like the Cheshire Cat and looked at me. "Hello!" he said, giving me a wave with his hand. His name was Polo Arnaiz and he turned out to be one of the coolest guys I've ever met. If you speak Spanish you can learn all about Polo in this video (sorry, no subtitles).
Then a serious looking man walked over. He looked like James Bond. Everything he was wearing was sharp, clean, organized. He was stylish, his thick dark hair was combed back like Al Pacino's in The Godfather. His name was Emilio, and I secretly think he is the real James Bond.
More people arrived. Alicia pulled up on a huge Ducati Diavel that she was riding while her Scrambler was being serviced. We all sat outside and ordered coffee and breakfast. Alicia introduced me to a guy named Teo who I would later learn was better known as Mr Hicks 46, a well known biker and tour leader. Here's a video that Teo shot a couple of years ago.
Sobremesa
We left Madrid and rode into the twisty roads north of the city. It was a beautiful ride with people who were a joy to ride with. Later in the day we stopped in the little town of Montejo de la Sierra and at a late lunch at La Hontanilla. This is where I'd discover my favorite Spanish tradition; sobre mesa.
Sobremesa literally translates "on the table". This is the Spanish tradition of enjoying a meal and then spending a good amount of time after the meal relaxing and talking with friends. You figuratively put your conversation "on the table" to enjoy, much like an eight course dinner. It's not rushed. It's taken in small bites over an hour or two (or more).
We sat, drank coffee and tea, laughed, and did something that is rare to so many people now – we talked. No cel phones, no texting or Internet interruptions. Just good old honest conversation.
It. Was. Fantastic.
The Week of Many Meals
During our dinner my new friends convinced me to stay in Madrid a bit longer. Nearly every evening I was meeting my new friends for a meal and more sobre mesa. Emilio was nice enough to drive to  my hotel and give me a ride, that way I could enjoy wine or beer with the rest of the group. My new friends showed me Madrid, taught me about Spanish foods, and invited me to their homes.
I felt like I was at home. I made friends that I still talk to on a regular basis and will know for a lifetime. This is why I love traveling.
Hasta Pronto Catalina
Near the end of my stay in Madrid I went to Polo's house for one last get together with the gang. I arrived a bit early to chat with Polo about some bike gear. Soon others started arriving and a familiar face walked through the door. At first I couldn't place her, but I knew I'd seen her somewhere before. After a few minutes I realized it was Guadalupe Araoz, a world traveler who's blog, Hasta Pronto Catalina, I'd been reading for a while.
While Polo baked his Spanish omelette (with onion, of course), we ate jamón ibérico, drank wine, and laughed even more. I was in a room with riders who'd done solo trips around the world, fellow travelers, those who understood wanderlust and the sacrifices it demands.
As I chatted with Guada I decided to stay in Madrid just a bit longer. She had years of travel experience and I wanted to learn as much from her as possible. She was also gearing up for a trip across Africa and we thought it would be good to head to some gear shops together. A couple of days later we visited Moto Adventures Madrid and were pleased to meet Jorge Simavilla, a previous BMW GS Trophy rider.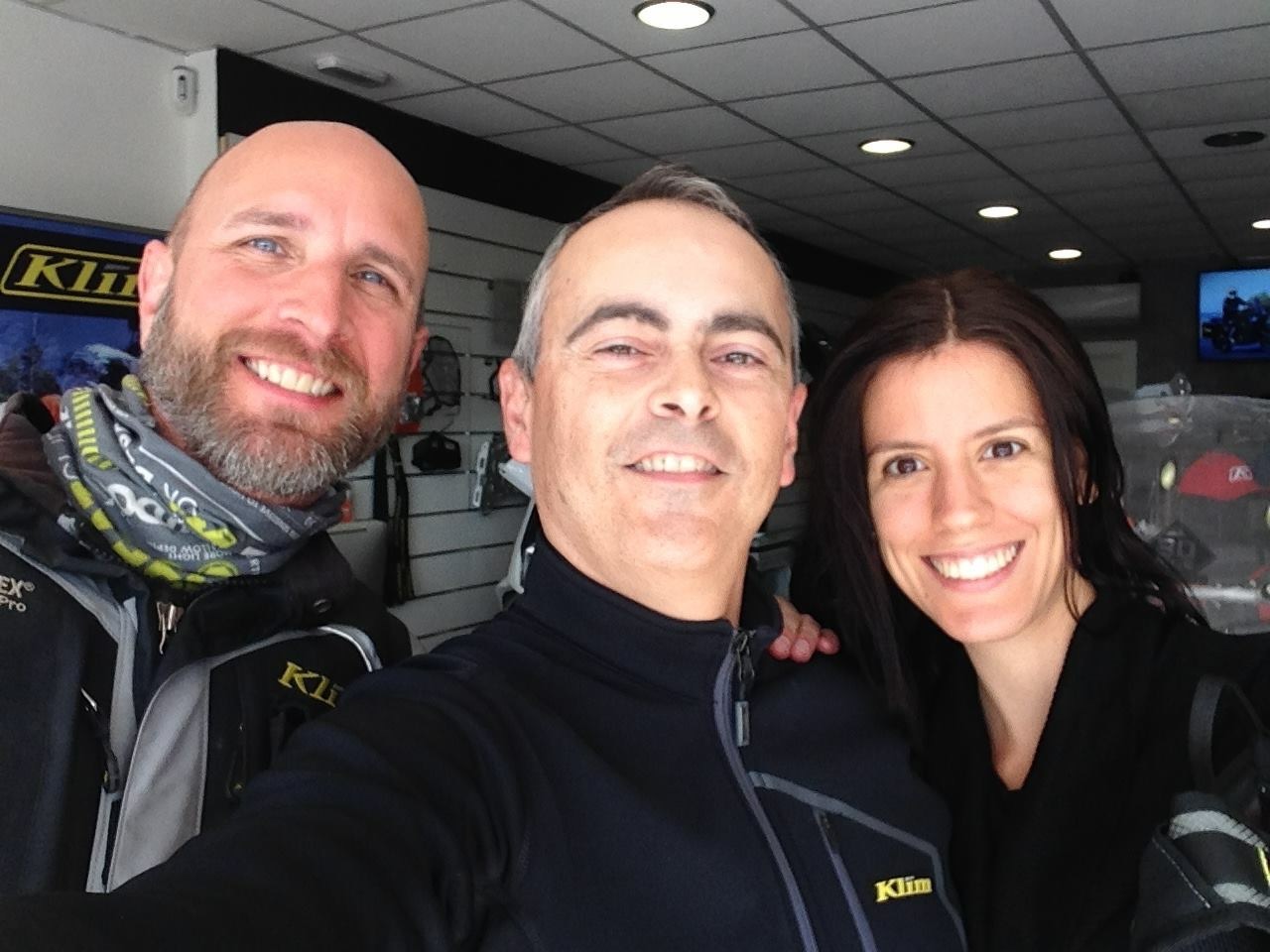 Wisdom and Understanding
In the weeks since I visited Madrid I've continued to chat with my fellow travelers. Teo has been a huge help with my route across Russia. He knows the route and has contacts across the country. I'm positive he's helped me avoid a million mistakes. I've been following along as Alicia, Dani, Teo, and Polo as well. They have taken trips to Morocco and Nepal. It's been exciting to see them visit places that I hope to visit one day.
Perhaps the best thing that has come from meeting friends who live a similar life is that they understand. They understand the challenges of getting a document shipped, or finding a specific part for the bike, and what it's like to be alone for weeks at at time.
Guada and I check in on each other several times a week. She's preparing to ride from Spain to South Africa and it's been fun to chat with her as she has been getting everything planned and ready. New bike, new gear, visas, permits, registrations… She's going through many of the things I'm going through. She's working on Africa, I'm working on Russia. It's great to have a friend who understands the challenges and can offer some wisdom along the way.
Da tiempo al tiempo.
I was talking to Alicia a couple of weeks ago, I was telling her about some of my thoughts and frustrations, some things I was trying to work through. That's when Alicia taught me another Spanish phrase, "da tiempo al tiempo."  Give time to time. It's the wisdom I needed in that moment. I needed to understand that I could give time some breathing room, eventually the things I am trying to do will come to pass. I don't need to rush it. I can enjoy the moment.
The moment – it's an amazing thing. You never know, you may think you're meeting someone for a beer and end up with new friends for life.